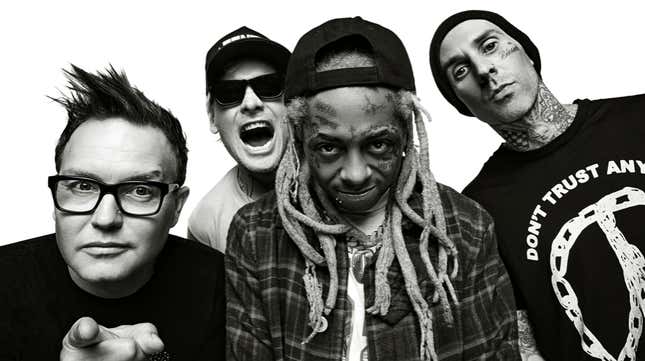 Ah, fuck. Lil Wayne, riding high on the release of last year's Tha Carter V, just announced a co-headlining tour with pop-punk stalwarts (and Fyre Festival authorities) Blink-182, which, we regret to inform you, means he's definitely going to play guitar again. Or, who knows, maybe the tour will consist solely of mash-ups like the "What's My Age Again"/"A Milli" one in the below announcement video.
The 38-date tour, which includes support from Welsh rock outfit Neck Deep, begins and ends in Ohio, kicking off in Columbus in June before wrapping in mid-September in Cincinnati. In between, Weezy will awkwardly pluck out solos in amphitheaters in Atlanta, Houston, Toronto, and more. They'll also make an appearance at Chicago's Riot Fest on September 13, where the rapper will be booed into oblivion the moment he tries pulling out some Rebirth deep cut.
Here's Patrick Stewart's biggest regret, according to Patrick Stewart
Oh god, Rivers Cuomo's going to show up at some point, isn't he?
Tickets go on sale this Friday, though there's presale deals available if you sell your soul to Citibank. Check out a full list of tour dates here.