It's not really fair to call an artist "the ___ version of" another artist. It denies their individuality and reduces them to a variant of someone else's talent. But headlines can only be so long; ergo, consider "American Robyn" a short way of saying LPX deserves to be a pop star, because every track she writes is a fucking banger, and her voice the perfect vehicle to deliver them.
A few years ago, the analogy wouldn't have worked at all—in fact, it would've made more sense to put her alongside people like Merge's Mac McCaughan, a musician with a talent for helping other musicians explode into the world. She co-founded Neon Gold Records while still in college, becoming the means by which American audiences discovered Passion Pit, Marina + The Diamonds, Gotye, The Naked & Famous, Charli XCX, Ellie Goulding, and more. That alone would be a résumé seeming to point in the direction of mini music mogul, not international pop superstar.
Still, the comparison with the iconoclastic Swede is apt in other ways. LPX, a.k.a. Lizzy Plapinger, also took a step back from early success—as one half of the electro-pop duo MS MR—to reconsider her career and reshape it on terms more befitting her own passions. Those early languid grooves found her doubling slinky vocals with a smooth and restrained delivery, a sometimes soulful style that now looks like a method of hiding her true talents. Occasionally a MS MR track like "Wrong Victory" would hint at a raw-nerve energy sublimated under the surface, but in most respects the group was a polished display of professionalism that made sure to never get too outrageous.
Enter LPX. Whereas Robyn looked to Europe and the creative wellspring of club music to find herself, Plapinger turned to her American roots: the rawer and more aggressive sounds of guitars and distortion, drawn directly from the rock 'n' roll vein that links The MC5 to the Yeah Yeah Yeahs, only with a firm insistence on the Top 40 structures. It's a clear embrace of the pop music tradition, but wedded to a messier, raucous sense of musical abandon. It's all there in her first single, 2017's "Tightrope"—vocals perpetually feeling like they're on the edge of breaking, a slinky beat that erupts into ferocious pounding and shredding chords during the refrain, as though trying to bust the bounds of the song itself. It's almost too cathartic in its rawness.
The second single, "Tremble," stepped back at times, making the push-pull between elegant pop and roughneck rock even more explicit, as each verse veered between smoky confessionals and tension-laced cries that wrenched emotion and vocal cords in equal measure. But it was pushing toward something more broadly anthemic, exhorting others to help in the fight. ("You should be picking me up in this battle," she commands at one point, and it's clear she means for the listener to make the demand as well.) It showed Plapinger could wield her music like a laser blast. The two singles were as good a coming-out party for Plapinger's particular kinetic pop energy as could be envisioned. Her 2018 debut EP, Bolt In The Blue, confirmed the songs were no fluke.
G/O Media may get a commission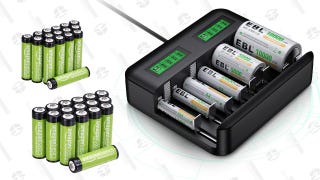 Now, with the new four-song EP Junk Of The Heart, Plapinger has found a way to harness that verge-of-collapse grain in her voice to a more triumphant celebration of reckless abandon, albeit one where her vocals don't run themselves ragged with every single line. (In other words, a more sustainable model of expression.) But the magic is still in the noise, the explosive and unpredictable ways that she drops thundering cymbals or sudden wails into the strictures of the verse-chorus-verse pattern. And her celebrations of being too much, going too far, and feeling okay with the uncertainty of taking a big, sloppy emotional leap feels exciting and edgy in a way most pop singers can only gesture toward. She actually does it; in her voice, in her bombastic arrangements, and in that wonderful voice, always threatening to stop singing and start screaming.
"Black And White" kicks it off with what seems like a more understated mid-tempo groove, until the crunch of four-on-the-floor stomps come in and she announces the music's intent: "One more time / Swear it's the last time / I'm changing my mind," she sings, reveling in the spontaneity of potential bad decisions, knowing there's always something to gain from even foolish impetuousness. "Might Not Make It Home" is the out-all-night anthem of freewheeling youth that captures the eternal-adolescence spirit of the best pop songs, with a live-drum rhythm evoking a sweaty NYC bar refusing to honor last call. "We're safe in the wild!" she cries out halfway through, but it appropriately sounds more like "We're saving the world!"
The third track, "Falling To Fall," steps back to create an intimacy between Plapinger and the listener, maintaining the raw exhortation to uplift but acknowledging pain without giving in to it ("I can be so dramatic… desperate times call for desperate habits"), all set to a synth-meets-guitar soundscape—like someone took the best of '80s-style MTV gloss and ran it through an overdrive pedal.
By the time you get to "Give Up The Ghost," the EP's closing song (with a pulsing beat that, no lie, feels like she figured out how to speed up and transform the pomp of Vangelis' "Chariots Of Fire" into the end-credits song of a John Hughes movie), LPX's statement of purpose is complete: She's a fully formed star, one who has reimagined the slick grooves and addictive hooks of contemporary pop into a harsh and fiercely immediate expression of emotion and sound, without losing the melodic appeal of the genre. In other words, it's goddamned great; you could fittingly call it "rock pop," as it makes the former the adjective and the latter the subject, an exacting expression that nonetheless manages to sound as unrefined and bloody as a primal scream. It's rare to get to witness a new artist emerge fully formed, ready to conquer the world; Junk Of The Heart is a miniature masterpiece, and LPX is just getting started.