In an effort to both serve our readers and help support The A.V. Club, we are going to post daily links to deals and interesting items that we find over on Amazon. If you use these links to click through and buy something—not just the thing you clicked—on Amazon, we will see a portion of that income. You don't have to do that if you don't want to, but if you do, know that we appreciate it.
Stay up to date with society with Oprah Winfrey's latest Book Club pick.
G/O Media may get a commission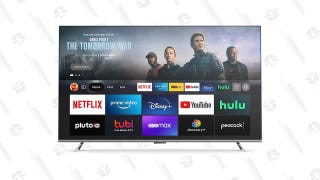 Save 46%
Fire TV 55" Omni Series 4K UHD Smart TV
Embrace your futuristic robot overlords by making friends with Cozmo, a robot with a real-life personality that evolves as you hang out.
Sure, this thing's probably meant for an office, but what if you just kept it for yourself instead?
Haven't you always wanted to learn to play the banjo?
Turn any lamp in your house into a phone charger.
Entertain your kids and yourself by picking apart old owl poop and looking for animal bones.
Speaking of owls, here's this thing, which is supposed to keep deer and birds out of your garden.