Any celebrity who's managed to stay within the public eye for as long as Mariah Carey is bound to attract weird internet shit just by virtue of their existence. Savvier than most, Mariah has acknowledged and controlled this aspect of her career. In the past, she embraced and broke the viral 10-Year Challenge and magically returned the reviled Glitter from the dead, stronger than ever. Now, turning her regal attentions to that Twitter thing where people compare celebrity looks to different items, Mariah has blessed her most devoted fans with recognition of the bizarre ways they spend their time.

This all starts with the kind of people who have Mariah Carey-themed Twitter accounts making long threads comparing the pop star to both kitchen whisks and various champagne bottles.

G/O Media may get a commission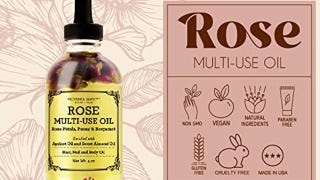 Provence Beauty Rose Multi-Use Oil
The premise is simple and adaptable. Mariah, who has been photographed wearing a lot of different outfits in her career, sometimes resembles other stuff.

Usually, unless you're Tessa Thompson, this sort of thing passes by without comment. Mariah, seeing an opportunity to steer the conversation, though, decided to chime in.

What accent Mariah is playing on in the above tweet doesn't matter. The important thing is that she has recognized and tacitly approved of these comparison threads.
While the people who collected these comparison images are likely now dead from the sheer bodily impact of having, for even a single brief moment, been the focus of Mariah's attention, the rest of the internet has only been spurred on to create more comparisons, perhaps hoping that the Eye Of Mimi will chance on them, too.

It's a dangerous game for a celebrity to play, acknowledging what internet weirdos do with your likeness. If anyone can pull off the gambit, though, it's Mariah, who, we must remember, is the very same woman capable of usupring Christmas from both Jesus Christ and Santa Claus.
Send Great Job, Internet tips to gji@theonion.com