We get it. You've spent seasons avoiding The Masked Singer's nightmare-fueling brand of eccentric creatures and their dead, unassuming eyes that penetrate your very essence with every stare. But after three seasons, the vitality of the fun phenomenon, which originated in South Korea with King Of Mask Singer, is undeniable. Each week the internet takes certain joy in dissecting the performances of the cloaked performers until it can narrow the clues down to a singular identity. The third season—which arrived less than two months after announcing Wayne Brady as the winner of season two—received the highly coveted post-Super Bowl bump, and the first major reveal gives us reason to believe that this go-round might just be a big one to follow. So The A.V. Club is going to succumb to the dulcet sounds of mystery, broad hints, and the judges refusing to side with the general public and list all of the revealed singers, weekly. Or, at least, until we figure out which brave soul decided to take on the identity of the The Taco With A Fatal Secret. Feel free to give us your best guesses in the comments. (We're sharing ours here.)

---
Episode 1: The Robot
Kicking off the season is, arguably, The Masked Singer's biggest contestant yet (if you don't include time-tested legends like Patti LaBelle and Gladys Knight). After performing a cover of Lenny Kravitz's "Are You Gonna Go My Way," The Robot failed to attract enough votes to keep him around. After struggling with the clunky Robot head, a smiling Lil Wayne was revealed to be the masked artist. Judge Robin Thicke said that the reveal was the most surprising of the series' history, which is hard to refute. Young Tune said that he chose The Robot costume because he knew his kids would enjoy it, which is just plain sweet. It's very jarring to see one of the biggest-selling artists join the furry fray, but it does make us curious to see who remains.
---
Episode 2: The Llama
After a riveting performance of Tom Jones' "It's Not Unusual," comedian and game show host Drew Carey soon found himself sans mask and sans hope of becoming season three's champion. The clues referenced his co-ownership of semi-pro football team, the Seattle Sounders, the 233 episodes of The Drew Carey Show, and his accordion expertise. Per Variety, episodes one and two were taped back-to-back. Carey admitted that he had set the bar rather low for himself early on:
"I thought it was going to be a quick ride. After I got past the first round, everything else was gravy… I like to carry a tune. I knew I wasn't going to win that contest. There's no way to watch that show and take it seriously, really. When you have Wayne Brady and Seal and whomever else on there, I'm not going to win against those people on a singing show! But as far as having a goof and having fun, I can do that. And I'm pretty self-aware. I watched the show, and I know why they have somebody like me on the show. They always have a beloved old guy. I knew how long I'd last!"
G/O Media may get a commission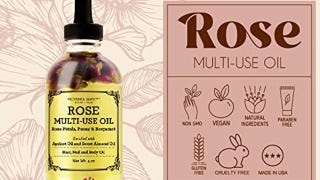 Provence Beauty Rose Multi-Use Oil
If you're following the detective work of our very own Angelica Cataldo and her equally astute father, you'll find that her father guessed The Llama's identity right under the buzzer.
---
Week 3: Miss Monster
Welcome to The Masked Singer, where vocal legends like 10-time Grammy-winning diva Chaka Khan take their final bow in Week damn Three. Was her performance of Lesley Gore's "You Don't Own Me" a touch shaky? Possibly. Are there seemingly more consistent performers this time around? We will admit to a slight, very modest sway as Turtle crooned and nothing more. But come on. CHAKA KHAN.
The "Through The Fire" singer broke down her clues for Billboard in an interview after her departure just before stating that she'd never participate in something like this again:
The pizza meant Chicago, and the Bears and the [White] Sox. And 10 was my 10 Grammys. They weren't that hard. A little girl told me, she's about 12, said she was watching and she knew it was me. She said, "It sounds like it's you, Auntie Chaka!"
---
Week 4: The Elephant
What a perfectly pleasant performer skateboarding legend Tony Hawk turned out to be! His rendition of The Cure's "Friday I'm In Love" wasn't enough to keep him around, but it was a sweet ode to his wife. "We chose a Cure song for our wedding song," Hawk informed judge Jenny McCarthy, who asked about the song's significance. The athlete had a lot of people fooled, including our own team of sleuths who guessed that the masked crooner was Lance Armstrong. There's always next season.
---
Week 5: The Mouse
In a reveal that shocked absolutely nobody, the flower crown-adorned Mouse turned out to be another R&B/soul legend, Dionne Warwick. Her distinctive rasp had viewers talking pretty animatedly last week, and it was especially telling during this week's cover, "This Will Be (An Everlasting Love)." In a chat with Entertainment Weekly, the Grammy-winning vocalist revealed that it was her son and a couple of previous contestants that convinced her to give the show a shot: "... I've watched the show when Gladys Knight and Patti LaBelle were on it and I said, "Well, two of my buddies did it, why not me?"
---
Week 6: Taco
We'll be honest: Of all the contestants, we've been most anxious to learn the identity of Taco. It wasn't necessarily his earlier, jaunty performance of "Bossa Nova Baby" that stoked our curiosity, but rather the need to know exactly who was brave enough to don the soulless, tomato red eyes of an overt slasher film villain week after week. Was the answer exciting enough to endure host Nick Cannon's theatrical tussle with the costume heads for six whole turns? You tell us: Taco turned out to be comedian and Dancing With The Stars host Tom Bergeron, a name that none of the judges landed on despite most of them harboring some form of a connection with him, including judges Nicole Scherzinger and Robin Thicke, who have appeared on dance competition series. (AVC's designated sleuths guessed correctly.) Our favorite clue might be that he "enjoyed a lot of salsa." As in salsa dancing. Get it?
---
Week 7: Bear
Let's not waste our time here: A new group of night terrors costumes have entered the competition. The first reveal was, of all fucking people, Sarah Palin. You're free to watch the video of the reveal above. Next.
---
Week 8: The Swan
Have you moved on from the show's attempt to normalize a hate-mongering government terror last week? We don't think we're over it either, but we've started something here and by god, we're going to see it through. Thankfully, last night's showcase came with its own distracting supply of head-scratching performances, including an aggressive dedication to judge Ken Jeong to the tune of Joan Jett & The Blackhearts' "I Hate Myself For Loving You." Despite her best efforts, the clue did nothing to steer him in the right direction and when it was time to say goodbye, Jeong was shocked to see his former The Duff co-star Bella Thorne. To be fair, he did mention her last season when he thought she was The Flamingo. Better a whole season late than never, right?
Now that The Swan is gone, one question still remains: Is the astronaut Jonathan Taylor Thomas or not?!
---
Week 9: T-Rex
JoJo Siwa fans (and the judges) had long called the identity of the bubbly T-Rex, so this week's reveal wasn't particularly jaw-dropping. The YouTuber, performer, and Nickelodeon star isn't surprised that so many had figured her out from the first note. "I have a really recognizable voice," Siwa told Variety. "And no one quite uses energy in their performance like I use energy, so I knew people were going to guess me. It was just a matter of how quickly they were going to guess me. It's fun to be guessed." At the very least, nobody can accuse her of being forgettable: Her rendition of Salt 'N Pepa's "Push It" will stick with us for a while.
---
Week 10: White Tiger
"When I first got here, I never sung in front of a crowd," White Tiger shared on last night's episode, to nobody's surprise. Still, his charisma and love for crowd-pleasing was undeniable, hence why Scherzinger's guess-slash-wishful thinking led her to believe it was Magic Mike's Joe Manganiello. But it was McCartney and Thicke who had the right idea all along: Three-time Super Bowl champion Rob Gronkowski was the feline with the golden feet. He had a fun energy, so it's kind of a bummer to see him go... even if he had the worst clues of all time. A pat of butter? C'mon.
---
Week 11: Kangaroo
"You guys are really off every week, but this time you got it," mused model, actress, and social media influencer Jordyn Woods, who was revealed to be the nervous, but sweet Kangaroo. Woods, who shared that this was her first time performing, tried to hop out of her element with a fun rendition of Donna Summers' "Hot Stuff," which wasn't enough to keep her around in the competition. Our in-house sleuths guessed her identity right under the buzzer.
---
Week 13: Banana
Welcome back! Last week The Masked Singer abstained from dishing out a heap of soul-crushing rejection to conduct a sing-along, but they're back and ready to send some asses packing. The week off didn't do Banana any favors: After a totally reckless (all right, it was perfectly fine, if not mildly aggressive) rendition of The Commodore's "Brick House," the spirited performer lost in a final showdown with Kitty and had to leave the competition. The culprit: rock 'n' roll mainstay and Poison front man Bret Michaels. Guest judge Sharon Osbourne, who has been friends with Michaels for 35 years, guessed his identity immediately. Watching him perform onstage in such a silly, rather joyful way is a little poetic: It's the 10th anniversary of the performer's brain hemorrhage, which left him in intensive care for weeks.
---
Week 14: Astronaut
There was a moment in time when audiences thought that The Astronaut was Johnathan Taylor Thomas, remember that? Those calls ebbed as the weeks went on, and this week we learned just how far off that guess was. His respectable performance of One Direction's "Story Of My Life" would turn out to be his last in the competition after he was voted out and revealed to be country star Hunter Hayes. But he couldn't go home without firing off at least one pun, noting that his experience was "out of this world." Honestly, we'll miss him a little. His rendition of Ed Sheeran's "Shape Of You" actually made the tune bearable.
---
Week 15: Kitty
Our in-house sleuth Cataldo had long guessed the identity of the ridiculously ornate Kitty some time ago. Platinum-selling opera singer Jackie Evancho entered the competition in hopes that performing Ariana Grande and Sia would break the cyclical, sticking notion that she is somehow still the 10-year-old finalist on 2010's America's Got Talent. "I wanted to show a different side of myself," Evancho shared. "I've been stuck in this stereotype of a 10-year-old girl... Now I'm almost 20, and I'm glad that this experience have given me the chance to break out of that." There are now four cloaked contestants left. Who will win: Night Angel, who obviously isn't Kandi Burress, or Turtle, who is most definitely not Jesse McCartney?
---
Week 16: Rhino
We are finally nearing the end of this very long, very strange journey. But before we can prepare for the final three contestants to make their last plays for the grand prize, audiences had to say goodbye to Rhino who, to Jeong's immense pleasure, turned out to be former pro baseball pitcher Barry Zito. The country and easy listening-leaning pachyderm (and dad to a days-old newborn) did exude a kind spirit and a held his own against three presumably seasoned performers, so leaving now is still a pretty brag-worthy feat. And he gets a few extra points for performing in that costume, which he made sound like actual hell in his exit interview with Variety:
"I could only see the ground," he said "There was two little quarter-size nostrils of the Rhino that I could see in but I couldn't really navigate through there. Also the mask was really front heavy, because it was a huge Rhino. That, coupled with the fact that I've never sang and danced before, I've only ever sang with an acoustic guitar, sitting on a stool. My first couple of days were like, 'Oh my gosh, what did I get myself into here? This is incredibly difficult.'"
---
Week 17: THE FINALE
What a journey! We've finally made it to the end of one of the most surreal reality competitions we've experienced in a while. We have to admit that it wasn't nearly as torturous as we had initially presumed. And as one of the last remaining vestiges of life before large crowds appeared irresponsible, we'll be glad to one day return to a time when these strange moments of spectacle are once again part of the entertainment cycle.
But for now, we have to say goodbye to two of the final contestants and hello to the season's winner. The first to unmask in defeat was the sharply-dressed Frog, rapper and actor Bow Wow. His clues led to an array of wayward guesses from the judges, which included Kid Cudi and MC Hammer. The latter guess came from Scherzinger, who clearly missed the performer mention that he had never done choreography before.
Second place was awarded to Turtle. Much like the winner, fans guessed Jesse McCartney's identity weeks ago. That didn't stop Jeong from naming Nick Jonas as the potential singer (mainly latching onto the clue of a new "Mrs. Turtle," which he assumed was a reference to Priyanka Chopra) or McCarthy from guessing Backstreet Boys' Nick Carter.
THE WINNER: KANDI BURRUSS (NIGHT ANGEL)
Whether you were familiar with '90s R&B girl group escape or a casual viewer of Real Housewives Of Atlanta, most were able to properly identify the Night Angel from her first note. Grammy-winning songwriter and veteran singer Kandi Burruss' distinct rasp is hard to miss, and her ability to comfortably navigate the stage made her a standout from the beginning. As the season's ultimate victor, Burruss becomes the first woman to win The Masked Singer, joining previous winners Wayne Brady and T-Pain.