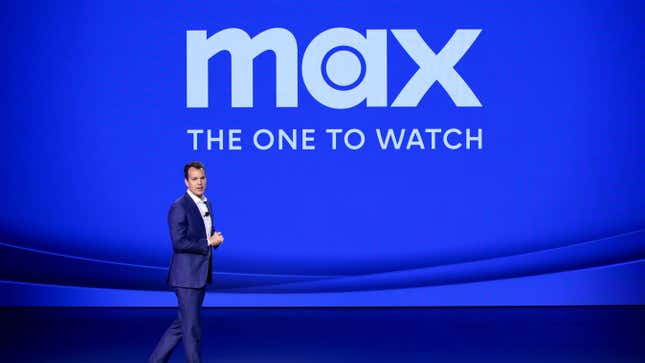 HBO Max is dead, long live Max. Despite how buggy, glitchy, and generally user-unfriendly it could be, Warner Bros. Discovery's streaming service became much beloved over the last three years, largely for its impressive catalog of content. Today, the company jeopardized that goodwill with another buggy, glitchy, generally user-unfriendly launch for the newly combined HBO Max/Discovery+ service.
Hundreds of users reported outages on Tuesday morning after the launch, according to the tracking site Downdetector. On social media, users reported trouble logging in to the website, mobile app, and issues accessing the streamer via Roku and Samsung TV. "HBO Max is now just MAX as of today. site doesnt work. Straight up doesnt work. No menu, nothing," wrote one disgruntled subscriber on Twitter. "I logged in and the Start Streaming button does nothing. Stuck, no resource or help. Monthly charge went through without any issue though, not like they had all this time to prepare."
According to Variety, the Max team was on standby in "war rooms" around the world, including Bellevue, Wash., New York and London, for the launch (which is so far limited to the U.S.). "You must always anticipate issues on a tech rollout of this scale," a company spokesperson told the outlet. "We can share that only minor ones have emerged and were quickly remedied." In fairness, users who did manage to log in appreciated an improved user interface: "Much much faster, smoother, more of a breeze shifting from one series overview to another. Jumping all over the App in a hurry! This WASN'T possible with the previous #HBOMax service," wrote Twitter user Robert W. Rogers. Similarly, journalist Marc Istook tweeted, "Despite the early issues, I do like the new interface and UX. And the app seems faster. Fingers crossed it's more intuitive and less buggy than its predecessor."
Streamlining and improving the app were among the promises of the Max experience, in addition to an expanded library that apparently features twice the content (per Variety). Still, it's a tricky time to be launching a brand new app when the streamer is coming up on its Super Bowl, a.k.a. the series finales of both Succession and Barry. Hopefully, all the kinks will be ironed out when the time comes for finale live-tweeting, lest we have another Mare Of Easttown situation on our hands. Welcome to the era of Max!