There's artistic evolution, and then there's artistic uncertainty. The two go hand in hand, to be sure. Any attempt to explore new territory is fraught with missteps and blind alleys, but that's what the studio is for. Musicians often cycle through numerous efforts that never see the light of day, en route to a confident and self-expressive release that captures something essential about their voice. Meghan Trainor's new album, Thank You, feels like the work of someone itching to bust out of the labels that previously defined her and embrace a full-on contemporary pop-diva identity in the vein of a Beyoncé or Katy Perry. Unfortunately, in reaching for such a larger-than-life image, she's lost some of what made her a distinctive and refreshing presence on the pop charts. By crafting an album of mostly spit-polished modern pop, scrubbed of hard edges or unique sounds, Trainor has sacrificed personality for a persona, one that only fitfully suits her.
Actually, the association Trainor most conjures on this record is Missy Elliott—a badass, sexually confident woman delivering rapid-fire sass over Timbaland-style beats. But Trainor isn't an Elliott for the 2010s, and when she tries to assume that mantle, it comes across as wobbly at best. (For each of her more successful forays into hip-hop pop, like the hit "No," with its En Vogue-like chorus, there's the unsteady and ill-fitting rhymes from tracks like the album opener, "Watch Me Do": "I'm not sayin' I'm the besteses / But I got nice curves, nice breasteses," goes one such couplet.) She's a bona fide pop star with a massively successful debut under her belt, but the very elements of her appeal that made Title such a winning introduction take a backseat to the homogenizing formulas of contemporary empowerment anthems.
It's no coincidence the record's strongest moments are ones that deviate from the expected patterns of mainstream pop and hearken back to her presumable first love—the doo-wop ditties and retro-soul sounds of the '50s and '60s. "Hopeless Romantic," a stripped-down ballad with a swing rhythm and gentle jazz guitar, stands out from the pack, a throwback torch song that nonetheless incorporates 21st-century vocal flourishes à la Christina Aguilera and company. Similarly, "Just A Friend To You" offers a compelling case for Trainor as a singular artist and performer. It's just a ukulele and her voice (with some strings and "ooh-ooh" backing vocals added later) singing a wounded paean to someone who refuses to acknowledge a romantic spark, and it soars with heartfelt specificity.
When it comes to the dance-floor tracks, "Dance Like Yo Daddy" evokes equally distinct flavor: Superb horn samples, girl-group harmonies, and a pounding bass all combine to make a rousing groove and the best song on Thank You. When she comes in like an old-school emcee, calling out dance numbers ("Meghan says touch your toes / I can't touch my toes," she orders with a rueful laugh), it's refreshing and joyful, a true "dance like no one's watching" anthem. It takes the elements that worked before and pushes them forward—a genuine evolution.
G/O Media may get a commission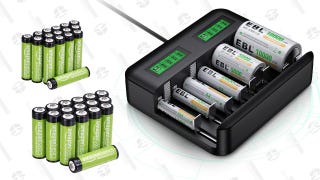 If only the rest of the album had such consistency of voice or sense of honesty. "I Won't Let You Down," with its generic synths and standard-issue bouncy rhythm, sounds like Disneyfied tweener pop, a leftover Miley Cyrus track from her "Party In The U.S.A." era. "Champagne Problems," the album closer, is catchy but contains nothing to distinguish it from a hundred other Katy Perry imitators. "Kindly Calm Me Down," with its Charli XCX-aping boom-clap refrains, has a nice vocal performance but is lyrically too generic to connect. Much of the album tries for Beyoncé flavor—"Fuck you, I'm awesome" is probably the essence of 80 percent of the lyrics—but when it strands Trainor amid the sounds of interchangeable gloss, it loses its excitement. Self-empowerment can shade into self-aggrandizement when it isn't delivered in a convincing way, and Thank You only periodically rises to the challenge.