The word "arbitrary" doesn't begin to describe the task of picking a favorite movie year, because every era—and so many of the years within them—has its own special quality, from the thrilling developments of cinema in its infancy to the verbal dexterity of '30s screwball comedies to the dark pessimism of post-war noir to the bold reinvention of the French New Wave and the '70s Hollywood renaissance. Being a cinephile is like watching a child grow up: The kid looks different as he gets older—at times a bit ragged and not necessarily more mature—but there's no one age that begs exalting over another. You love the little scamp in every precious phase of his development.
That said, when people ask me why I care about the movies, from here on out, my answer is going to be "1955." Scanning through history, the year popped out at me: In Technicolor. In VistaVision. In glorious CinemaScope. In 1955, black-and-white movies weren't an indifferent charcoal gray, they were bold and expressive, from the long, imposing shadows of Robert Mitchum's sinister preacher in The Night Of The Hunter to the underworld grime in French heist classic Rififi. And with the short-lived VistaVision and the expensive three-strip Technicolor process still in play, color films offered astonishing sights: The spectacularly ornate circus set in Lola Montès, bathed in primary blue; Cary Grant and Grace Kelly looking almost inhumanly glamorous in the Alfred Hitchcock trifle To Catch A Thief; Jean Renoir's camera drinking in the sensual wonders of the Moulin Rouge in French Cancan. "Vibrant" would a good word to describe going to the movies in 1955.
"Emotion" would be another. This was the year of James Dean, the iconic face of youthful rebellion and anguish, a sign that all wasn't at peace in Eisenhower's America. Dean's entire cinematic legacy rests on three films, and two of them were released in 1955: Nicholas Ray's Rebel Without A Cause, which cast Dean as a teenage outcast whose extreme self-possession and non-conformity makes him a magnet for trouble (and swooning young women, of course), and East Of Eden, which made the generational rift that Rebel suggested even more explicit, with Dean as a sad kid wriggling under his pious father's thumb. Then there's Douglas Sirk's All That Heaven Allows, about a widowed housewife pursuing a new love against society's tacit (and quietly vicious) disapproval, or Lola Montès, which finds a Duchess' romantic misadventures turned into an endlessly humiliating spectacle for the masses.
Still steeped in post-war cynicism and malaise, 1955 found the noir and crime film genres in full flower, both in the U.S. and abroad. With the masterful Southern gothic The Night Of The Hunter leading the charge, the year also saw the detective flick deconstructed by the fists-first thuggery of Kiss Me Deadly's Mike Hammer and The Big Combo, a memorably dark B-picture that ensnares a police detective in a love triangle involving a gangster and his captive moll. Well before the New Wave started, the French were doing their own vivid interpretations of Hollywood genre films with Diabolique, a Hitchcockian thriller with racy sexual politics and an ending that still stops the heart, and the Auguste Le Breton novel adaptation and classic heist film Rififi.
But really, great films were flooding in from all over the world. In India, Satyajit Ray launched his famed "Apu Trilogy" with Pather Panchali, the first chapter in an ongoing story about a boy growing up in the humble setting of rural Bengal. In Denmark, the singular Carl Dreyer (The Passion Of Joan Of Arc), whose work never seemed of a particular time or place, visited isolated characters facing spiritual crisis in his austere masterpiece Ordet. In England, Ealing Studios maestros Alexander Mackendrick and Alec Guinness teamed up for the larkish black comedy The Ladykillers, about thieves who can't quite scheme their way past an innocent old woman.
Now here's where things get arbitrary:
A Top Five
G/O Media may get a commission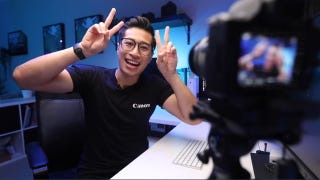 Up to 33% off
Canon Camera National Promotion
Webcam kits, lenses, & more
Since many of us adopted working from home, we've become accustomed to the crappy video quality output of our laptops' built-in webcams. Present yourself professionally with the help of a professional quality camera. Dress to impress now means set dressing and picture definition. Canon has made it easy to take your EOS camera and convert it to a webcam with the help of a variety of kits.
1. The single greatest directorial one-off in movie history, Charles Laughton's The Night Of The Hunter was such a flop that Laughton—an actor perhaps best known for his hearty turns in films like Island Of Lost Souls and Witness For The Prosecution, and his Oscar-winning role in The Private Life Of Henry VIII—never stepped behind the camera again. But it's come to be deservedly regarded as one of noir's finest moments, a Biblical struggle between good and evil soaked in the dread-filled atmosphere of a Southern gothic. And then there's Robert Mitchum, the most dangerously seductive of actors, as a preacher whose charisma masks the blackest of hearts.
2. Douglas Sirk's wrenching melodrama All That Heaven Allows is so exceptional that even its remakes, Rainer Werner Fassbinder's Ali: Fear Eats The Soul and Todd Haynes's Far From Heaven, are brilliant. I confess a special weakness for stories about love affairs spoiled by unspoken societal codes (see also: The Age Of Innocence, In The Mood For Love), and Sirk's film brings those emotions home with unguarded emotion. (So unguarded, in fact, that Sirk's work in general has become painful to watch among today's "knowing" audiences.) Here, the class differences between a widow and her gardener—not to mention the expectation that widows are never supposed to love again—feeds a sewing circle full of smiling vipers.
3. Carl Dreyer's Ordet looks and feels conspicuously different from other work of its time—just as his 1928 silent classic The Passion Of Joan Of Arc and his 1964 swan song Gertrud did next to their contemporaries—but it suits the film's rural characters, who might as well be living centuries earlier. Centered around three brothers at various places on the spiritual spectrum, including one who's an atheist and another who believes he's Jesus, Ordet seems set in a godless place that offers no relief or redemption for its inhabitants. And then something extraordinary happens…
4. As a director of darkly pessimistic thrillers about the human capacity for treachery and deceit, H.G. Clouzot knows few equals, with a career that includes films about poison-pen letters infecting a small town (Le Corbeau) and working-class truck drivers assigned with hauling nitroglycerine through a rocky mountain pass (The Wages Of Fear). But he's best known for Diabolique, a precursor to Psycho that packs the same psychosexual charge. It also has one of the great twist endings in movie history, simultaneously cleverly devised and viscerally shocking.
5. The template for all heist pictures, Jules Dassin's Rififi is a one-last-score movie that culminates in an amazing half-hour robbery that's done entirely in natural sound. Since the thieves are trying to draw as little attention to themselves as possible, that means total silence (and hand signals) until absolutely necessary. Dassin exalts in the particulars of a well-executed job, but first, he carefully sets up the desperate ex-cons and lowlifes who bring their illicit talents together for the effort.
Also essential:
Always wondered what's in that glowing suitcase in Pulp Fiction? Go directly to the source in Robert Aldrich's Kiss Me Deadly, in which the combustible contents of a mysterious case falls into the hands of L.A.'s most indelicate private eye. It's hard to pick sides between the year's James Dean classics, Rebel Without A Cause and East Of Eden, because they're so yoked together in the mind as two beautiful Cinemascope visions of lost youth. If the latter gets the edge, it's for Dean's wrenching (and famously improvised) decision to embrace father Raymond Massey like a needy child when the script called for him to walk away. Those who thought they had Ingmar Bergman pegged for his bleak religiosity and emotional tumult clearly haven't seen Smiles Of A Summer Night, which proved the late director's surprising facility with airy bedroom farce. Sensual delights also abound in Max Ophüls' Lola Montés, a flawed but visually astounding period piece that was the director's only film in color, and he took full advantage. Pather Panchali, the first in Satyajit Ray's "Apu Trilogy," put Indian cinema on the map for many Westerners, and over three chapters gave the small story of a Bengali family an epic yet intimate sprawl. And finally, Anthony Mann's The Man From Laramie—his final collaboration with laconic star Jimmy Stewart—presaged the modern anti-Western with its unblinking portrayal of the sadism and treachery in a New Mexico outpost bordering Apache country.
Delightfully inconsequential:
In a year where even Ingmar Bergman had audiences laughing, filmmakers both comical and austere were turning out brisk entertainments. David Lean would come to be known for lumbering epics like Lawrence Of Arabia and Doctor Zhivago, but with Summertime, he and Katharine Hepburn enjoyed a silly romantic vacation in Venice, with Hepburn taking a memorably unexpected dip in a canal. Jean Renoir, too, boasted a directorial résumé with few diversions, but his French Cancan, about a washerwoman turned Moulin Rouge sensation, benefits from a painterly look and an appropriate lightness of touch. Alfred Hitchcock's To Catch A Thief practically defines the word "inconsequential," but the opportunity to shoot two of the world's most glamorous stars, Cary Grant and Grace Kelly, in luxuriant VistaVision was reason enough to bring this brisk caper to life. As Martin and Lewis vehicles go, Artists And Models remains one of the most appealing, thanks to Frank Tashlin's knack for directing cartoonish pop satire and adding gams as far as the eye can see.
Still unseen:
If pressed, I usually cite Kenji Mizoguchi's 1954 masterpiece Sansho The Bailiff as my favorite film, so it's fairly embarrassing to confess to not having seen his follow-up, Princess Yang Kwei Fei, which is equally acclaimed. (In my defense, it isn't yet available on Region 1 DVD, and my VCR is in a landfill somewhere.) Other blind spots: Michelangelo Antonioni's The Girlfriends, which is beloved among many allergic to the navel-gazing style Antonioni later adopted with more widely noted work like L'Avventura and Blow-Up; John Sturges' Western/noir hybrid Bad Day At Black Rock, which addressed, among other things, the Japanese-American internment camps in World War II; and the noir curiosity The Phenix City Story, which uses unusual semi-documentary techniques to grapple with the real-life assassination of an Alabama attorney general.
Runners-up:
Take your pick of movie years during the '50s—which I'm now convinced is the medium's strongest decade, in a walk—but I'll take 1959, which brought a ridiculous bounty of classic entertainments and adventurous world cinema, including North By Northwest, Some Like It Hot, Rio Bravo, The 400 Blows, Eyes Without A Face, Pickpocket, Hiroshima Mon Amour, Fires On The Plain, Floating Weeds, and Imitation Of Life. I'm also partial to 1964, which is yet another embarrassment of riches, with several of my all-time favorites (The Umbrellas Of Cherbourg, Dr. Strangelove, Woman In The Dunes) joining other greats like I Am Cuba, The Naked Kiss, The Soft Skin, The Gospel According To St. Matthew, Kwaidan, A Hard Day's Night, A Fistful Of Dollars, Band Of Outsiders, and Gertrud.
Hey, what about 1939?
All five My Favorite Movie Year columns are now on the books, and yet nobody's mentioned 1939, which tends to be the default "greatest year" in much the same way Citizen Kane is considered (rightfully, I hasten to add) the greatest film of all time. Certainly, 1939 produced a daunting list of titles: The Wizard Of Oz, The Rules Of The Game, Gone With The Wind, Stagecoach, Gunga Din, The Women, Only Angels Have Wings, Mr. Smith Goes To Washington, and Wuthering Heights, among others. My only pitiful excuse is that we're talking about favorite movie years here, not best movie years, and there's something about a year choked with canonized masterpieces that's a little off-putting.
Past installments:
Noel Murray's thoughts on 1974.
Keith Phipps' thoughts on 1967.
Nathan Rabin's thoughts on 1994.