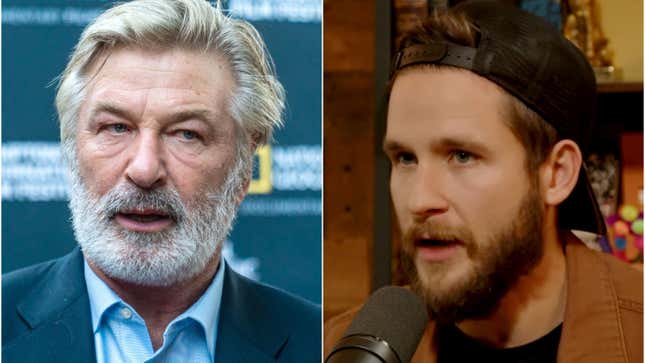 We've heard a lot about Rust, the ill-fated Western on the set of which cinematographer Halyna Hutchins was accidentally shot and killed by star Alec Baldwin. Many have shared their experiences and opinions of the situation, from the actors to the crew to outside observers. Now, we have an unexpected new account of the set from the former star of a beloved children's program (and it's not the narrator of Thomas The Tank Engine).
Never Have I Ever's Poorna Jagannathan and Richa Moorjani on working with Mindy Kaling
That's Devon Werkheiser, who played the titular role in the beloved early aughts Nickelodeon series Ned's Declassified School Survival Guide. "My favorite project since Ned's is a complicated one," he reveals on the latest episode of his podcast, which he co-hosts with his co-stars Lindsay Shaw and Daniel Curtis Lee. "Um, by the time this airs I feel like we'll have finished it, but it's a movie called Rust that you may have heard of."
Werkheiser explains that he'd worked with writer-director Joel Souza previously, adding that his film Crown Vic with Thomas Jane was his previous favorite project. "Joel's next movie was a western called Rust, Alec Baldwin was attached, and I… I mean, a western is like an actor's fuckin' dream, it's one of the classic genres of film," he says.
Being cast as a cowboy in Rust came after a really "dark time in my life, and dark time in my acting life," Werkheiser admits. "Like, I felt so far removed from my career at that point. And then I was on this set in a western with actors that I respected the fuck out of, learning how to ride a horse, like, in period piece garb, I got to play—I was no longer one of the kids, I was one of the men on set, and I was playing this grungy ass character role, and I was literally living my dream on that set. Like, it felt so good. I felt so on purpose again. I felt like my life was possible again. I felt like my dreams were possible again. Like, it was really a sacred time that was healing me."
Unfortunately, we now know what comes next: "We're like three weeks into shooting, I was two days away from being done. We had this huge accident where our DP got shot and killed. And like… man, it has been a hard year after that," the actor says. "That has been so fucking hard to deal with and process—kind of because of all that. Like, it's this loss of life, it was the moment it hit me, it was all the press about it after. Like, everyone has an idea of what that set was, but if you weren't on it, you don't fuckin' know."
Werkheiser goes on to defend the film, saying his experience doesn't match the narrative that was perpetrated. "Like, every set has some chaos, every set is cutting corners and cutting budgets," he argues. "I can only speak for my experience. But in my experience, it was no different than any other set I'd ever been on. It didn't feel more unsafe. I had a gun every day, I felt safe with it, I felt safe with the people. And we were just making a movie, man. It was not this crazy, stressed set, beyond the normal, beyond what a normal set is."
The shared trauma of those who were on set, Werkheiser remarks, "goes beyond anyone else's opinion who wasn't there." Emotionally, he continues, "Like, we all had to survive this and process the grief of this beautiful person who got killed, and who was really special to our set. She was a really talented artist, and like, a really beautiful person. And to lose her while making a movie, you can't understand what that is like, for Alec included."
Werkheiser goes on to explain the "sacred," "beautiful" energy on a film set, and the excitement that everyone had about making any movie, let alone the kind of "genre [film] that we've all grown up watching." "And like, I felt that energy on set. I felt it with Halyna. I felt it with a lot of people on set, this kind of like, joy—Alec too, this joy of making this thing. And for it to end like that was motherfucking devastating."

Werkheiser understands that "it's super complicated for people that we are finishing it," but he's personally "glad" to return to set, especially as he says Hutchins' husband has apparently encouraged them to complete the project and is on board as an executive producer ("We would never touch it if he wasn't"). Personally, he was "shocked" to find out the movie would be completed, because he was "100% sure this is never getting done."

"You can't separate the loss of life," the former child star acknowledges. "So I think on social media, say whatever the fuck you're gonna say. I think critics—the movie's never gonna be good enough to lose a person. Like, no movie is. So, I don't think that will—but—for us personally, finishing this thing that like, harmed and hurt so many of us, and just, like, created this rift in our lives, I just, it feels like some kind of completion that feels right."

"I hope it comes out well," Werkheiser concludes. "And it's… it's my favorite project since Ned's, even though this shit happened. At least the time before she got killed. Because I was living my fuckin' dream in a really cool way."