As Netflix's original movies become increasingly recognized for Oscar snubs and Adam Sandler nonsense, it falls on the shoulders of the service's original shows to convince people that their $9 a month isn't better spent on food or whatever. Today, Netflix released a big list of premiere dates for a bunch of its shows, and they're conveniently staggered out by month so you know exactly what you're spending that $9 on. Here's a chronological list of the newly announced premiere dates, with descriptions of what the new shows are.
March 11, Flaked: a "serio-comic story" starring Will Arnett as a guy who "falls for the object of his best friend's fascination" and has to figure his life out when "the tangled web of half-truths and semi-bullshit that underpins his all-important image and sobriety beings to unravel." Surprisingly, Flaked is a totally different show than BoJack Horseman.
April 1, The Ranch and Lost & Found Music Studios: The former is a multi-camera comedy starring Ashton Kutcher, Danny Masterson, Sam Elliott, and Debra Winger, with Kutcher playing a failed football player who returns home to have comedic adventures with his family. Lost & Found is a teen-friendly drama about a bunch of young people working in a famous music studio.
April 15, The Unbreakable Kimmy Schmidt (season two) and Kong: King Of The Apes. Described as "a fresh and modern take on the classic King Kong story," Kong is set in 2050 and focuses on King Kong as he battles an army of robotic dinosaurs. Unfortunately, it's a show for kids and not a hard-edged sci-fi drama.
May 5, Marseille: This is that French House Of Cards-esque series that stars Gérard Depardieu as the mayor of Marseille.
G/O Media may get a commission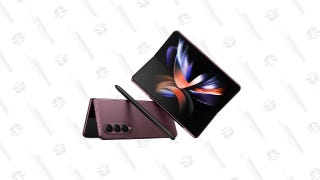 Save Up to $300
Galaxy Z Fold4
May 6, Grace and Frankie (season two).
June 3, Word Party: A show with baby animals teaching kids about letters that features high-tech digital puppets created by The Jim Henson Company. Unlike Kong, it is a hard-edged sci-fi drama.
June 17, Orange Is The New Black (season four).
July 15, Stranger Things: A supernatural-themed drama about the "extraordinary mystery" that surrounds the disappearance of a little boy. It also involves secret experiments, terrifying supernatural forces, and one very strange little girl (which is a bit rude).
August 12, The Get Down: Baz Luhrmann's '70s-set music drama about "a rag-tag crew of South Bronx teenagers" who use "verbal games, improvised dance steps, some magic markers, and spray cans" to change the city of New York.