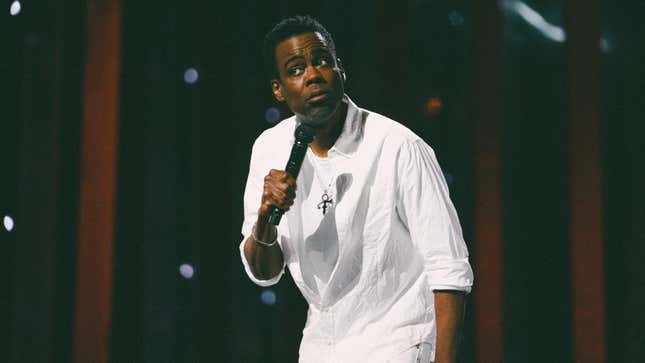 So much for live, huh? Chris Rock's new Netflix stand-up special Selective Outrage made history as the first to be broadcast live on the streaming service, which means fans got to see every joke—and every flub—in real-time. But now that the live event is over, the comedian and the company can go back and rewrite history, in a sense, tweaking the special as they see fit. That includes erasing one crucial mistake made during Rock's riff about the Will Smith slap.
Is "Wednesday" turning The Cramps into the next Kate Bush?
"Years ago, his wife said I should quit the Oscars; I shouldn't host 'cause her man didn't get nominated for Emancipation, the biggest piece of shit ever!" Rock said in the live version (per The Hollywood Reporter). "No, not Emancipation, I fucked up the joke." In the version now streaming, the comedian accurately names the film Smith didn't get nominated for as Concussion.
A production source told THR that Rock "was aware of the edit" and worked with Netflix on the final streaming cut. There is, of course, nothing wrong with a comic choosing the best take with the best line delivery to be presented in a filmed special—that's how stand-up specials usually work. It's just that Selective Outrage was, by nature of being a livestream event, not a usual stand-up special. It's Rock's product, and he has every right to swap out the mistake for a more polished version. But the flub was a marker of the more daring, history-making moment that the special was marketed as.
As for the content of the actual joke, there's a lot of history between Rock and the Smiths to unpack before the audience can decide on its accuracy for themselves. Rock hosted in 2016, a year that many prominent Black artists, including Jada Pinkett Smith, criticized the Academy for a total lack of diversity in its nominees. Pinkett Smith didn't specify her husband's snub as part of her public critiques, but Concussion was technically eligible that year. However, a number of other non-white potential nominees were also overlooked at that particular ceremony, including actors from Creed, Beasts Of No Nation, and Straight Outta Compton.
Rock targeted Pinkett Smith specifically in his 2016 Oscars monologue, joking that "it's only unemployed people that tell you to quit something." "Jada got mad and said she's not coming. Jada boycotting the Oscars is like me boycotting Rihanna's panties. I wasn't invited!" he cracked at the time. "But I understand. I'm not hating. I understand you're mad. Jada's mad her man, Will, was not nominated for Concussion. It's also not fair that Will was paid $20 million for Wild Wild West."
The comic choosing to pick on Pinkett Smith once again when he returned to the Oscars stage in 2022 seems a likely reason that her husband then reacted with violence (though in a later apology video the King Richard star stated, "I made a choice on my own, from my own experiences, from my history with Chris. Jada had nothing to do with it"). But if the Smiths bear a grudge about how the 2016 Oscars went down, clearly so does Rock. "Nobody's picking on this bitch. She started this shit. Nobody was picking on her," he argues in Selective Outrage. "She said me, a grown-ass man, should quit his job because her husband didn't get nominated. And then [he] gives me a concussion. What the fuck, man?"
While the new version of the special is at least corrected in terms of Concussion, it still has one blatant inaccuracy. "Even in animation this motherfucker's bigger," Rock jokes, comparing himself to Smith. "I'm a zebra"—referencing his character in Madagascar, a movie which coincidentally co-stars Jada Pinkett Smith—"He's a shark." Will Smith does not play a shark in the movie Shark Tale, rather he voices a Bluestreak cleaner wrasse fish, which is a lot smaller than a zebra. Hey, if you're going back in to edit mistakes, might as well have all the facts straight.