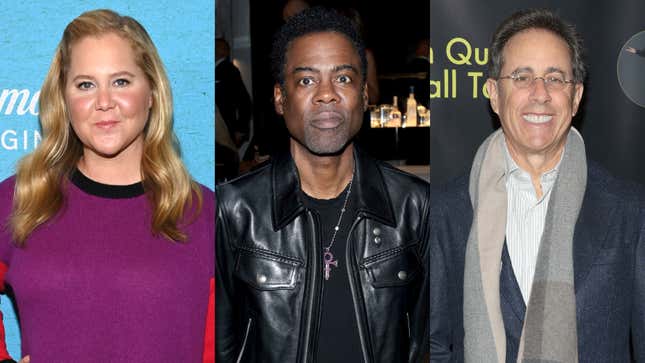 As the end of the first quarter of 2023 closes in, Netflix is placing big bets on live streaming, stand-up comedy, and Chris Rock. The streaming service's first-ever foray into live television will be Rock's second Netflix standup special, following 2018's Tambourine. Chris Rock: Selective Outrage, is set to air on March 4—and newly announced pre- and post-shows will feature some of Rock's wide set of comedian friends.
Netflix plans to make you freeloaders finally cough up the dough
Titled The Show Before The Show, a live pre-show for Rock's performance will air from Los Angeles staple The Comedy Store at 6:30 p.m. PT/9:30 p.m. ET, and feature messages from Amy Schumer, Jerry Seinfeld, Arsenio Hall, Deon Cole and Leslie Jones. The Daily Show's Ronny Chieng will serve as host, while Cedric the Entertainer, Ice-T, Sir Paul McCartney, Sarah Silverman, and The Chris Rock Show alum Wanda Sykes have also all reportedly recorded messages for the half-hour show.
Rock's actual special will kick off at 7 p.m. PT/10 p.m. ET, when he'll take the stage in Baltimore, Maryland. Per The Hollywood Reporter, Rock is expected to do much of the same material that he's been rolling out during his "Chris Rock Ego Death World Tour"—and yes, that includes Will Smith Oscars slap jokes. Joel Gallen will direct and produce the special—both the pre- and post-shows will be produced by Den of Thieves and directed by Joe DeMaio.
Capping off the night will be the aptly-named The Show After The Show, with hosting duties fulfilled by brothers-in-podcasting David Spade and Dana Carvey. JB Smoove and Kareem Abdul-Jabbar are also expected to make guest appearances at the post-show.
Although the pre- and post-shows will only be available live as a means to incentivize awards-style viewings, Rock's standup special itself will be available to stream after it airs on March 4. "We're thrilled the entire world will be able to experience a live Chris Rock comedy event and be a part of Netflix history," Netflix Vice President of Stand-up and Comedy Formats Robbie Praw shares in a statement. "This will be an unforgettable moment and we're so honored that Chris is carrying this torch."