With the premiere of Netflix's Fuller House comes a classic conundrum: How do you mercilessly criticize a product while encouraging the instinct that led to its creation? Because despite the plaintive catchphrase of one Uncle Jesse Katsopolis (John Stamos), which reappears along with every other vaguely recognizable zinger from the original series, Fuller House doesn't deserve mercy. The show isn't just bad, it borders on the obscene, as much an affront to those bemused by a reboot of the sitcom that anchored ABC's once-mighty T.G.I.F. comedy block as those receptive to it. But to attack Fuller House on conceptual grounds is wrongheaded, considering the same blindfolded nostalgia led the deep-pocketed streaming service to order a Wet Hot American Summer series, reconstitute Mr. Show as With Bob And David, and green-light four new Gilmore Girls movies. Netflix's reboot magnanimity has been such a blessing, it's heartbreaking to see Fuller House emerge as the perverse result.
There's no better argument against Fuller House than its own pilot, which acts as the indulgent, diehards-only series finale never granted to Full House when it was abruptly canceled in its eighth season. It even begins with a chunk of Full House's opening credit sequence, a reminder of how sturdy the original show was for its time. Even now, the basic premise of a widowed father enlisting his single best friends to move in and help raise his three daughters is a flawless sitcom logline, and the cheery theme song is a welcome throwback to a simpler, if less ambitious period in scripted comedy. The pilot then jumps forward a full 29 years into the future (which is faulty math by any measure) to show that everything and nothing has changed at the extended Tanner family's tony San Francisco Victorian. Morning show anchor Danny Tanner (Bob Saget) is still a germophobic milquetoast, comedian Joey Gladstone (Dave Coulier) is still a stunted man-child, and Uncle Jesse is still a soft-rock heartthrob whose signature song is a cloying cover of The Beach Boys' "Forever." Though they've apparently been in a holding pattern for nearly 30 years, their professional passions are leading all three to move away from San Francisco and the house that made them a family.
Much more has changed for Danny's daughters, who move to the center of the show once the grown-ups have moved on to bigger and better things. The girls are the grown-ups now: Stephanie Tanner (Jodie Sweetin) has become acclaimed mixmaster DJ Tanner, much to the chagrin of the original D.J. Tanner (Candace Cameron Bure), who has since become a veterinarian. D.J.'s childhood bestie Kimmy Gibbler (Andrea Barber) is still around too, every bit as oblivious to basic social norms as when she was a neighboring nuisance. It's a good thing for D.J. everyone has chosen to come home at this pivotal moment, since she's rebuilding her life following the death of her husband, Tommy. With Tommy gone, D.J. is now a single mother raising three boys: 13-year-old Jackson (Michael Campion), 7-year-old Max, and an infant named after his father (Dashiell and Fox Messitt). The only Tanner girl missing is Michelle, who is off in Manhattan building a fashion empire since Mary-Kate and Ashley Olsen refused to say "You got it, dude" to Stamos, who spearheaded the reboot effort.
At 35 minutes, the pilot feels interminable, but excusably so. It's the sweet, exhaustive series finale Full House should have gotten in 1995, crammed full of winks and callbacks that make it the period to supersede the original final episode's ellipsis. Were Fuller House a one-off reunion movie, it would be hard to fault even if it isn't easy to like. It wouldn't be for everybody, but neither are any of Netflix's throwback passion projects. Netflix has enough money to buy goodwill with small pockets of its member base by reanimating the shows they were once passionate about, and no one should begrudge them that. But Fuller House isn't the end of an old thing, it's the beginning of a new thing, and the pilot, with its limp, fusty Miller-Boyett humor, doesn't justify another dozen episodes. Its quaintness is mildly comforting, but that's not nearly enough to sustain a full season, and Fuller House doesn't have much to offer beyond a glimpse at a bygone era.
G/O Media may get a commission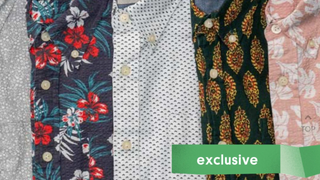 Grab three styles!
JACHS NY Summer Pack
That will likely be enough for passionately devoted Full House fans, which is apparently a group of people that exists and inconspicuously walks among us. For anyone else, Fuller House will be uncomfortable and mildly offensive in a way that's not always easy to quantify. The idea of D.J. moving back into her childhood home and asking Stephanie and Kimmy to help raise her three boys following her husband's death probably sounded great in the pitch meeting. But on screen it's downright depressing, and creator Jeff Franklin should consider doing an episode that flashes back to colonial times to show the origin of the generational curse that strikes down the spouses of Tanner heirs after a third child is born. Fuller House, like its forebear, tries to split the difference between adorable and elegiac, but the repetition of the premise robs the show of its emotional impact. There are also too many intrusions from the older cast members, who worm back into the show in totally unnatural ways, preventing Fuller House from establishing its own rhythm and proving it's more than a nostalgic exercise. Earnestness was Full House's selling point, but Fuller House is too contrived to be sincere.
Fuller House doesn't have bright spots, but it does have less dim ones: Barber's performance is the most finely tuned, and Kimmy Gibbler is surprisingly the show's best written character. She seems most like a credibly grown-up version of the Full House character, and she's got her own life to lead as she navigates the wreckage of a divorce and raises her feisty 13-year-old daughter Ramona (the charismatic Soni Nicole Bringas). But mostly Fuller House evokes a smut-free porn parody, with sexualized adult versions of characters who, in the collective psyche, are frozen in amber as children. It manipulates and exploits nostalgic goodwill like a triple-X feature, or like Too Many Cooks, the surreal viral short inspired by Miller-Boyett's family-sitcom assembly line. But for all Fuller House's flaws, one can only hope Netflix doesn't stop generously excavating long-dead intellectual property, because the next Wet Hot could be just around the corner. Encouraging Netflix to continue buying rounds for everyone in the bar means accepting that sometimes people who should have been cut off will be over-served to everyone's detriment.