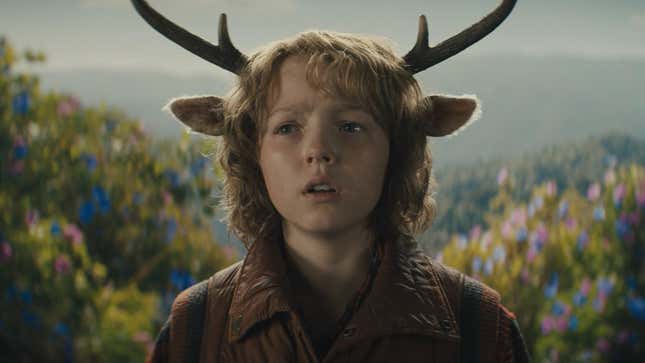 If you watched Cocaine Bear, there's a good chance you thought, "Oh, this Henry kid is an adorable actor." Well, the good news is not only that Cocaine Bear is streaming on Peacock now, but actor Christian Convery returns to the screen in Sweet Tooth season two. He leads Netflix's fantasy drama based on Jeff Lemire's comic book of the same name. The show returns at the end of this month.
The A.V. Club's weekly film round up
Created by Jim Mickle, Sweet Tooth is an underrated hidden gem on Netflix, which hosts a sea of nonsense content (and evidently can't handle a live-streaming event). The show is set in a world recovering from a global pandemic. (Don't worry, it's a supremely different kind). Known as "The Great Crumble," it began when a viral disease wiped out most of the population while leading to the mysterious emergence of hybrid babies who are part human, part animal. The show centers on Convery's Gus, a half-deer hybrid teen who goes searching for his mother after his father dies. He finds an unexpected protector in Jepperd (Nonso Anozie). And he needs it, too, because a villainous group called the Last Men have made hybrid hunting their pandemic sport.
Sweet Tooth debuted in June 2021, so it's been almost two years since we saw Gus get captured by the Last Men in the season one finale. Meanwhile, Jepperd is attacked but saved by Aimee (Dania Ramirez), a former therapist who secretly runs The Preserve to protect hybrid kids.
As seen in the season two trailer, the two team up to save the children from Last Men, while Gus takes up the leader mantle because war is afoot. Crucially, the trailer hints at an expanded role for Gus' mother, Birdie (Amy Siemetz), who was revealed to be alive and hiding somewhere in the Arctic. Also: a new type of sickness is bearing down on everyone—even fictional worlds don't get a break.
The cast includes Adeel Akhtar, Aliza Vellani, Neil Sandilands, Stefania LaVie Owen, and Marlon Williams, with Josh Brolin as a narrator.
Sweet Tooth season two premieres on April 27 on Netflix.