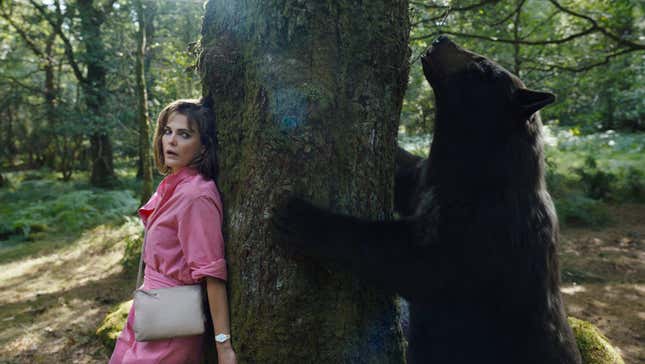 Cocaine Bear is a movie that was already a certain kind of hit before it even came out thanks to its idiotic premise and outrageously blunt name. And while it is enjoyable and has many great moments, it doesn't quite come together with polish. If this reminds you of the Samuel L. Jackson vehicle Snakes On A Plane, well, it's no surprise. This movie is better than that 2006 momentary phenomenon (bears make funny faces and are fuzzy, after all) but keep Snakes On A Plane in mind should you buy a ticket to Cocaine Bear—it's important to manage expectations for the quality of the high being offered.
Sharon Stone made a fraction of what Michael Douglas did for "Basic Instinct"
Cocaine Bear is directed by the abundantly talented actress Elizabeth Banks, whose previous turns behind the camera include the very successful Pitch Perfect 2 and her 2019 stab at Charlie's Angels with Kristen Stewart. It's written by Jimmy Warden, who shares a credit on the very bad Netflix film The Babysitter: Killer Queen, and is loosely (extremely loosely) based on a real incident in which a drug runner dumped a bunch of cocaine out an airplane and then parachuted after it. For reasons probably less dopey than what's seen in Cocaine Bear, he failed to open his chute and died. The drugs landed in Georgia's Chattahoochee National Forest, where a bear found it, ate it, and also died.
The film does not stick too closely to the facts, trying instead to invent a Fargo-esque carnival of dumbass criminals, cops, and civilians all tangling with a ferocious bear whacked out on coke. There are some aspects that really work. One thing to admire throughout is how the picture leans into the scuzz. Right from the beginning there are little kids (Brooklyn Prince, from The Florida Project, and the extremely amusing Christian Convery) with potty mouths who intentionally and happily swallow some of the cocaine. In a world where comedy is so bland and safe, it's good and right to be reminded that some movies—especially movies called Cocaine Bear—don't really care if they offend.
G/O Media may get a commission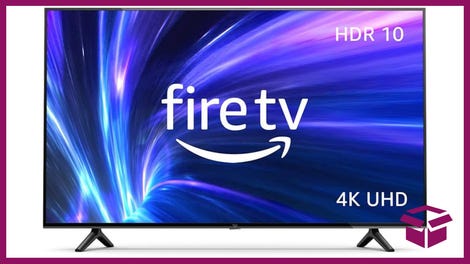 42% Off
Amazon Fire TV 50" 4K Smart TV
The bear's future victims are in the forest, where the kids have gone after skipping school, and where their mother (Keri Russell) has gone to find them. Later, mom meets a park ranger (Margo Martindale) and a nature expert (Jessie Tyler Ferguson). Also there are drug dealers (Alden Ehrenreich, O'Shea Jackson Jr., and Ray Liotta) looking for the missing stash, plus a cop played by Isiah Whitlock Jr. who has a very funny bit of business realizing that once he's climbed up on a gazebo roof he has no way of getting down.
The kills—and there are many—are gross and hilarious. There is one stretch that involves a flubbed escape that gets surprisingly brutal, but it's still darkly funny when a growling black bear with white powder all over his snout leaps in slow motion as Depeche Mode's "Just Can't Get Enough" plays on the soundtrack. Less funny and more annoying is kicking the picture off with Jefferson Starship's "Jane," a terrific song, but one that's already owned by the film and series Wet Hot American Summer. (Extra weird: Elizabeth Banks is in that!)
During the time in which Cocaine Bear is set, the U.S. government urged people to "just say no." But considering this is a gleefully flawed movie in which a bear snorts a line off a severed leg, and the "drugs as Popeye's spinach" trope is used to its finest effect since The Wolf Of Wall Street, let's amend that famous phrase in the name of Cocaine Bear to "just say sure."

Cocaine Bear opens in theaters on February 24