Here's what's up in the world of TV for Monday, August 1. All times are Eastern.
Top picks
We Bare Bears (Cartoon Network, 5 p.m.): Finally, da Bears are back! After a few-month hiatus, Cartoon Network's We Bare Bears' second season returns tonight with "Fashion Bears." Will We Bare Bears recreate this music video? There's actually a very strong possibility of that, given the show. But if not, at least we know what they will do: "In order to abide by the clothing policy of their favorite Boba shop, the bears get some new outfits. But with new looks come new lives including office work, fashion modeling and even falling in love." Either way, we still already have the extremely catchy theme song stuck in our head…
The Bachelorette/The Bachelorette: After The Final Rose (ABC, 8/10 p.m.): "IT'S ONE OF THE MOST ROMANTIC AND DRAMATIC NIGHTS EVER ON ABC, ON THE THREE-HOUR LIVE SEASON FINALE EVENT OF THE BACHELORETTE." Literally nothing about that sounds like "one of the most romantic… nights ever," but false advertising is what it is. ("Is what it is." That's reality-TV talk right there. We're prepared.) JoJo has to make a choice, and… Hey, you know how you feel about all of this—we're just here to let you know or remind you that this is occurring tonight.

Angie Tribeca (TBS, 9 p.m.): Angie Tribeca's second season is almost over, and oh boy—things are getting crazy. "When a graphic designer is found dead, all evidence points to Tribeca. Why?! What does it mean?! It's just needless cliffhanger after needless cliffhanger with absolutely no accountability for narrative satisfaction!" Put that way, Angie Tribeca is a lot like real life, don't you think? Also, here's this press photo:
Premieres and finales
Meet The Donors: Does Money Talk? (HBO, 9 p.m.): Spoiler alert: Money does talk. (Also, this HBO documentary is specifically about "the mega-donors funding America's presidential candidates.")
G/O Media may get a commission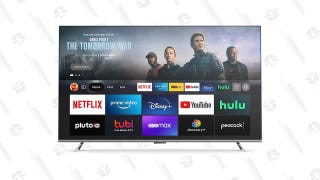 Save 46%
Fire TV 55" Omni Series 4K UHD Smart TV
I Am JFK Jr. (Spike TV, 9 p.m.): Never forget, bro—Spike TV is for the bros. So of course it's airing a documentary about JFK Jr. He could've been the ultimate bro's bro. Or something. Honestly, this documentary would make more sense on Esquire TV, not the home of the Guys Choice Awards… "Now, seventeen years after his tragic death in a plane crash, members of JFK Jr.'s inner circle are opening up for the first time about the all-too-human side of the friend they lost, in the intimate new documentary I Am JFK Jr. for Spike TV. The documentary features interviews and never-before-told stories from those who knew the president's son best—famous friends like Robert De Niro, Cindy Crawford, and Mike Tyson; media stars like Christiane Amanpour and Chris Cuomo; his college roommates and his close friends and colleagues from JFK Jr.'s pioneering George magazine."
Baby Bodybuilders (TLC, 9 p.m.): NOPE!
Running Wild With Bear Grylls (NBC, 10 p.m.): Nick Jonas starts the third season of Running Wild With Bear Grylls, as Jonas and Grylls (now that's a TNT drama we want to see) have "an icy journey across the Sierra Nevada Mountains."
Fameless (TruTV, 10/10:30 p.m.): David Spade's "half-prank, half-sketch show" returns for its second season with two episodes, "The Invasion" (ooh) and "The ShawPrank Redemption" (ugh). In the first episode: "An aspiring news anchor's first day on the job might be her last day on Earth, a wannabe reality star finds himself fully exposed in a heated love triangle, and a slick TV host inadvertently uses his newfound powers for evil." And in the second: "A prison prank becomes a prison break for an aspiring jokester, an angry robot gets its buttons pushed by a wannabe TV host, and a self-proclaimed expert on dog discipline discovers a terrifying new breed." Oh, classic "mischievous mind of comedian and actor David Spade."
Comedy Knockout (TruTV, 11 p.m.): Comedy Knockout continues its first season with tonight's "summer premiere." Now, to explain what Comedy Knockout is: "Comedy Knockout pits comedians against each other in a series of fast-paced challenges, with the audience having sole discretion to decide who is the funniest person in the room. In each of the episodes, host Damien Lemon (Guy Code) sends three comics into a battle of high stakes comedic gameplay. With points doled out based on the audience's applause, it's all about one-upmanship as competitors attempt to land massive comedy blows and whip the rowdy crowd into a frenzy of raucous laughter. The whole time, the comedians throw roast-like, rapid-fire jabs at each other to knock their opponents off balance. Every show ends with one comedian crowned champion, one eliminated and one ultimately forced to face the crowd and apologize for going down in shameful defeat." Somehow, this sounds even more self-serious than most comedians. Also: POINTS!
Regular coverage
BoJack Horseman (Netflix)
Steven Universe (Cartoon Network, 7 p.m.)

WWE Monday Night Raw (USA, 8 p.m.)
UnREAL (Lifetime, 10 p.m.)
Streaming pick
The Hills, seasons two through six (Hulu): Seasons two through six of The Hills are on Hulu. But what about the first season? That's… not on Hulu. Why not? We honestly don't know. Your friendly neighborhood What's On Tonight contributor has never even seen The Hills. She doesn't care if you see it either, to be perfectly honest. But Hulu thought she should watch it, which was ridiculous enough until she learned that season one wasn't a part of that suggestion. So now she's dwelling on that, and that's your inside track into how a streaming pick is, well, picked. You can apparently buy and stream the first season on Amazon Video, but that's really not the point. Why isn't the first season on Hulu? Why? Why, Hulu?!? "Season one is not currently available." No doy, Hulu. NO DOY!