Sheryl Swoopes has more than enough life experience to fill an hour-long documentary episode. She was a highly touted recruit at Texas who chose to return home before her freshman season and enroll in junior college, before working her way to a national championship as a senior at Texas Tech. She headlined the inaugural season of the WNBA after helping bring home the first of five consecutive Olympic gold medals in women's basketball in 1996—before her first pregnancy precluded her from starting the season on time. She divorced her first husband, came out in ESPN Magazine (well before Jason Collins), and declared bankruptcy after earning over $50 million in her career.
"Swoopes" is interested in tracking those twists and turns, from her record-setting performance in the NCAA tournament title game, to her pregnancy on the verge of the WNBA's first season, to her relationship with Houston Comets assistant coach Alisa Scott, to her squandered millions. There are more than a handful of points over the course of Sheryl Swoopes' career that would make for fascinating in-depth hour-long documentaries. Instead, this is a shallow portrait of a milestone female athlete that doesn't even engage with the lazy "female Michael Jordan" label beyond using it as a marketing tool.
After watching "Swoopes" twice, I feel like I will now remember a lot more about Sheryl Swoopes than I did back when I watched scattered games throughout the first few seasons of the WNBA as a kid, when I could name Cynthia Cooper, Lisa Leslie, and Rebecca Lobo, but not Swoopes. I knew the gossipy highlights of her career—going bankrupt, coming out—and her name came up many times in response to Jason Collins being incorrectly touted as the first openly gay athlete. That aspect of Swoopes' career highlights just how mainstream sports media ignores women's sports, or how quickly media forgets the other steps along the way to an openly gay, active male athlete in a major sport.
But the chief failing of this entry is that it attempts to shoehorn in every tidbit of information about Swoopes' life, from a harsh childhood in West Texas to her new coaching gig at Loyola Chicago, without ever exploring those events in-depth. The most recent high profile women's basketball player to abandon her commitment early on in her college career was Elena Delle Donne, who dropped out of Connecticut due to homesickness (she's especially close to her older sister Lizze, who has cerebral palsy) and played volleyball after become disillusioned with basketball, before returning to lead Delaware to great success. For Swoopes, that twist was only the beginning—and she was so talented that she took unheralded Texas Tech all the way to a national championship. But in the first of many missed opportunities, "Swoopes" doesn't delve too much into her family life, or her decision to leave Texas, or the run up to the national title.
G/O Media may get a commission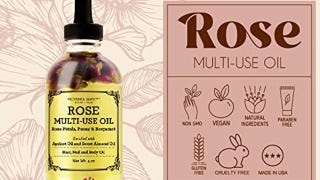 Provence Beauty Rose Multi-Use Oil
The most interesting part of "Swoopes" covers those initial championship seasons in Houston during the first years of the WNBA. And though Swoopes is a compelling individual story, perhaps those four titles in a row to start the WNBA's existence, where Swoopes, Cooper, and Thompson competed for the spotlight, would've made for a more riveting documentary. Point guard Kim Perrot's role in that phase of Swoopes' career certainly feels underdeveloped—she gets credit for being the one to control the competing personalities, but her sudden diagnosis and death from lung cancer amid the third title run could be its own hour.
"Swoopes" misses the opportunity to discuss homesickness and the pressure on college athletes to quickly adjust to new surroundings, highly touted recruits choosing traditionally small-time programs for personal reasons, a Houston Comets team with as many feisty personalities as the mid-1990s Chicago Bulls, the unsupported comparisons to Michael Jordan, Swoopes' status as an unabashedly open woman unafraid to display her fluid sexuality, and the crushing guilt of failing to save money for the future. That last part gets skipped over a bit too much in the rush to see Swoopes' presumed redemption. A Houston Chronicle writer named Dale Robertson states that $50 million doesn't just disappear on shoes, cars, and houses, but dwindles due to bad investments with hangers-on—but then the documentary tosses in statements from Swoopes' mother and brother before moving onto the next phase of her career.
There are strains of other 30 For 30 entries here—the Jimmy Valvano documentary touching on cancer, Broke examining athletes in bankruptcy—but all of the various pieces add up to a complex woman known only on the surface through the headlines. This is a puff piece profile to give Swoopes recognition, nothing more.
SportsCenter anchor Hannah Storm directed "Swoopes," which may have something to do with the extended "Sunday Conversation" feel of the episode. Sheryl Swoopes turns out to be more than a perfect candidate for a Nine For IX documentary, but the lack of a clear focus yielded a passable overview that packs no punch for such a fascinating athlete.