Ten years ago today, Nine Inch Nails made a bad April Fool's joke by announcing a "new full-length album" called Strobe Light. The mock-up track list detailed 14 songs, complete with intro and outro skits, titles like "Coffin On The Dancefloor," and a line-up of guests including Alicia Keys, Chris Martin, Justin Timberlake, Jay-Z, and Fergie. As continued evidence that this happened back in 2009, the album was supposed to have been produced by Timbaland.

Strobe Light was fake. It did not exist then and, for the past decade, it has continued to not exist. Now, thanks to a Twitter account called Atticrent Reznoss, it's actually here.
A Bandcamp page with no further details on who, exactly, Reznoss is (other than a very committed Fools' Day celebrant) went up today, turning Strobe Light's joke titles and guest appearances into reality through a full-length mash-up album.
The tracks range from purposefully awful to actually kinda okay. The best are the mash-ups drawn from across the band's career, which are mostly just reverential remixes of the Nine Inch Nails' discography. Some moments from these, like the start-and-stop first verse in "Coffin On The Dancefloor" are both well-made and very funny takes on the material.

G/O Media may get a commission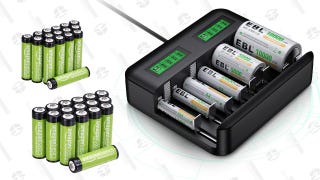 More notable, though, are the songs featuring ridiculous "guest appearances." "Everybody's Doing It," for example, reinterprets The Fragile's "The Day The World Went Away" by giving a few verses over to Chris Martin's falsetto, cutting in Bono singing the title line from "Beautiful Day," and mixing in chorus hooks supplied by a lackadaisical Jay-Z sample. Another, the incredibly named "Pussygrinder," replaces the chorus in "Head Like A Hole" with a gorgeously incongruous sample of Sheryl Crow singing the "All I Wanna Do" hook.

There's obvious care put into the entire record, even if it is essentially just a throwaway joke. Check out the Strobe Light Bandcamp page for yourself in order to listen to this mad work and soak in the lovely album cover originally made by Nine Inch Nails back in 2009. As far as we know, it's the only site where you can both listen to a Fergie/NIN mash-up and admire a photo of an unsmiling Reznor wearing white shutter shades in the same place.

Send Great Job, Internet tips to gji@theonion.com