Lena Dunham and Jenni Konner made a career out of creating an entertaining series filled with frequently unlikable people in HBO's Girls. The pair's second time around on the cable network shows that lightning indeed does not strike twice. Camping is in the running for the worst U.S. version of a successful British series since Coupling, an awkward, painful cringe comedy heavy on the cringe and appallingly light on the comedy.
What's worse: It has an excellent cast, led by Jennifer Garner in her first TV turn since Alias. It's puzzling why she picked this series to make her return with—although possibly the short season filled with 30-minute episodes, along with a locale convenient to her Pacific Palisades home, might have had something to do with it. Garner gives it her all as Kathryn, the beyond-annoying control freak who is unfortunately the show's main character. She's arranged the world's longest weekend trip for her husband's birthday and invited lots of friends and relatives, very few of whom appear to be having a good time.
Some try harder than others—Juliette Lewis appears to be enjoying herself as outsider Jandice, the new girlfriend of one of Walt's college buddies who is Kathryn's polar opposite, as loose as her host is tightly wound. Ione Skye is refreshingly droll as Kathryn's ditzy sister Carleen, who gets amusing lines on her arrival like, "We took the highways… and the byways," or explaining her demeanor to Jandice: "I need to be tense or I get wobbly."
The women fare much better than the men do: David Tennant, so marvelous in everything from Doctor Who to Jessica Jones, is wasted as Kathryn's hen-pecked husband, Walt. Chris Sullivan shakes his nice-guy persona on This Is Us by playing Carleen's addict boyfriend, Joe, who falls off the wagon almost immediately upon entering the campground. Other Walt pals like Brett Gelman's George and Arturo del Puerto's Miguel are either shrill (the former) or forgettable (the latter).
G/O Media may get a commission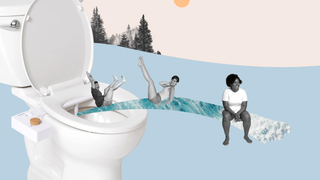 17% off
Tushy 3.0 Warm Water Spa Bidet Attachment
So we're left with Kathryn, and she's awful: Deeply unkind, and entirely humorless. She has a number of health issues that border on Munchausen syndrome, complaining about her pelvic floor (to her child) and flipping through fibromyalgia magazines. If her health issues were an attempt to make the character sympathetic, it doesn't work.
She fruitlessly tries to make amends with the friend she crossed, Nina Joy (a solid Janicza Bravo), casts off cruel remarks to her sister about her own childlessness, and berates her husband to the point where the viewer has no idea why he would stay—both at the campground and in the marriage. She puts all the weekend plans in a binder, telling the adults that they can't swim in the lake because it's not swimming day and sulking when her son wins at "I spy." When Jandice mistakenly slips Kathryn an Adderall, she's even worse then usual, crashing a miles-more-fun-by comparison glamping party hosted by the slumming Busy Philipps and Nicole Richie.
The double-whammy of making this character so hideous and the one who gets the most screen time practically sinks the show from its start. If Kathryn has a single redeeming factor, it still isn't apparent by episode four, except for her mad organizational skills. Which is too bad, because there is potential. Walt's storyline is especially wasted: He's turning 45, but Tennant is never given a chance to interpret entering the middle of middle-age. The real question, though, is whether Kathryn will change when she realizes her type-A personality kills all the fun for everyone around her. (I'm guessing that this transformation will come later in the season, but most viewers except for the most devout Dunham/Garner fans will have fled by then. Life is short.)
Various shuffled pairings of the cast at least offer some welcome and occasionally humorous insight, mostly due to the unbridled hippie magnetism of Lewis' Jandice. She gets Carleen to cut her extremely long hair (she has been emulating Cher from childhood), she offers dangerous pills to the already teetering Joe, she enthuses to Joe's daughter that being gay means that she's likely headed for a great sex life. All Kathryn offers are screeches and accusations and physical ailment descriptions that not only make the other characters tense, she can even kick up the blood pressure of the viewer, and not in a good way.
It's a waste of a fine cast and a bucolic setting. One possible upside for the series is that Camping might inspire people to go camping themselves, just to get away from TV for awhile.