Pop culture can be as forbidding as it is inviting, particularly in areas that invite geeky obsession: The more devotion a genre or series or subculture inspires, the easier it is for the uninitiated to feel like they're on the outside looking in. But geeks aren't born; they're made. And sometimes it only takes the right starting point to bring newbies into various intimidatingly vast obsessions. Gateways To Geekery is our regular attempt to help those who want to be enthralled, but aren't sure where to start. Want advice? Suggest future Gateways To Geekery topics by emailing gateways@theonion.com.
Geek obsession: Northern soul
Why it's daunting: From the British Invasion to grime, the English have had a thing about absorbing American culture, making it their own, and letting it leak back across the Atlantic in a form that's both familiar and refreshing to Stateside audiences. But getting into Northern soul is considerably trickier than appreciating The Rolling Stones or Lady Sovereign. Northern soul is a British genre—and yet the music within that genre is almost entirely American. Born out of the mid-'60s mod scene, Northern soul was built on rare American soul singles from the '60s and '70s that mostly never made the charts and don't appear on oldies radio. But rarity isn't what drove acrobatic, smartly dressed partiers to dancehalls to hear their favorite DJs spin Northern 45s. Northern soul has an intangible yet visceral quality—pop hooks, pounding beats, a certain tender finesse—that sets it apart from the smoldering gravitas of Otis Redding or the stark funk of James Brown. That said, Northern soul isn't the opposite of Southern soul (as we Yanks understand the latter term); while much of Northern soul's sound emanated from places like Chicago and Detroit, the genre isn't concerned with where a particular singer came from. Rather, a Northern song is one that lights up a Northern dance floor—nothing more, nothing less. With such an arbitrary litmus test, Northern soul remains a mystery to many of the Americans that have heard of it, even in the Internet age, where once-rare tracks are now readily available.
Possible gateway: Various Artists, 101 Northern Soul Anthems
Why: Northern soul is all about the singles—specifically, the vinyl 45s pressed mostly on smaller labels in the '60s and '70s, forgotten minor hits or non-hits that UK collectors have been scooping up from under our noses for four decades. (Before the wave of Northern-soul compilations in the '80s and '90s and eBay in the '00s, enterprising Northern DJs would make pilgrimages to America simply to comb thrift stores and used record shops, looking for obscure 45s to bring home and spin triumphantly in packed clubs.) Many of these singles can still be bought—some for hundreds of dollars—and others have been reissued on 45 for more reasonable prices. But the aforementioned compilations are the best way for a beginner to get acquainted with the sprawling, nebulous genre. In spite of the bland title and tacky CD cover, 101 Northern Soul Anthems is a decent place to start. Amid dozens of relative rarities that give an excellent glimpse into the genre's breadth and depth—like Sandi Sheldon's "You're Gonna Make Me Love You" and the late Willie Mitchell's "The Champion"—the hefty anthology serves up a few of Northern soul's most ubiquitous tracks. Among them is the overplayed, over-covered, but eternally kick-ass "Tainted Love," a Northern classic by diva (and later, Marc Bolan's lover and the mother of his child) Gloria Jones; the jittery, wistfully joyous "Seven Days Too Long" by Chuck Wood (covered by Dexy's Midnight Runners on their great Searching For The Young Soul Rebels album); and the transcendent "Change My Darkness Into Light" and "Nothing But A Heartache," two criminally overlooked songs by The Flirtations, a little-known girl group from South Carolina.
Next steps: While it's easy to enjoy Northern soul without any kind of context for the music, it doesn't hurt to delve into the scene that rediscovered and exalted that music. Well into the '70s, a group of elite UK clubs employed the best DJs and hosted parties that begat its own subculture. The four volumes of The Northern Soul Story spotlight the best tracks heard at each of the four top soul clubs in England—The Twisted Wheel, The Golden Torch, Blackpool Mecca, and Wigan Casino—including some of the lusher, funkier, yet no less obscure songs that came into vogue in the Northern scene as the '70s progressed. (Yes, that even means sumptuous proto-disco like The Trammps' "Hold Back The Night" and Patti Austin's "Didn't Say A Word.") Of the many books that have been written about Northern soul over the years, Mike Ritson and Stuart Russell's The In Crowd: The Story Of The Northern And Rare Soul Scene is a heartfelt, enlightening intro. And the two-CD set issued in conjunction with it, The In Crowd: The Story Of Northern Soul, is a good next step for those who already have one foot on the dance floor. The only problem with Northern soul compilations is this: A lot of the ones labeled as such either rehash the same old songs or scrape the bottom of the barrel. Meanwhile, a lot of great Northern tracks are hidden on non-Northern collections, like Alfreda Brockington's thrilling, heartbreaking "Chained And Bound," tucked away on Soul Jazz's awesome Philadelphia Roots collection. In other words, as in the original days of Northern soul, there's no substitute for rolling up your sleeves and doing some digging.
Where not to start: For the most part, the artists who made some of Northern soul's biggest classics didn't necessarily do so consistently—which means very few full albums by a single singer or group are great examples of Northern soul, even if those albums happen to be fantastic. Stomping full-lengths like The Flirtations' Nothing But A Heartache and Edwin Starr's Soul Master are rare exceptions to this rule. Similarly, Northern soul comps that focus on a particular label—even Motown or Atco, whose lesser artists, like Chris Clark and Darrell Banks, are some of Northern soul's giants—don't provide a wide enough range for novices. Also be wary of vinyl compilations from the '80s, particularly those on the British labels Kent and Charly. While the track lists range from decent to impeccable, they cram way too many songs onto an LP, significantly lowering their fidelity—which, in many cases, is already kind of low.
G/O Media may get a commission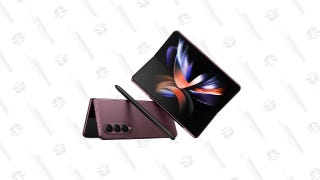 Save Up to $300
Galaxy Z Fold4
And a note to those who don't collect vinyl and have no desire to start: By all means, feel free to stream or download any Northern soul music you can find for your listening pleasure. Just don't try to DJ with mp3s. The obsession with 45s isn't just a snob move; besides the fact that most vintage soul songs simply sound more dynamic on a turntable, keeping things vinyl-only helps retain that link to the Northern tradition. It may sound reactionary, but Northern soul is, after all, an inherently retro movement. For a gorgeous dose of that nostalgia in song form, check out The Style Council's 1983 song, "A Solid Bond In Your Heart"—an homage to the Northern sound and lifestyle by one of its longtime champions, Paul Weller.