Here's what's up in the world of TV for Thursday, May 2, 2013. All times are Eastern.
TOP PICK
Parks And Recreation (NBC, 9:30 p.m.): The show's fifth season ends with Leslie Knope marking her first anniversary as councilwoman and asking the people of Pawnee—and, by extension, all of us watching at home—whether they're better off now than they were a year ago. While we ponder that question, Andy calls in FBI super-agent Burt Macklin to solve the mystery of which Parks character is pregnant. Oh, you thought Burt Macklin was dead? So did Steve Heisler…'s enemies.
---
REGULAR COVERAGE
The Big Bang Theory (CBS, 8 p.m.): Sitcom legend Bob Newhart appears in tonight's episode as beloved TV scientist Professor Proton. Sure, this might be just another hip and trendy guest star designed to shamelessly pander to the younger octogenarians in CBS' audience, but hey… Oliver Sava isn't about to turn down free Bob Newhart.
Community (NBC, 8 p.m.): Abed decides it was destiny for the study group to end up together, and he uncovers how their lives were intertwined long before Jeff enrolled at Greendale. Todd VanDerWerff hopes this exploration of the gang's secret shared past is just the first step to a Muppet Babies-style spin-off in which infant versions of all his Greendale pals live together in a nursery, because Todd VanDerWerff believes every show should feature a Muppet Babies-style spin-off.
The Vampire Diaries (The CW, 8 p.m.): After last week's backdoor pilot shenanigans with the Originals, it's back to business as usual in Mystic Falls as Damon and Stefan take some extreme measures to reawaken Elena's humanity, going so far as to "call for backup from a surprising source." We're guessing that surprising backup is Carrie Raisler, who has been watching and reviewing the adventures of these crazy kids for so long that she's surely the perfect person to solve all their sexy problems.
G/O Media may get a commission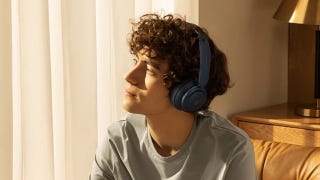 30% off
Soundcore Headphones and Earbuds
The Office (NBC, 8:30 p.m.): The Office starts 30 minutes earlier for this special hour-long episode in which it's revealed Dwight's new karate sensei is The Sopranos' own Michael Imperioli. Also, Andy Bernard bids an emotional farewell to Dunder Mifflin, but Joshua Alston knows Christopher doing roundhouse kicks is what really matters here.
Glee (Fox, 9 p.m.): Stevie Wonder is the latest music legend to get his own Glee tribute episode, which for some reason means Kate Hudson's fearsome NYADA dance instructor is back for the first time in months to sing "Uptight (Everything's Alright)." Brandon Nowalk will have his review signed, sealed, delivered as soon as possible, because he's the sunshine of all our lives. Also, please pretend we said something about superstitions, to complete the set of shamelessly contrived Stevie Wonder song references.
Person Of Interest (CBS, 9 p.m.): With just one week to go until the season finale, Reese and Finch discover the Machine can no longer be trusted after it's struck with a virus. Phil Dyess-Nugent recommends they just unplug and reboot the Machine after waiting, like, about 20 seconds, as that's how he always solves problems with his future-predicting supercomputers.
Elementary (CBS, 10 p.m.): In an episode rather confidently titled "A Landmark Story," Sherlock and Joan hope the return of Vinnie Jones' assassin, the miffed Marine marksman Moran, will take them a step closer to the malevolent, mysterious, maybe murderous Moriarty. Myles McNutt isn't sure when this show became so obsessed with the letter "M," but he's a fan.
Hannibal (NBC, 10 p.m.): Another familiar character from the larger Red Dragon/Silence Of The Lambs mythos makes his debut tonight in the form of Dr. Frederick Chilton, as Will and Dr. Bloom visit his asylum to interview a patient who claims to be the Chesapeake Ripper… even though Molly Eichel totally knows who is really behind those crimes. (Hint: His name rhymes with "Cannibal" and is "Hannibal.")
Scandal (ABC, 10 p.m.): The hunt for the mole continues, and meanwhile the plot description promises that "Mellie's ultimatum forces Cyrus into the role of 'fixer.'" Ryan McGee kind of figured Cyrus had already done more than enough to earn that job title, but he's glad to see it's official.
---
TV CLUB CLASSIC
Star Trek: Deep Space Nine (11 a.m.): This week's episodes feature various crew members having babies and becoming parents… which just means Deep Space Nine is going to be even more heartbreaking and emotionally devastating than usual. Zack Handlen wouldn't have it any other way.
Gilmore Girls (1 p.m.): It's a multi-generational story this week, as Marion Ross shows up as the original Lorelai Gilmore, and she's here to stir up trouble with her daughter-in-law, granddaughter, and great-granddaughter, who is still busy getting over her painful breakup. David Sims can't believe Mrs. Cunningham would ever be so mean.
---
WHAT ELSE IS ON?
Big Time Rush (Nickelodeon, 8 p.m.): The fourth season of this real-life boy band's fictionalized adventures begins tonight, as Big Time Rush is so worried about British boy bands stealing their thunder that they start looking for a new manager. Since part of the show's fake backstory is that these guys were originally hockey players in Minnesota, we can only hope that they seek out the sage wisdom of America's greatest coach, Gordon Bombay.
America's Worst Tattoos (TLC, 9 p.m.): Among the awful tattoos spotlighted in this episode is what's described as "an ill-advised homemade tattoo," which just seems redundant. We'd much rather see a show about all the carefully considered, tastefully chosen homemade tattoos, but we guess shows do still need to be more than 5 minutes long.
The Show With Vinny (MTV, 10 p.m.): This show is for all those who thought, "You know, I like Vinny Guadagnino on Jersey Shore, but I would love him in a talk show format in which he and his family cook dinner for celebrities and then chat with them." Also, tonight's guest is Lil Wayne, so this promises to be the Frost/Nixon of our generation.
Zack Stone Is Gonna Be Famous (MTV, 10:30 p.m.): This new sitcom features Bo Burnham as fame-hungry high school grad Zack Stone, whose plans to become a celebrity somehow aren't just making a bunch of YouTube videos, which we're told is a pretty effective way to get famous. Pilot Viruet is on hand to sort all this out for us.
I, Robot (Cinemax, 8 p.m.): And now, a revised version of Isaac Asimov's iconic Three Laws of Robotics, based on this 2004 blockbuster. 1. A movie adaptation of I, Robot may not harm Isaac Asimov's original book or, through inaction, allow his book to come to harm. 2. A movie adaptation of I, Robot must obey the spirit of Asimov's original ideas about robots. 3. A movie adaptation of I, Robot must protect Will Smith's own existence as a major box office draw, and that protection is way more important than the First or Second Laws.
Licence To Kill (G4, 8 p.m.): This 1989 Bond film is either a misunderstood classic that laid the early groundwork for Daniel Craig's grittier approach… or it's just a whole lot of cheesy nonsense about drug dealers and shark attacks that features way too much Wayne Newton (in other words, any Wayne Newton), and it almost killed the franchise. We're not totally sure which of those is the truth, but Timothy Dalton remains a great James Bond, even if his best performance in the role might actually be in Hot Fuzz.
NBA Playoffs: Game 6: Nets at Bulls (TNT, 8 p.m.): The Chicago Bulls have a chance to eliminate the Brooklyn Nets in the United Center, which seems like as good a time as any for the long-awaited return of injured star Derrick Rose. But since that almost certainly isn't happening, maybe the Bulls can sneak in some of the franchise's older stars instead. We're sure Dennis Rodman can take a break from his newfound, terrifying diplomatic career to grab some rebounds, and we think the world is ready for the climactic comeback of Bob "Butterbean" Love.
---
IN CASE YOU MISSED IT
The Middle (Wednesday): In last night's visit to Orson, Indiana, Mike found himself forced to listen to Frankie's dad tell long, tedious stories. Will Harris' reviews are nothing like that, but he can tell you quite the tale of a ferry trip he once took to Morganville (which is what they called Shelbyville in those days) with an onion tied to his belt, which was the style at the time…