The town of Jackson in Jackson Hole, Wyoming, has a population of around 9,800 people, a total area of 2.95 square miles, and a YouTube livestream that has piqued the interest of many. Jackson began streaming live footage of its town square on July 20, 2016, and since then the continuous livestream has developed its own small but mighty internet subculture. (For instance, at the time of writing, there are over 1,300 people watching the "Jackson Hole Town Square" stream on YouTube.)
To be clear, nothing particularly exciting happens in the livestream. It's mostly just cars and people passing through a busy intersection in a small town. Nevertheless, the chat feature updates at a furious pace usually reserved for political events and award shows. Most of the comments simply reference whatever happens to appear on screen, from unusual looking cars to people walking their dogs. There's a popular Tumblr post that has pulled out some of the most common examples.
Russell Crowe is pretty chill about not being in that "Gladiator" sequel
But certain elements of the Jackson livestream have taken on their own mythology. One of those is a palpable enthusiasm for red trucks, which get excitedly singled out whenever they drive by. It's gotten to the point where people are now going to the town square to share their red truck love in person.
G/O Media may get a commission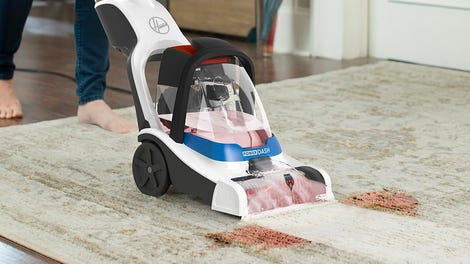 26% Off
Hoover PowerDash Pet Compact Carpet Cleaner
Another fascination is Jackson's elk antler arch, which sits just off the center of the screen. Commenters regularly "praise" the arch and demand that people "feed it" by walking through it.
For the most part, the people of Jackson seem to be ignoring the livestream. But there are some exceptions. One time a few people arrived to "feed the arch" with a giant pizza prop:
Another time a local sheriff pulled up in the middle of the night to do a quick dab for the camera:
He later returned to do the chicken dance:
And once four policemen performed what looks to potentially be the 22 push-up challenge in the middle of the road:
Over 50 days since it began, the stream's popularity shows no signs of slowing down. The whole thing serves as a microcosm for the internet and, arguably, the human condition: We assign value to something inherently meaningless out of a desire to connect. And thus a worship of red trucks is born.