Here's what's up in the world of TV for Thursday, March 27. All times are Eastern.
TOP PICK
Surviving Jack (Fox, 9:30 p.m.): Christopher Meloni never really left television—there are too many Law And Order: SVU reruns in the world for that. But inasmuch as he did, he returns tonight—as a comedian, no less. Meloni is the star of Fox's new single-camera sitcom Surviving Jack, which premieres tonight. It's not bad, but as Sonia Saraiya discussed in her pre-air review, it's rehashing previous material, in more ways than one. But Meloni is a delight, as always—which is why Will Harris sat down with him to discuss roles past and present for our recurring interview series, Random Roles.
---
ALSO NOTED
Parenthood (NBC, 10 p.m.): Parenthood is hardly the flashiest show, but as the rest of NBC's programming is taking off tonight, it seems like a good opportunity to draw attention to this quiet little show at 10 p.m. Tonight, Adam takes Max on an adventure, while Amber treats Sydney and Victor to a surprise. And Todd VanDerWerff is looking forward to both.
Vikings (History Channel, 10 p.m.): This show just got renewed for a third season—four episodes into its third! We only just started invading what is now modern-day England and messing around with King Ecbert. Where are we going to go next? Dennis Perkins is hastily consulting his map of the world circa 865.

Portlandia (IFC, 10 p.m.): The other day we were sent the Portlandia Activity Book, which has a large bird stencil on the cover, and also a calendar with some new holidays like "Awareness Month." This is your semi-regular reminder to watch Portlandia. And to move to Portland, where Les Chappell lives.

G/O Media may get a commission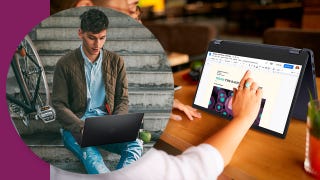 Ends August 15
Best Buy Anniversary Sale 2022
Ends August 15
Best Buy has a number of different promotions happening all for its Anniversary Sales Event. Laptops, tablets, TVs, you names it. Whether you're heading back to school or just trying to fill your home with some new tech, there is something here on sale that you've likely been waiting for.
---
REGULAR COVERAGE
The Vampire Diaries (The CW, 8 p.m.)
Reign (The CW, 9 p.m.)
Suits (USA, 9 p.m.)
Scandal (ABC, 10 p.m.)

---
TV CLUB CLASSIC
Star Trek: Deep Space 9 (11 a.m.): Zack Handlen's Outer Space Fictional Space Station Support Group will meet at the usual time and place. But for how much longer?
---
ELSEWHERE ON TV CLUB
TV Roundtable brings us musings on "The Man Behind The Curtain," Ryan McGee's favorite episode of Lost. In this late season three episode, mythmaking and parallel storytelling work together to make one of the show's strongest episodes. And, as Erik Adams, Molly Eichel, and Phil Dyess-Nugent discuss, it might be the last great episode of what Lost promised to be.
---
MARCH MADNESS IS STILL HAPPENING AND HERE IS TONIGHT'S SCHEDULE
Dayton vs. Stanford (CBS, 7:15 p.m.)
Baylor vs. Wisconsin (TBS, 7:47 p.m.)
UCLA vs. Florida (CBS, 9:45 p.m.)
San Diego St. vs. Arizona (TBS, 10:17 p.m.)
---
WHAT ELSE IS ON?
Inside The Actors Studio (Bravo, 8 p.m.): James Lipton interviews the cast of How I Met Your Mother, on the eve of the series finale next Monday night.
Here Comes Honey Boo Boo (TLC, 9 p.m.): Third season finale. The family scrambles to make some New Year's Resolutions.
Chicagoland (CNN, 10 p.m.): This special docuseries on CNN continues. Tonight, Common, Dwyane Wade and Magic Johnson assist Mayor Rahm Emanuel with promoting Chicago's youth programs.
America's Worst Tattoos (TLC, 10:30 p.m.): Third season premiere. The title seems relatively self-explanatory.
---
NEW SHOWS TO KEEP AN EYE ON
Saint George (FX, 9 p.m.)
Red Road (SundanceTV, 9 p.m.)
Sirens (USA, 10 p.m.)
Review (Comedy Central, 10 p.m.)
Check It Out! With Dr. Steve Brule (Adult Swim, 12:30 a.m.)
---
AND ALSO SOME MOVIES, OR WHATEVER
Friends With Benefits (FX, 6:30 p.m.): We oddly enjoyed this rom-com, starring Mila Kunis and Justin Timberlake. That doesn't make us feel very good about ourselves, but we're trying to be honest, here.
Baby For Sale (Lifetime Movie Network, 8 p.m.): A couple trying to adopt falls into a baby-smuggling ring and then works with authorities to help expose them.
---
IN CASE YOU MISSED IT
Broad City: Goodbye, first season of Broad City! You were wonderful and magnificent and beautiful, and Caroline Framke will miss you terribly.