At the end of "Greg," the lead characters Pickle and Peanut begin to beatbox and rap about the weird adventure they've just been on, ending with the line, "Next episode is better!" There's an uncomfortable layer of desperation there. Fourth wall breaking is all well and good, but to indirectly call out your first episode as essentially bad reeks of a kind of weary recognition of your show's own flaws. It's the kind of self-deprecation that belongs in a later episode, not the pilot, after certain narrative and comedic parameters have already been established. (Pilots are usually weak anyway, so you're just telling us something we already know.) To be fair, "Gramma Jail" is marginally better, if only because it has a slightly tighter narrative structure, but neither episode has much going for it outside of a half-assed Squidbillies aesthetic with very little, if any, reach beyond its basic, moronic "two best friends" set up.
Pickle and Peanut, Disney XD's new show, comes at a curious time in the network's surge in popularity. Disney XD had a ton of growing pains during its shift into more animated fare, with perhaps some of the most absurd scheduling of all time (Gravity Falls fans know what I'm talking about.) But it grew more confident and self-assured, letting its wave of new and old cartoons breathe a little, becoming a fairly strong force in kids television, primarily by offering a sheer variety of cartoons, providing a good mix of tones, styles, and genres. Pickle and Peanut feels like its aiming for the stoners–I mean, fans of weird, Adult Swim-esque type shows, at a time where "weird cartoons" are sort of, kind of starting to lose their flavor. It was created by Noah Z. Jones, who created Fish Hooks, a decent if forgettable cartoon that aired on Disney XD (seemingly as a placeholder); it was developed by Joel Trussell, who worked on a few music videos and some Yo Gabba Gabba animated segments.

Pickle and Peanut, combined with Disney XD's Future-Worm shorts and its various interstitials, feels like the network is trying to dip its toes into playing with weird-driven, limited animated cartoons, but compared to the tightly driven worlds of Wander Over Yonder, Star Wars Rebels, and Gravity Falls, it's just feels out of place. The show cribs from Regular Show's "millennial burnouts" premise by way of Sanjay and Craig's "bizarre/surreal suburbia" perspective, but lacks the former's close observation of occupational and/or relationship struggles, or the latter's wild, absurd ambition and impressive animated moments (along with its second season's improved hilarity and shockingly great VO work from Chris Hardwick). Pickle and Peanut's whole schtick is getting caught up in a random, strange, nonsensical story and throwing a lot of weird and crazy at the proceedings to see what sticks.
G/O Media may get a commission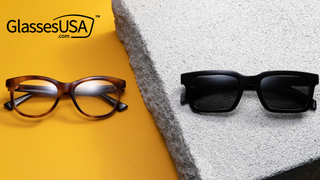 60% off frames
GlassesUSA.com Back to School Sales
"Greg," for example, involves Pickle (Jon Heder) crashing into a display of zit cream and developing a zit, which comes alive and repeats its name, Greg, over and over. It becomes so popular with the public that they're invited to Lazer's party, but there they meet women with feet for faces and witness their zit being abused. Then it becomes a monster and terrorizes the town. It doesn't make more sense in context, peppered with whispered background voices echoing various words and other visual flourishes that are more disturbing than comedic. It's aggressively not interested in Pickle and Peanut's friendship, their blasé work environment, the need (or lack of need) for status recognition, or expanding the core cast incrementally, or even being funny. Comedy is subjective, and I'm sure that younger audience may enjoy the abject absurdity, but very little is structured in joke form–it's just a lot of "weird for being weird sake."
"Gramma Jail," despite the song's assurance, isn't much better, although it has a bit more going for it, primarily because Pickle expresses some warm, if tenuous, affection for Gramma, so much so that he's willing to rescue her from jail. It provides Pickle an outlet to project enjoyment towards someone other than Peanut (more so than a random gross growth on his butt). It allows for a (albeit lazy) twist in the story, in the revelation that Gramma is actually the dreaded Cyclops who's running the prison. And it also contains slightly darker gags, such as Pickle's blunt "She's dead" response to Gramma's comments about his grandmother, and an random old lady dying right in the middle of the store. While Adult Swim could make such bleak gags work wonders by merely exaggerating them to insane degrees, Pickle and Peanut is limited by network constraints, thus making such gags feel more cruel than comic.

Really, though, there's not much to really say about the show. It's the prototypical "you either love it or you don't" type of show, but with no real verve or substance, narratively or visually, Pickle and Peanut will most likely be disliked by most people. Sure, I can see a subset of young kids finding humor here, but even Disney seems embarrassed by the show–has anyone seen any ads or commercials for its premiere? At best, Pickle and Peanut will have a small internet following, comprised of fans of Tumblr, Youtube-poops, and the users of 4chan's b/ forum. It's lazy and insipid and ironic about everything, and if that's your cup of tea, that's fine. But let's be real: Disney, you're better than this, and you know it.
STRAY OBSERVATIONS:
This is speculative, and maybe worthy of a "For Your Consideration," but I believe the era of "weird" cartoons is ending since Breadwinners was removed from Nick's schedule and it's Pig Goat Banana Cricket is doing poorly as well. Uncle Grandpa is apparently doing just good enough, and it feels like no one is talking about Teen Titans Go! anymore (despite its high ratings, the last eight or so episodes were weak, to be honest.) With Aqua Teen Hunger Force ending, it feels like that era is just done, you know?
That intro is the worst. It's basically the millenial-hipster version of "We Didn't Start the Fire." I'm pretty sure "YOLO" wasn't in the lyrics only because the show began production when the term became popular. Also, Pickle's name isn't mentioned in the song, only partially.

The portrayal of women in this show is, at best, shallow. Let's set aside the fact that there's clearly zero potential female recurring characters here. The ones we do see are throwaways or grossly objectified. Beyond the feet women, there's the image below, which situates two hot-bodied gal figures within a cutaway that has absolutely nothing to do with them. I mean, I get the whole "super-duper-whatever" nature to the joke, but also, it's glaringly too stupid to be sexist. So, points?
The end credits aren't much better. Most likely Disney XD will cover it up with a preview for another show. It's for the best.

Purely a nit-pick, but: what's with the whole "young dudes just hanging around, freestyling" thing? Adventure Time, Regular Show, and now Pickle and Peanut is doing it. Are people actually doing this? You… you know it's pretty hard to freestyle, even if its nonsense, right?