Pop Up Video is back, which begs the simultaneous questions "Why?" and "Why not?" As was pointed out on Slate, the series' irreverent pop-culture commentary seems practically charming compared to what's been going on online since the show went off the air. Perez Hilton drawing cum stains on targets' mouths is already passé: Now we've moved on to the part where the celebrities hit back. But on the other hand, VH1 might as well bring back the show: Pop Up Video is cheap to make, and people might enjoy the return of actual music videos on a music video station, albeit with commentary.
As Jessica Grose at Slate pointed out, the celebrity snarky commentary is the weakest part of the series. We all know that Britney Spears and Lindsay Lohan have had their personal problems, so there's hardly anything new under the sun to say about those topics, even when set to to the videos for "Till the World Ends" or "Rumors" (the videos in the series' return spans the last 10 years or so, at least at this time).
The best part of the show has always been the behind-the-scenes information about the video shoots. They're like directors' commentaries, only for people with shorter attention spans, who still want to hear what's going on. I still remember how much more interesting I found U2's "New Year's Day" after learning, thanks to the show, that the horseback riders in the video were actually young Swedish girls. It works once again, especially in grandiose but dull videos like Diddy-Dirty-Money's "Coming Home," where we learn the details about how ridiculous it is to set up a shoot in the Mojave Desert.
Look, I can't in good faith recommend that you set aside your precious time to watch Pop Up Video. It's silly crap. But I'll keep recording it, for now anyway, because show-wise, it's like a comfy old shoe. My affection for Pop Up Video is probably largely based in nostalgia. It was a great show to waste a few hours watching back in college or on a sick day, and I always have room on my DVR for little half-hour chunklets of mindless entertainment. If someone would just bring back Blind Date, I'd be all set.
Stray observations:
If you watch Pop Up Video based on the videos, I've seen one-and-a-half episodes at this time and the videos features included, in addition to Spears', Diddy's and Lohan's, Good Charlotte's "The Anthem," Lauryn Hill's "Ex Factor," Cee-Lo Green's "Fuck You," Florence and the Machine's "Dog Days Are Over," and Taylor Swift's "Our Song."
G/O Media may get a commission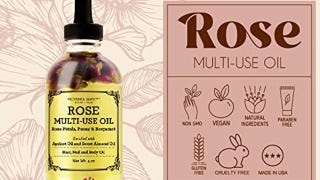 Provence Beauty Rose Multi-Use Oil