The album may or may not be obsolete, but the fact remains: Listeners have long obsessed over individual songs. The Single File is The A.V. Club's look at the deep cuts, detours, experiments, and anthems that make us reach for replay.
Sharon Stone made a fraction of what Michael Douglas did for "Basic Instinct"
In 1958—12 weeks and three states apart—two boys were born in the American Midwest. One was given the regal name Prince. But it was the other boy, Michael, who would grow up to be the King Of Pop.
Drawing parallels between Prince Rogers Nelson and Michael Joseph Jackson is easy. Both were prodigies. Both revitalized R&B after disco left it limp. Both wound up sharing a religion: Jehovah's Witnesses. And both eventually morphed into eccentrics whose genius and success left them increasingly unsatisfied—creatively and otherwise.
But there's a fundamental difference between these two emerging giants, one that became strikingly clear in 1979, just as each was unleashing his first true artistic statement upon the world.
G/O Media may get a commission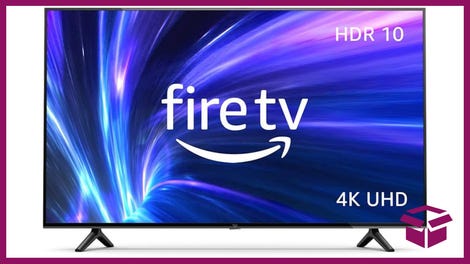 42% Off
Amazon Fire TV 50" 4K Smart TV
Prince really, really loved to fuck.
During the summer of 1979, Prince and Jackson both turned 21. As gifts to themselves, they signed their names in flame amid the stars. Granted, Jackson had been famous for years. But his new solo album, Off The Wall, was an evolutionary leap, a masterpiece of intricate syncopation and buoyant futurism that showed just how far the singer had come since his boy-band origins. And just how far he might go.
Prince was still mostly unknown in 1979. The brash singer-songwriter and multi-instrumentalist had unveiled his debut album, the uneven but promising For You, one year earlier. "Produced, arranged, composed, and performed by Prince," went the liner notes. He accomplished all this when he was 19. No one cared.
His second album, Prince, changed everything. Its lead single, "I Wanna Be Your Lover," came out in August of 1979, two weeks after Off The Wall. His previous single, 1978's "Just As Long As We're Together," had peaked at No. 91 on the R&B chart. "I Wanna Be Your Lover" hit No. 1. There was a spark in the air, and it wasn't a fluke. Disco was bloated and old. Here was something fresh, sharp, hot, lean, fun, and achingly desperate. Make that aggressively desperate.
If there's one thing the young Prince liked more than fucking, it's singing about fucking. Or singing about how he's thinking about fucking. Or, simply, how much he wanted to fuck. In case you were wondering, there's one person in particular he would like to generously give that fucking to: you.
"I didn't want to pressure you, baby, but…," he sings in "I Wanna Be Your Lover," with all the creepiness of someone who says, "I don't mean to sound racist or anything, but…" Let's not mince words: Prince is giving you the hard sell. As the beat snaps, snug and elastic as a condom against the meat of the bass, the singer lets loose squeal after sweet, lascivious squeal. The chorus is a thing of naked, lurid, almost hymnal allure: "I wanna be your lover / I wanna be the only one that makes you come running / I wanna be your lover / I wanna turn you on, turn you out / All night long, make you shout / Oh, lover, yeah / I wanna be the only one you come for."
Again, Prince is producing, arranging, composing, and performing. In this case, though, his bed is his studio. Cracking his guitar strings like whips, caressing them like silk, he uses the method of the best record producers: plead one minute, command the next. "I get discouraged," he confesses with a hint of menace, "'Cause I never see you anymore / And I need your love, babe, yeah / That's all I'm living for, yeah."
In case his veiled threat of love-struck suicide isn't enough to leverage at least a backseat grope, he drives the point home as disturbingly as he can: "I wanna be your brother / I wanna be your mother and your sister, too / There ain't no other / That can do the things that I'll do to you." In other words, he's not averse to feigning incest, as long as that illicit bit of role-playing will help make it happen. "It," of course, being unrestricted access to your genitals.
Regardless of how one feels about the accusations of child molestation that would one day be leveled against Michael Jackson—which, it must be remembered, he was acquitted of—there's no denying he was more asexual than anything else. Even the sultriest track on Off The Wall, the inexhaustibly great "Don't Stop 'Til You Get Enough," sounds more like a song about a song about sex. There's a distance, a hermetic abstraction, to Jackson's carnal innuendo. Personal space isn't in Prince's vocabulary.
It's the final verse of "I Wanna Be Your Lover," though, that offers some deeper insight into Prince—and shows that he shared more of Jackson's innocence than anyone might imagine, at least at the time. In his opening lines, Prince reveals that he "ain't got no money." But after all his light petting and heavy panting, he admits he's just as poor in experience: "And I get discouraged / 'Cause you treat me just like a child / And they say I'm so shy, yeah / But with you, I just go wild."
His swagger drains away. What's left is 21-year-old kid from Minnesota who's spent every spare moment of his post-adolescence cooped up in a rehearsal space, obsessively writing songs and mastering every instrument he can scrounge up. He may dream of handling a sexual partner as expertly as he fingers frets and keys, but deep down, he's insecure. Unlike Jackson, he hasn't had the world courting him since he was 10. In hindsight, it's impossible to imagine "I Wanna Be Your Lover" being anything other than a hit; but when Prince recorded it, he had every indication that it would be another flop. So he overcompensated, doubled down, let it all hang out. The song was more of a plea for America to love him than any woman. And it worked.
Not long after the breakthrough success of "I Wanna Be Your Lover," Prince's career diverged even more widely from Jackson's. The '80s saw each artist make idiosyncratic yet landscape-altering masterpieces. By the '90s, both had become icons—and, ironically, unrecognizable. Jackson had plastic surgery performed on his face. Prince had plastic surgery performed on his name. The result was the same: These two men who had radically changed pop music let pop music radically change them. Retreating from the pressures and strictures of the industry, Prince stopped crooning about his desire to be your lover and began barking out the pros and cons of pussy control. The sensual grooves that had liberated him now felt compulsory. Making music, it seemed, had turned from a passion to a prison.
Listening back to the frictionless, unfettered funk of "I Wanna Be Your Lover," though, it's not so hard to picture Prince as he was in his youth: precocious, ambitious, immensely gifted, restlessly innovative.
And horny. So very, very horny.