Variety reports that Tony Rosato, one of the few sketch comics to ever appear as a cast member on both Saturday Night Live and SCTV, has died. Rosato—who worked as a prolific voice actor in the years since his 1981 stint on SNL—was 62.
Like most of the SCTV cast, Rosato came up through the ranks of the Toronto branch of The Second City, abandoning a collegiate pursuit of chiropracty in favor of the comedy world. Rosato joined SCTV for its third season in 1980, stepping in for the recently departed Catherine O'Hara, Harold Ramis, and John Candy, and witnessing the rise of newly minted head writer Dave Thomas. During his single-season tenure on the show (some of which ended up being broadcast as part of the show's fourth season, on NBC), Rosato was tasked with impressions of comic figures like Ed Asner and Lou Costello. But his most famous performance was as drunken chef Marciello Sebastiani, a genial Italian-American stereotype who did everything from ineptly cooking lobster to ineptly teaching conversational Italian.
In 1981, Rosato made the move to Saturday Night Live, stepping into the show in the wake of the infamous Jean Doumanian debacle. Standing in the shadows of assumed star player Joe Piscopo, and actual rising star Eddie Murphy, Rosato lasted only a single season before conflicts with NBC exec Dick Ebersol ousted him from the show. (His fellow SCTV alum, Robin Duke, would hold on considerably longer.) Still, Rosato managed to get in at least a few notable sketches, most memorably a Weekend Update bit about the Emergency Broadcast Network that managed to combine deadpan and chaos in equal measures.
After leaving SNL, Rosato eventually returned to Canada, scoring a four-year run on the well-regarded police drama White Heat. Later, he moved into the world of voice acting; video game-loving kids of a certain generation will recognize Rosato as the voice of Luigi in the Saturday morning Super Mario Bros. 3 cartoon. Rosato played dozens of voice acting roles over this phase of his career, appearing in both video games and cartoons.
Unfortunately, in recent years, mental health and legal problems began to hinder Rosato's career. In 2005, he was charged with criminal harassment of his wife and daughter, and was later diagnosed with Capgras delusion, a mental disorder that causes people to perceive their loved ones as dangerous impostors. He ultimately spent several years in prison and mental hospitals, before being released in 2009. Afterward, he continued to work occasionally as an actor and performer. Rosato died of a heart attack on Tuesday.
G/O Media may get a commission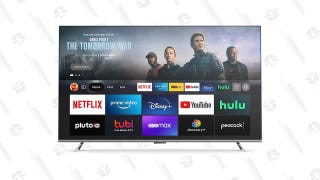 Save 46%
Fire TV 55" Omni Series 4K UHD Smart TV