Kenny Baker, the man who gave physical presence to R2-D2, one of the most beloved robots in all of science-fiction, has died. According to Variety, Baker was 81, and had been suffering from chronic illnesses for some time.
Born in England, Baker worked for several years as a performer in circus acts, comedy troupes, and ice shows. During that period, he often collaborated with actor and performer Jack Purvis—who, like Baker, was of short stature—with the two eventually going on to work together on a number of projects, including Time Bandits, Willow, and the original Star Wars trilogy.
In 1976, Baker was hired by Star Wars director George Lucas, who needed someone to portray R2-D2 from within the film's robot suit (constructed by toy designer Tony Dyson, who died earlier this year.) Although the production did have remote control versions of the character, they were prone to breakdown, and so Baker was often on hand to capture R2's movement, walking inside the model, usually alongside Anthony Daniels' stiff-limbed C-3PO.
Baker would go on to play R2-D2 in all three of the original Star Wars films (as well as an Ewok in Return Of The Jedi). Decades later, he reprised the role for the prequel films, although the combination of his advancing age, and the production's increasing reliance on CGI and radio-controlled models, meant that relatively little of his footage appeared in the finished products. Although he didn't lend any movements to the film, he was also credited as an "R2-D2 consultant" on Star Wars: The Force Awakens. (It was subsequently announced that, due to Baker's failing health, the role of R2 would be played by Doctor Who actor Jimmy Vee in the upcoming Star Wars: Episode VIII.)
Baker was an active participant in the fan culture surrounding the films, often appearing at sci-fi conventions and making himself available to fans. He also continued to work steadily through the '80s and '90s, appearing in Time Bandits, Willow, and Amadeus.
G/O Media may get a commission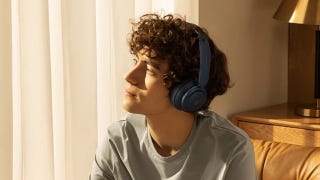 30% off
Soundcore Headphones and Earbuds
Baker was married to actress Eileen Baker for 23 years, until her death in 1993. He is survived by their two children.