The shuffler: As Girl Talk, one-man non-band Gregg Gillis smashes bits of songs together, creating frantic new compositions out of the pop-culture ether. His third album, Night Ripper, hit plenty of 2006 year-end lists in spite of its dubious legality: Gillis samples everyone from Phil Collins to Neutral Milk Hotel to Lil Wayne. It's simultaneously confusing and brilliant.
Smashing Pumpkins, "Silverfuck"
Gregg Gillis: This album, Siamese Dream, is one of my favorites. The guitars are just amazing. This song is really intense. It feels kind of like it should be the last song on the album, but I don't think it is.
The A.V. Club: When you listen to music now, are you always listening for little snippets you might be able to use?
GG: Yeah, just kind of blatant things. The beginning of this song starts out with just the guitar part, and it's clearly in 4/4. This whole album seems precisely calculated, just how the guitars are. This is something where I knew if I would grab this opening bit, it would absolutely fall onto time in a song, whereas a lot of older recordings don't do that. I like to use recognizable songs, but other than that, this song would be perfect. I don't think it's that hugely recognizable, but just because it's largely instrumental and there's a lot to work with without vocals, you can put your own vocals over the top. So this is definitely something I would pinpoint.
G/O Media may get a commission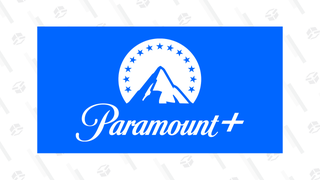 One month free
Paramount+ One-month Free Trial
Boogie Down Productions, "P Is Free"
GG: KRS-One is one of my favorite rappers ever. I actually don't even know why I have this on my computer, but I do. I really like this album, Criminal Minded. This is a very cool sampled song. They kind of keep repeating samples throughout, keeping the pace of the song, and it's just very… It's obvious that they're using a sampler, kind of revealing their tools. I'm a sucker for any hip-hop with sampling in it.
AVC: Do you ever end up inadvertently sampling a sample?
GG: Yeah, a bunch! Sometimes out of convenience. Sometimes you can get a higher quality sound from them, because someone's already worked it over. On my last album, I sampled a Lord Tariq song that sampled a Steely Dan song. I had the Steely Dan song, but the Lord Tariq song had it in higher quality, so I just took that one.
The Band, "The Weight"
GG: I actually don't know anything about this other than they're kind of a '60s band. I do really like the song, just been sampling it last week, trying to work it into sets. This is a good example of a song, as opposed to the Smashing Pumpkins, that's put together a bit more loosely, because it was recorded sometime in the '60s. But once I sampled it and put it in loops, it didn't match up exactly in beats, so I had to go back and edit each drum hit to make everything fit as precisely as possible.
AVC: Do you have a massive record and CD collection?
GG: I have a decent amount. I sampled a bit of stuff from my dad's collection. He has probably a bigger record collection than I do. I try to buy as much as possible, because I've never been able to keep an MP3 collection organized. I like to keep my computers as clean as possible.
AVC: What does your dad think of your music?
GG: He's into it. I mean, he loves when he hears [a sample of] Hall & Oates or James Taylor, something that he's into, because I think he can see the obvious influence. He's come out to shows, my mom's come out to shows. It's weird, because they've never even commented about the vulgar lyric content. I'm sure they don't like it. My dad's been one of those dads who loves showing newspaper articles to the neighbors. It's actually kind of obnoxious when I go home. There's stuff cut out of magazines and stuff like that everywhere.
T'Pau, "Heart And Soul"
GG: The intro sounds great. It sounds kind of like Annie Lennox, "Walking On Broken Glass," a little. And the synth parts are really emotional and amazing. The rest of the song, after the intro, gets pretty ambitious. It's not that normal of a structure to a song. It's like two women singing simultaneously for the bulk of it.
Black Sabbath, "Hand Of Doom"
GG: This is that overly funky song on Paranoid. I was into alternative stuff, but I was also open to a little bit of hard rock and metal, like Guns N' Roses, Metallica. And this is kind of the only "old" record I bought when I was a kid, just because all the big hits off this were known to everyone. It never even seemed like an old record to me. The riffs are just amazing. This song's really good, the structure of it kind of reminds me of Smashing Pumpkins' "Silverfuck" a bit. They're kind of the equivalent to each other for the album, it's a kind of long song with a lot of soft and loud parts. But the drumming on this is phenomenal.
AVC: Do you know the average number of songs that go into one of your tracks?
GG: I don't really know offhand, because I built the last album as one whole piece to begin with. I sample a lot of individual percussion hits, so the line between when something's the sample and when it's just some unrecognizable chunk of sound… It's hard to draw the line. But I'd usually say between, maybe upward of 10 to 20 songs in a three-minute span. I do some slower stuff, but there's always just, like, a handclap from a Black Sabbath song, or the snare drum from "Hand Of Doom" thrown in the mix.
Rich Boy, "Throw Some D's"
GG: This is probably my favorite rap song right now. It's a dude out of Alabama, I think. The intro to this song doesn't make any sense. It's just some smoothed-out jazz music, and girls talking. The rest of the song is awesome. The production's very smooth, very lush layers of sounds, but it's very heavy. It's something you can dance to.