Much like Christmas Vacation 2: Cousin Eddie's Island Adventure, the saga of Randy Quaid is nonsensical, overlong, and willfully ignored by most. Summarizing his slow descent into madness and exile from what he claims are "Hollywood Star Whackers" out to destroy him would take years of blog posts, each more baffling than the last. Or you could just watch the new video he just released, in which Quaid has sex with his wife Evi while she wears a Rupert Murdoch mask.
Randy Quaid - Message to Rupert Murdoch
Having finally grown the perfect beard to match his ideas, Quaid appears to be holed up in a cheap motel—presumably still in Canada, where, at last report, he'd filed a lawsuit against Secretary of State John Kerry, claiming he was deprived of his legal identity as an American citizen and denied the ability to work, after his passport was revoked. The State Department responded that it often revokes passports due to outstanding felony warrants—like the kind that was issued for the Quaids over an unpaid hotel tab, which they fled to Canada to escape in the first place.

But Quaid doesn't mention Kerry, or even the Star Whackers. Instead, he has identified some new enemies, railing against Murdoch, Warner Bros., Village Roadshow's Bruce Berman, the New York Post and TMZ, among other targets. Presumably these have been pulled from that large map of "Everyone Who's Out To Get Randy Quaid" seen just over his shoulder.
G/O Media may get a commission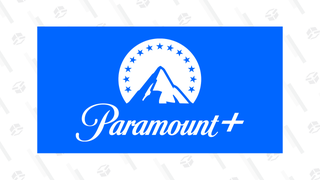 One month free
Paramount+ One-month Free Trial
As his wife watches silently, clad in just a bikini and sunglasses, Quaid declares that they've been through "a hell of biblical proportions"—accusing Berman of stealing his house, the Post for trying to "smear me to high heaven with a pack of lies," and Warner Bros. for colluding to have TMZ arrest him six times, which is yet another thing that Randy Quaid believes can and did happen. "Hashtag PMC—Police Media Corruption!" Quaid screams loudly, and therefore convincingly. He also adds air quotes.

However, Quaid reserves his most cutting words for Murdoch, first noting that he's wearing the "the very same shirt that I wore in '94 when I saved the world" in the Fox movie Independence Day. "Another act that Rupert Murdoch still hasn't thanked me for!" Quaid scoffs.

Naturally, this raises the question: Does Randy Quaid believe Independence Day really happened? Do all of the events of the past three or four years stem from Quaid's hurt feelings over Rupert Murdoch's refusal to show him proper gratitude for defending the Earth from space aliens? And most importantly, how did we get to the point where this would actually be the least confusing explanation for Quaid's recent behavior?

However, such questions will have to wait, because Quaid has already moved on to the ultimate rejoinder in any one-sided debate: declaring that, since Murdoch has tried to fuck him, now it's his turn. He hands Evi a Rupert Murdoch mask, bends her over, spits in his hand, then proceeds to take her from behind while a trembling dog barks nervously at them, like a nation personified.
At the moment of supposed climax, Quaid evokes his Independence Day character again, yelling, "I'm baaaaack!" (and the fact that he refrained from yelling, "Shitter's full!" is this story's sole silver lining). Randy Quaid is back, all right. And one shudders at the thought of how that shadowy media cabal will attempt to use this video of him humping his wife in a Rupert Murdoch mask to further assail his credibility, and what sort of video he'll have to post then.

[via Daily Mail]