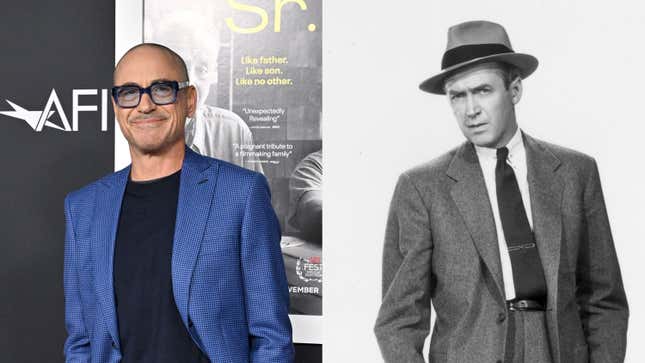 Robert Downey Jr.'s post-Iron Man career might be taking another interesting turn. Deadline reports that the Zodiac actor is producing and potentially starring in a new adaptation of the Alfred Hitchcock classic Vertigo that has been ordered by the original's studio Paramount Pictures and approved by the late director's estate. The 1958 film was led by James Stewart as John "Scottie" Ferguson, a retired detective with a fear of heights who becomes drawn into a sinister intrigue and obsession. Kim Novak co-starred as the subject of his fixation, though no other possible cast members for the remake have been named.

Tragedy strikes Lana Del Rey in form of lost vape pen
Adapted from Pierre Boileau and Thomas Narcejac's novel D'entre Les Morts, Vertigo has long been considered to be one of the master of suspense's greatest films. Peaky Blinders creator Steven Knight, who was recently announced to be working on a mysterious Star Wars movie, will be writing the script for the new version. He already has notable experience with penning tense thrillers, with Serenity, The Girl In The Spider's Web, and Spencer already on his résumé. Deadline's report does not offer any hints as to whether or not the Vertigo remake will be updated for the present day, but if it is, Knight will presumably introduce a twist where the whole thing is a murderous child's video game.
Following his decade-plus stint as Tony Stark, Downey has been focusing on producing, though he did star in the January 2020 release Dolittle. Last year, he shared the screen with his father in the Netflix documentary Sr., which chronicled the last years of the Putney Swope director's life. Downey has seemingly been lining up more acting jobs recently and will be seen in Christopher Nolan's Oppenheimer this summer. He is also starring in A24 and HBO's adaptation of Viet Thanh Nguyen's acclaimed novel The Sympathizer.