Although she's now been semi-gracefully excised from the hit TV show that once bore her name, Roseanne Barr remains a frequent topic of conversation in the television world—including at this week's TCA press tour. (After all, it's not every day that someone goes from "having the most successful sitcom on the planet" to "not having any sitcom at all" in the course of a single Twitter binge.) Interestingly, though, much of the conversation this week around Barr's dismissal from her ABC sitcom is coming from people who actually knew her—a hefty group of names, given how long she's been working in the business—and who are openly questioning how a woman who was once seen as a crusader for equal rights and fair treatment has ended up in the place she's in.
Martin Mull (who appeared on numerous episodes of the original series as Roseanne's periodic frenemy, Leon) said he didn't recognize anything of the woman he knew in the tweet—which contained a racist joke at the expense of Obama adviser Valerie Jarrett—that so drastically derailed her own career. "My own dealings with Rosie never indicated to me anyone who would write that tweet," Mull said. "I certainly don't approve of the tweet. I never saw that in her. But I did see things in her that were inexplicable." Fellow comic Tim Allen made a similar comment, although, being Tim Allen, he made sure to couch it in a lot of "But was what she did so wrong?"s and, inevitably, references to Lenny Bruce:
I go way back with Rosie and that's not the Rosie I know. She was the most diverse and tolerant woman I've ever known for a long time. Whatever got in her head isn't the Roseanne I know. It's a very icy time. I've been a comedian for 38 years and I've never seen it, like Lenny Bruce said at the Purple Onion, "We've gone backwards." There are things you can't say. There are things you shouldn't say. Who makes up these rules? And as a stand-up comic, it's a dangerous position to be in because I like pushing buttons. It's unfortunate. 
The most interesting response, though, came from fellow mononymous performer Sinbad, who was at the press tour to promote the new Fox sitcom Rel. Describing Barr as "one of the most woke women I ever met," Sinbad recalled multiple instances where Barr stood up against racists and pushed for more representation and diversity in the parts of the industry she could control. "I just look at here now, I'm just like, 'What the hell happened?'" he asked, before concluding, "I think money drives us out of our minds." 
"Thank god I didn't make that much money."
G/O Media may get a commission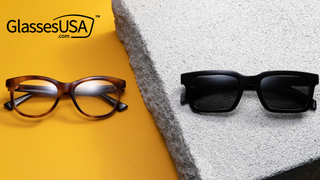 60% off frames
GlassesUSA.com Back to School Sales