As evidence of the increasingly fast-paced modern world in which we live, Sacha Baron Cohen's newest movie is already pissing off an entire region of people before it's even released. The Guardian reports that Cohen's upcoming, Louis Leterrier-directed spy spoof Grimsby has upset residents of its namesake, a Northern England town that soon may no longer be known for its fishing industry or a middling Elton John song, but rather for being a depressing shithole hardly befitting the name "Grimsby." As noted by The Hollywood Reporter, the town is the fictional home to Cohen's 1980s football hooligan, and it's being presented with the sort of nuanced cultural satire you'd expect from the creator of Borat:
Locals from Grimsby haven't been altogether amused by the aesthetic results, which have reportedly seen gardens covered in rubbish, graffiti scrawled on walls, cars on bricks and boarded up shops. Pictures that have emerged from the shoot show characters urinating out of windows, drunks passed out on benches and mothers offering cans of beer to children on the street.
"I've lived here all my life. It's an up-and-coming area, and I'm not pleased that this is the way the world will get their first and maybe only look at Grimsby," said one lifetime resident of this city on the rise, which now has as many as two Tesco stores, and has proudly discussed plans for a new football stadium since 2010.
Of course, come next summer, moviegoers won't be getting a look at any sort of Grimsby—not really. As The Guardian reports, the production is actually filming in the port town of Tilbury, whose transformation into a dilapidated pit of despair and staggering drunks also seems to have upset locals, who can't figure out why the signs are different.
"I'd been away for two weeks and came back last night so confused because all the shops had changed and said Grimsby on them – I thought I was drunk," Bethany Casey, 19, told the local Thurrock Gazette newspaper. "I tried to get to the off-licence and thought 'what's going on here?' so I went to the other one further down and noticed a run-down park had sprung up—but I didn't think anything of it because, if they did put a new park in Tilbury, it would get wrecked straight away."
Meanwhile, Tilbury's Parliament representative stood up for the natural beauty of the town by posing for a photo in front of a power plant. There were also some cows.
G/O Media may get a commission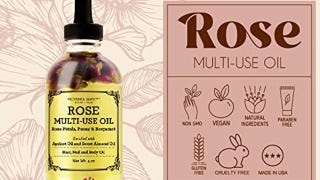 Provence Beauty Rose Multi-Use Oil
Anyway, some have lamented that Grimsby and/or Tilbury may soon join Kazakhstan and Staines—which avoided association as Ali G's hometown by changing its name to Staines-upon-Thames, forcing editors into a mad scramble to revise their copies of Burke's Peerage—in the legacy of places no one particularly paid attention to until Sacha Baron Cohen made fun of them. But in the meantime, at least Grimsby can still enjoy this year of respite—when it's still represented in more homegrown, representative videos such as "Grimsby: Home Of Ozzy The Wino," "Grimsby's Finest 17-Year-Old Slag," and assorted clips of drunks having fights in the streets and getting arrested—before Cohen permanently tarnishes its reputation.