Every month, The A.V. Club gathers together all the CDs with black covers, Lucida Blackletter fonts, and art that rips off Boris Vallejo, and ships them all to San Antonio, Texas, where our resident metalhead, Leonard Pierce, gives them all a listen. He then picks the best, the worst, and the ones with the most compelling swag, and recommends them to you, the metal-loving reader. The result is Metal Box, our monthly recap of the hard and heavy. So give your sister's iPod back, put down your dad's shotgun, and join us for a trip through September's roughest and readiest heavy metal.
BLUE PERIOD. Last month in this space, I mentioned that I hadn't hopped on board the Baroness train. Now that I've had a chance to listen to Blue Record (Relapse), I've bought a round-trip ticket on the train and am comfortably sipping a martini in the bar car. The Savannah sludge-stompers haven't really changed their sound all that much, but producer John Congleton has singled out all the best things about the group and perfected them in the mix, while steering Baroness quietly away from its few musical flaws. It's not so much a huge step forward as it is a stripping-down and perfecting of what was already there, and as a result, it's not only the best record John Dyer Baizley and company have ever made, but one of the best albums of the year. Mark my words, at this time next year, all your troo-kült "friends" will be denigrating this as hipster metal and hating you for loving it. It's that good.
DOCTORS OF DOOM. Don't let the name fool you—Doomriders (led by Converge's Nate Newton and Cave-In's John-Robert Conners) don't traffic in doom metal. Instead, the Massachusetts-based supergroup blends punk, metal, and blues more adeptly than anyone since the Gun Club. Darkness Comes Alive (Deathwish) is a hell of a good record, and completely unexpected; though hints of the group's unique sound have come through on previously released singles and EP splits, its full glory wasn't obvious until the album arrived in its full version. Skillful post-hardcore playing segues nicely into riff-heavy material that's evocative of, but not slavishly devoted to, the best mid-'70s hard rock. There isn't a dud track on this record, and its willingness to play fast and loose with genre conventions ought to win it fans outside the hardcore world. This one comes highly recommended, gang; give it a spin.
OLD BUT NOT DEAD. Some of this month's most surprising action comes from graying bands that have been out of commission for a while. Slipknot is neither gone nor forgotten, but it's easy to forget that it's been around more than 10 years; its first full-length, the self-titled Slipknot (Roadrunner) is this month's must-have reissue for those who still unfairly tar the band as gimmicky nü-metal, or who have forgotten the ferocious, dense roar of songs like "Wait And Bleed," "Eyeless," and "Surfacing." Black-metal grotesque Marduk, in the midst of its first U.S. tour in eight years, has released Wormwood (Regain). Its first studio effort since the disappointing Rom. 5:12 is still immersed in the black-ambient obsessions of new vocalist Mortuus, and it lacks the furious hell-blasted ferocity of the outfit's earlier work, but it's an improvement at least, and a step in the right direction. But this month's biggest surprise is Megadeth's Endgame (Roadrunner); not only is it a substantial improvement over a decade of mostly mediocre work from Dave Mustaine and partners, but it's actually a stone classic that, with its fine lyrics, pulverizing solos, and sharply honed songcraft, can stand next to their best work in the '80s and early '90s. Damn near a masterpiece.
G/O Media may get a commission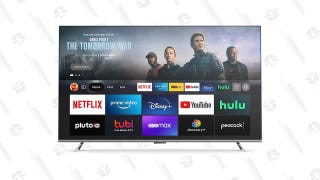 Save 46%
Fire TV 55" Omni Series 4K UHD Smart TV
HEY LADIES! "Where all the white women at?", I hear you folks asking as if you were Cleavon Little. Well, here's two of them: Kittie's latest effort, In The Black (E1 Music), finds the all-girl alt-metal outfit glammed up on the cover and grooved out on the tracks, but to pretty disappointing results. Morgan Lander's guitar playing has improved, but she sacrifices her usual black-metal shriek for some would-be soulful singing that just sounds bizarre coming out of her mouth, and the rest of the band seems to be largely going through the motions. It's admirable that Kittie wants to stretch, but the band shouldn't make itself look silly in the process; this album falls off the table early on and stays there. Much better, but in a way just as strange, is the new Arch Enemy album, The Root Of All Evil (Century Media); containing almost no new material, it consists entirely of re-recorded songs from the band's first three albums, now with the striking death-shriek of lead singer Angela Gossow in the mix. As such, it's entirely her album, and she does a great job of proving that the band would have been better with her all along, but it's still just a curiosity in the Arch Enemy catalog, and it didn't really need to be made.
READ A BOOK! First, the shameful full disclosure: Phil Freeman was my editor at Metal Edge magazine in its final days. That said, he's also an engaging, insightful critic who consistently comes up with interesting approaches to material we've seen a hundred times, and is one of the best journalists writing about heavy metal today. Freeman has already written definitive critical appraisals of the New York No Wave scene and Miles Davis' electric period, and his latest, Sound Levels: Profiles In American Music 2002-2009 (Lulu), is a worthwhile collection of some of his best 21st-century interviews. Metal fans should enjoy his intelligent back-and-forth with the likes of Melvins, Sunn O))), Mike Patton, the Mars Volta, and Serj Tankian; there are also lengthy, smart interviews with giants of other musical genres, from Tom Waits to Ornette Coleman.
GIMMICKS. Over-the-top musical genres tend to attract a lot of parody and theatrical shenanigans, and metal is probably the main offender, with rap following close behind. It can work out all right if the gimmick isn't allowed to take control of the project, as is the case with Church Of Misery, a Japanese doom outfit that sings almost exclusively about serial killers. That isn't as trite as it sounds, though; the group's latest, Houses Of The Unholy (Rise Above), features a snazzy noir photo of the heinous Albert Fish and some powerful, drug-tainted doom metal to back up the (largely incomprehensible) vocals. White Mice maintains the fiction that its members are some kind of filthy, sewer-dwelling, drug-addicted rodents, but while the lyrics on their latest, Ganjahovahdose (20 Buck Spin), read like Bongzilla with a rat's brain, their music is at least engaging enough, a dirty, splatting noise explosion that owes a little to grindcore, a little to Lightning Bolt/Hella-style spazz-noise, and a lot to the Melvins. Finally, there's ///Maytag, which has taken its hatred of Sunn O))) to the lengths of recording a full-length album (available on its website and MySpace page for free) of Satanic refrigerator drones. As much as I enjoy Sunn O))), it certainly has its faults, and it deserves to get the starch taken out of it from time to time, but ///Maytag is a joke that gets old long before the thing it's making fun of does.
BRIEF LIVES. A handful of other stuff from this month's mailbag, short and semi-condensed sweet: The new Black Dahlia Murder album, Deflorate (Metal Blade), goes three for three with a bad title, a terrible cover, and disappointing musical content. 2007's Nocturnal was a great leap forward, but Deflorate is a big step back for this promising band… I haven't been a huge fan of Scott "Wino" Weinrich's post-Saint Vitus work, and most of his solo and collaborative work in the 1990s and 2000s has left me flat, but Shrinebuilder (Neurot Recordings), the new album featuring Wino, Sleep's Al Cisneros, Neurosis' Scott Kelly, and the Melvins' Dale Crover, is an intriguing piece of work—less the pure doom you might expect, and more a total throwback project with all four men reaching back to the music that set them on their particular paths… Taking eclecticism to its extremes can be fatal, but damned if It's All Happening (Century Media) doesn't live up to its name while still engaging the listener. The first full-length from the absurdly named Iwrestledabearonce is a spasmodic piece of utterly hyperactive everymetal, but its cocktail of grind, electro, spazz-jazz, and speed works far better than anyone has the right to expect… On the other hand, I have no idea what to make of Bloody Panda, whose decent, if unimpressive, doomy roar is offset by the inhuman shrieking and crooning of Japanese performance artist Yoshiko Ohara; it'll take a dozen more listens to Summon (Profound Lore) before I can even think rationally about it… The shake-up that resulted in the current configuration of 3 Inches Of Blood may have been a blessing in disguise, since Here Waits Thy Doom (Century Media) is its best full-length yet. The stripped-down sound, ace Jack Endino production job, and newly ascendant Cam Pipes fully indulge their NWOBHM influences, to great effect.
NEXT MONTH: Gorgorth, Krallice, Dark Funeral, Rammstein, Living Colour, Pelican, Dethklok… and SLAYER.