During his show on Monday, Stephen Colbert lobbed a bunch of insults at Donald Trump while commenting on the president's interview with John Dickerson. The set-up? Trump went after one CBS star, so another CBS star was going to hit back. In addition to calling Trump "Gorge Washington" and "pricktator," he said: "You talk like a sign language gorilla who got hit in the head. In fact, the only thing your mouth is good for is being Vladimir Putin's cock holster."
That line in particular has been deemed homophobic by people on all sides of the ensuing controversy, and has been the main jab cited in Trump supporters' movement to get Colbert off the air with #FireColbert.
Meanwhile, others are countering that it's hypocritical for those who support Trump's policies to use charges of homophobia —or being "lewd," as Karl Rove said on Fox— as a pretense for firing Colbert. Trump, who was caught on tape bragging about grabbing women "by the pussy," may soon sign an executive order that would infringe on the rights of LGBT citizens in the name of religious liberty.
G/O Media may get a commission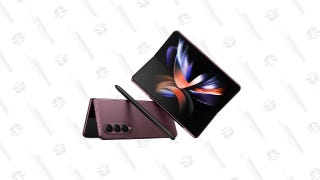 Save Up to $300
Galaxy Z Fold4
Then there's the position that Colbert shouldn't be canned, but that the joke was indeed offensive.
Amid all of this, not all major conservative figures are in favor of #FireColbert. To make matters even more perplexing, Sean Hannity is saying that he does not agree with it on free speech principles.
This is not the first time a hashtag urging a network to get Colbert off the air has been created. #CancelColbert emerged in 2014 after the @ColbertReport account tweeted out a joke from the Comedy Central show that was originally intended to mock both Redskins owner Dan Snyder and the character "Stephen Colbert," but frankly, seemed a bit racist out of context.