Jonathan Hickman and Nick Pitarra's The Red Wing buried its story in its high concept. Their newest collaboration, The Manhattan Projects #1 (Image), is a much more accessible read, but that doesn't mean it's any less sophisticated. Historical sci-fi on a massive scale, Hickman's story reveals the secret experiments that were happening while the public believed the government was creating the first atomic bomb.
J. Robert Oppenheimer is the series' protagonist, but little is as it seems on the surface, and the first issue does a fantastic job setting up questions for the rest of the series. It's a bit like Hickman's work on S.H.I.E.L.D., putting historical figures in a sandbox of infinite possibilities and seeing what kind of wackiness emerges. Hickman wants readers to be surprised when they read the first issue, so no spoilers here, although the final pages are a doozy.
Pitarra continues to grow with each new project, and his line is becoming more confident as his environments and characters become more detailed. Hickman is forcing Pitarra to push himself with the script, and it will be exciting to see their relationship evolve over the course of the series. Image has had an outstanding streak of quality first issues this year, and The Manhattan Projects is a first-rate start to an ongoing series that continues the company's efforts to shift the comics landscape away from superheroes.
---
G/O Media may get a commission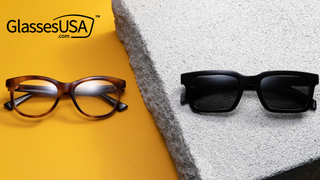 60% off frames
GlassesUSA.com Back to School Sales
The Runaways haven't had much luck. After a landmark run by Brian K. Vaughan and Adrian Alphona, the teen heroes were passed from writer to writer until the book lost sight of everything that made the characters special. The series was cancelled while on the upswing with the team of Kathryn Immonen and Sara Pichelli (who would blow up a few years later on Ultimate Comics Spider-Man), and beyond a few guest appearances, the team has remained in limbo.
Avengers Academy #27 (Marvel) is the Runaways' heavily hyped return, pitting them against the students and faculty of the Avengers Academy as they try to find their lost telepathic velociraptor, Old Lace. In many respects, writer Christos Gage has been carrying the Runaways torch with his work on Avengers Academy, featuring a cast of characters trying to prevent their villainous destinies while dealing with ordinary teen issues. Gage's script taps into all the things that make the Runaways special: the plain-clothes teen drama, the anti-establishment attitude, and a group dynamic that's more like a family than a superteam. Vaughan drew inspiration from all corners of the Marvel universe—magic, mutant, cosmic, etc.—in creating his team, and Gage's story turns to Jack Kirby for its goofy yet riveting cliffhanger, introducing Moon Boy and Devil Dinosaur as Old Lace's new friends.
Karl Moline, who penciled Runaways spin-off The Loners, is the guest-artist for the two-parter, and his light, cartoonish style is a good fit for the teen heroes. Under Alphona's pen, the Runaways were the best-dressed characters in comics, and Moline keeps them in trendy street clothes that set them apart from the costumed pupils at the Academy. Moline's characters are great actors, and the issue's strongest scene is when the two teams just sit down and talk. It's unclear what the Runaways' fate will be after the next issue, but if Marvel ever decides to give them their own title again, they have their creative team right here.
Brian Michael Bendis has announced that 2012 will be his last year as Avengers head writer, but before he goes, he's launching a new ongoing series because there's a huge summer blockbuster on the way. Bendis reunites with Ultimate Spider-Man and Brilliant collaborator Mark Bagley for Avengers Assemble #1 (Marvel), an in-continuity series featuring the same Avengers team as the movie. As the first issue of a miniseries, it would be a generic but serviceable superhero story, but as the start of an ongoing, Assemble fails to justify the need for another $3.99 Avengers title.
Bendis revives supervillain team the Zodiac to cause trouble for the Avengers, beginning the issue with a monologue from Cancer that is essentially a retread of the Hood's monologue in New Avengers Vol. 1 #35. The characterizations of nearly every Avenger are different from their portrayals in their respective ongoings (Hulk being the most prominent example), and their individual voices have been replaced by uninspired Bendis dialogue. Replace the superheroes of Assemble with the college students of Brilliant and the book wouldn't read much differently. Bendis works best on solo characters (Alias, Daredevil, Ultimate Spider-Man) to whom he can give a strong, distinctive voice. When he has to juggle multiple main characters, everyone ends up sounding the same.
Danny Miki's inking pairs strongly with Bagley's pencils, adding polish through clean, defined lines. Bagley does impressive work with the action sequences, particularly the fight between Hulk and Aquarius, but his talent is wasted on a bland story. The first issue ends with a non-cliffhanger, a typical bit of supervillain posturing that shouldn't stir much excitement for a second installment.
---
As DC launches a new Saturday-morning programming block on Cartoon Network, the classic Bruce Timm DC animated universe lives on in Batman Beyond Unlimited #1 (DC), a new ongoing series starring the Batman and Justice League of the future. As part of DC's "Beyond" line of titles, BBU is published digitally before seeing print, which means artists must forego layout experimentation in order to make the pages mobile-device-friendly. That, however, ultimately works in the book's favor, making it read like storyboards waiting to be animated.
Adam Beechen continues to write the adventures of Terry McGinnis' Batman, teaming with classic Batman artist Norm Breyfogle for the first part of the issue. It's always a delight to see new Breyfogle art, and he incorporates just enough of Timm's style to keep consistent with the look of the TV show without losing his own artistic voice. His action is smooth and his designs fittingly playful, but the story doesn't really allow him to flex his artistic muscles. Beechen's plot about an army of Jokerz led by the newly introduced brother of Terry's girlfriend lacks an emotional hook, and inserting a new character into the series is a cheap way to get Batman personally invested.
Derek Fridolfs and Dustin Nguyen fare much better with the Justice League, crafting a story that builds on the characters' history with a visual style that looks like a natural evolution of the DCAU house style. After stopping a gang fight between the Jokerz and the Animal Kingdom, the League is called to track down size-changing member Micron, who appears to have defected during an undercover mission. It's a story for longtime fans, with shout-outs to episodes of Batman Beyond and Superman: The Animated Series and a cliffhanger that brings Cadmus into the mix. Fridolfs gives each Leaguer a unique voice and strikes a strong balance of superheroics and comedy, supported by Nguyen's sharp, expressive pencils.
---
Also…
A heartbroken thief with a super-powered cat; a Korean zombie war veteran addicted to a drug that turns its user into the product; a mob courier that falls for his gorgeous alien package. These are just a few of the inhabitants of King City (Image/Tokyopop), the metropolis of Brandon Graham's slacker sci-fi epic. As a demon lord threatens to destroy King City, its residents are each in the midst of their own personal crisis, and their stories weave together to form a sprawling yet intimate narrative.
Graham's art style combines the dynamic movement and sleek lines of manga with the bold imagery of graffiti, creating visuals that are as rich as the unpredictable story. The book is named after its setting, and Graham gives the city a history and personality that makes it a main character. King City reveals new secrets about itself with each page, and there's an astounding amount of detail, creating a world that is alien but still feels real. Graham constantly surprises with his character designs, expansive landscapes, and hilarious visual puns. His female figures are sexualized with a Jessica Rabbit-like cheekiness, and Graham embraces the erotic without being gratuitous. Incorporating the videogame comedy of Scott Pilgrim, the cyberpunk sci-fi of Transmetropolitan, and the mystical fantasy of Spirited Away, King City is huge but never heavy, packed but never cluttered, and priced to make its 424 pages an incredible deal.
Bongo Comics kicks off a new series of one-shots spotlighting supporting Simpsons characters with Ralph Wiggum Comics #1 (Bongo), a collection of all-ages stories starring Springfield's lovably dim-witted potential serial killer. With different covers showing Ralph surrounded by hallucinations and shouting, "It's my first tissue," "I'm a comic book," and "I'm in mint conditioners," Bongo fully understands the appeal of the title character. The stories spotlight Ralph's wide-eyed innocence and joyful ignorance, although the first two are stronger than the last.
In a way, the issue's progression mirrors the evolution of The Simpsons. The first story, in which Ralph destroys his house when his father steps out to get the morning paper, is a charming look at Ralph at home, with cruder artwork than the other parts. The second story expands into the surrounding Springfield, introducing more characters and cleaner visuals, but still keeping a grounded tone. The final installment is the best looking, but also the least funny, shifting the focus away from Ralph to the evil leprechaun in his head. By moving into Family Guy levels of absurdity, the story loses its heart, turning Ralph into the punchline.
During her senior year at University of Oregon, Natalie Nourigat kept a comic book journal devoting a single page to each day. Available online since 2010, Between Gears (Image) is a deeply personal chronicle of a turning-point year in a young professional's life. There's a distinct animation influence in Nourigat's art, and the admiration she shows for Hayao Miyazaki and Darwyn Cooke is reflected in her own style. Juggling schoolwork, a burgeoning comics career, and an active social life, Nourigat works her stress out on the page with hilarious results. She's intensely judgmental of herself and her work, and is constantly pushing herself to refine her craft. She shows remarkable growth from the cluttered pages of the first days to the freer, more evocative images that follow, and upon finishing the book, readers will be left with the sense that Nourigat has no intention of slowing down.
Spinning out of Rick Remender's fantastic Uncanny X-Force, Age Of Apocalypse #1 (Marvel) returns to the fan-favorite alternate reality for a new ongoing series about humanity's last stand in a world run by mutants. Stray Bullets creator David Lapham and artist Roberto de la Torre bring the story to a gritty street level, following a group of rebels consisting of familiar human faces like William Stryker and Bolivar Trask. Joining them are a de-powered Jean Grey and Sabretooth, and their adjustment to a life of vulnerability is one of the book's strongest threads. Through the narration of a journalist refugee from the regular Marvel universe, Lapham introduces a dystopia ruled by an insane Wolverine who calls himself "Weapon Omega" and the people who are fighting to reclaim their world. De la Torre's art is appropriately dirty, and his realistic style emphasizes the harshness of the environment. Age Of Apocalypse is an opportunity for Lapham and de la Torre to go wild with a dark mirror of the Marvel universe, and the action-packed, character-driven first issue is a promising start to the series.
Paul Cornell has always brought fresh ideas and a unique voice to his superhero work, and he finally gets the opportunity to work without any restrictions with his first creator-owned series, Saucer Country #1 (Vertigo). With Ryan Kelly on art, Cornell creates a solid first issue, establishing each of the main characters and their relationship to New Mexico Governor Arcadia Alvarado. A divorced, Hispanic woman, Alvarado's campaign for presidency becomes a lot weirder after she's abducted by space aliens plotting an invasion. Or is she?  It's an intriguing concept for a series, even if Cornell hits the "Americans are aliens" metaphor too hard during Alvarado's speech at the end of the issue. Ryan Kelly's work on Local showed his talent for capturing real-world locations on paper, and he's a strong choice of artist for a story that will move across the country once Alvarado hits the campaign trail.