Like his greatest compositions, Michael Gira's career has been a steady, ominous crescendo. Granted, he's never been known for quietude. Starting with the first, early-'80s incarnation of Swans—a noise ensemble that terrorized New York's post-No Wave scene, and made Sonic Youth sound like bratty siblings by comparison—Gira has layered album upon album, each a strata of sediment building upon, and subtly changing, what came before. In the late '80s, great holes started appearing in Swans' sonic monolith, hollows that Gira filled with acoustic instrumentation, female vocals (courtesy of perennial member Jarboe), and the bleakest strains of gospel, folk, and blues.
Then, with the 1996 double album Soundtracks For The Blind, Gira hit critical mass. The double album dug down through the accumulated weight of the band's existence, using whatever fossils it found to construct a towering, horrific self-mythology. World music, field recordings, samples, ambience, and eschatological dread were cemented into a monument to Gira's own gaunt decadence. It's no wonder he retired Swans for 15 years following the release of Soundtracks and moved on to the slightly less foreboding Angels Of Light. He'd not only exhausted himself, he'd exhausted every sound Swans was capable of making.
For a while, anyway. The Seer—Swans' first album since its stunning 2010 comeback, My Father Will Guide Me Up A Rope To The Sky—is an echo of Soundtracks For The Blind, in more than just name. Like Soundtracks, The Seer is a dynamic, ambitious double disc. But where Soundtracks sprawls between darkness and disintegration, The Seer is focused, cohesive, and wide-eyed. Chillingly so.
Gira has never slacked when it comes to opening tracks, and that hasn't changed with The Seer. Like My Father's nine-minute, nihilistic introductory song, "No Words/No Thoughts," The Seer's opener, "Lunacy," is a spiral of ritualism, recursion, and spiritual abandon. With Alan Sparhawk and Mimi Parker of Low—another band well versed in the art of tension—providing unholy harmony, "Lunacy" uncoils like an ancient scroll. Likewise, Gira's pagan prayer hints at secrets and shadows. Before long, the acoustic, candlelit ambience has turned into an inferno; pulsing with percussive drones, it finally collapses into a delicate folk interlude that's half coda, half coma.
G/O Media may get a commission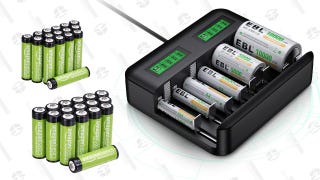 From there, nothing lightens. Calling back to one of Swans' previous iterations—that is, a savage, inhuman noise outfit that's more biomechanical than industrial—"Mother Of The World" works sinuous Eastern scales and Gira's inchoate howl into a crude apparatus of dread. As with "Lunacy," though, the song swells and shrivels, with Gira's acoustic guitar surfacing from some hidden space to fill the void left by absent noise. "And where are you now, O mother of the world?" he groans, and its as much of a taunt as an incantation. By contrast, "The Daughter Brings The Water" is a decay-streaked ballad in which Gira's voice is reduced to a hoarse, haunted whisper.
Never short on motifs or symbols, Gira stocks The Seer with mother-daughter archetypes—namely Jarboe, who returns to the group after her noticeable absence on My Father, and guest vocalist Karen O of Yeah Yeah Yeahs. The two don't appear together, but Jarboe's bloodcurdling backups on "The Seer Returns" flaunt a matriarchal authority (and surprisingly little erosion after loaning her pipes to various metal recordings in recent years). Over a whip-crack beat, she lilts angelically as Gira belts out a spoken-word murder tale: "I'm down here naked / There's a hole in my chest," he croons, a clotted cackle stuck in his craw. It's makes for a stark contrast against "Song For A Warrior," in which the younger O takes the lead. Spacious, country-inflected, and mournfully triumphant, the tune is sprinkled with piano and O's oddly Cat Power-esque purr. As the yin to Jarboe's yang, she completes a circuit—and when Gira joins O toward the end of "Warrior," his hovering presence assumes a deific menace.
The celestial chimes of "Avatar" and free-jazz squawk of "93 Ave. B Blues" mark The Seer's poles, but Gira has no intention of leaving the middle unfilled. The album's namesake and centerpiece is a 32-minute masterpiece, a mini-album unto itself, that distills Swans into a seething, churning protoplasm of grace and dissonance. Gira has long been obsessed with the duality of man—but as that's morphed beyond the mere concerns and constraints of morality, he's become increasingly fixated on the throbbing, hypnotic chaos of the cosmos. "The Seer" says it all. After a bagpipe-laden intro that imagines how Impulse!-era John Coltrane might have liberated the instrument, a gulping, strangled rhythm launches the song's slow ascent into the ether. "I see it all / I see it all," chants Gira, no longer able to tear his gaze away or even blink as the horrors of the universe parade in grotesque contortions before him. The music disintegrates into shards of distorted guitar and washes of Gira's disembodied harmonica, the sound of a damned bluesman being sucked through a black hole. It's the most harrowing, exhausting, cathartic, transcendental piece of music Gira has ever put to tape. And that's from a man who's had many.
Gira has once again left himself with nowhere to go. And yet, he finds his escape hatch. The Seer's penultimate track, "A Piece Of The Sky," is another study in transmogrification, a yawing cacophony that resolves into a melodic, restrained, relatively traditional composition, one that betrays Gira's love of classic singer-songwriters—most notably Leonard Cohen. It's a solid, eerily comforting port in The Seer's storm, and one that intensifies the violence by giving space and time for the agony to be absorbed. And also anticipated.
The brief wait is worth it. Another track in the 20-minute range, "The Apostate," ushers out The Seer with shuddering, symphonic squalls of rage and release. Letting his voice climb to a hackle-raising whine, Gira implores an unnamed illness or foe—or perhaps his music itself—to "get out of my mind, get out of my mind." Then his mighty voice degenerates into syncopated babble. It's impossible to interpret; logic, language, and linear narrative have been mutilated and dumped in ditch by the side of a dirt road. Then again, Swans has never traveled a straightforward, clean, or uninterrupted path. But with The Seer, one thing is certain: Even during its quietest lulls, Gira has never sounded louder.