2pm: It's been pouring rain for the last couple of days, so Austin is still sort of gray and miserable. At the Austinist/Gorilla Vs. Bear party at The Mohawk, I catch Headlights and Nicole Atkins (whose band is apparently stranded in Cincinnati). They're pleasant enough. I can't say the same for the mopey Coldplay-isms of Stars Of Track And Field.
3pm: Those of us lucky enough to have snaked our way onto the VIP list are crowded upstairs, sucking down free food and beer. Loney, Dear (a.k.a. Emil Svanangen) is all over the coconut macaroons, while Earl Greyhound's massive drummer shovels down an equally massive plateful of BBQ. Ultragrrl (a.k.a. Sarah Lewitinn) is overheard shamelessly shilling for The Ooh Las.
4pm: Apes And Androids finally offer a break in the clouds with their operatic electro-rock, something akin to Sparks meets Muse meets Oingo Boingo. Most of the band members resemble Jon Heder in Blades Of Glory, all headbands, leotards, and Ziggy Stardust make-up. Some audience plants even pop up in large costumes resembling tie-dyed penguins and spray Silly String into the crowd—if nothing else, this band wins on execution. Everyone seems to have loosened up, thanks also to the arrival of the world famous (?) Ice Cream Man.
4:45pm: Over at the SESAC Day Stage, I catch the last of Robyn Hitchcock's acoustic set. He covers Nick Drake's "River Man" and follows it with "I Saw Nick Drake," after which Joe Boyd makes some fauning comments about how Hitchcock has "the spirit of the '60s in him." This is the first of many masturbatory references to The '60s that I'll hear this week, no doubt, as several tributes to Drake, Gram Parsons, and Monterey Pop are all on the schedule.
5:15pm: Because of Hitchcock and Boyd's speechifying, French quartet Cyann & Ben are delayed. The band plays a quiet acoustic set on some tiny Radio Shack keyboards (the drummer keeps the beat by tapping on the microphone) and only gets four songs in before the DJ throws on some Ani DiFranco and the room audibly groans before emptying out.
6pm: At the Hilton's grand ballroom, Roland Swenson uses his introduction of keynote speaker Pete Townshend to crow about how SXSW has offset its carbon emissions and "gone green" this year before dovetailing into a few anti-war statements. The smug levels are already suffocating, and we haven't even gotten to the "My Generation" talk yet.
G/O Media may get a commission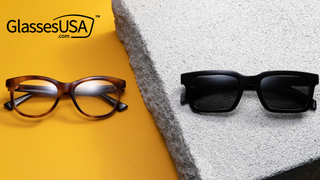 60% off frames
GlassesUSA.com Back to School Sales
6:30pm: Some interesting things I pick up from Pete Townshend (who is, as always, a very funny and self-deprecating interview):
- He feels like he was "voted in" to being a rock star and now can't get out—"like The Sopranos."
- He helped get The Who back together initially to help John Entwhistle with his money problems, but John spent all the money on cocaine.
- He really likes Franz Ferdinand and the Cocteau Twins.
- Siouxsie Sioux is his feminine ideal, and he often dreams of the two of them getting married and having "little punkettes."
The main thrust of Townshend's speech is to promote his new Lifehouse Method website, a concept he's been developing since 1971. "Much like you would sit for a painter doing your portrait," you feed the Method software your waist size, hair color, likes and dislikes, and it spits out a musical composition unique to you. Townshend plans to debut this in April, followed by a concert where they play everyone's piece of music together—"which will probably sound terrible."
Townshend says repeatedly that he's "so glad the Internet is finally here." Indeed. Getting child pornography was a lot harder thirty years ago.
7pm:Some casually mentioned things that get smatterings of applause from the overly self-satisfied crowd of baby boomers: Woodstock, Live Aid, Mick Jagger, Abbie Hoffman, Jann Wenner. Yuck. I'm out of here.
8:15pm: The door guy at the Dirty Dog takes one look at my Onion badge and tells me, "You're funny." Well actually, that's not really my department.
8:30pm: The Dirty Dog is one of the ugliest bars in Austin, so it's an unusual place to see Bat For Lashes, a band who thrives on ethereal, Bjork-like beauty. A cover of Bruce Springsteen's "I'm On Fire" is a little too Tori Amos for my tastes, but their live set is still totally haunting.
There are so many different TV networks and web broadcasters and mobile phone content producers working the festival this year that you can't anywhere near the stage, even in a small club like this. The front row of every show looks like a White House press conference. That, and everyone is busy snapping away with their digital cameras, presumably for their blogs. Actually, Pete Townshend, there's something to be said for the days before the Internet.
9:15pm: I've been anticipating seeing New York's White Rabbits for about a year now, and they do not disappoint. Fans of The Walkmen should eat this up.
10:15pm: I'm worried about missing Les Savy Fav later, so I go ahead and get to the Frenchkiss showcase at Red Eyed Fly in time to catch Fatal Flying Guillotines, who put on a typically trashy set. They're followed by The Big Sleep, who make muscular, occasionally drony hard rock. The muddy sound makes them unfortunately easy to ignore.
12am: In the bathroom I accidentally end up chatting with David Cross. He's a big fan of Thunderbirds Are Now!, who are on next. They're energetic and everything, but every song sorta sounds the same to me.
1:15am: Les Savy Fav, one of the best live bands ever, totally shuts it down. Lead singer Tim Harrington begins the show in a black unitard, mortarboard, and sunglasses, and by the end he's stripped down to red bikini briefs and some striped legwarmers on his arms. The band previews some new songs (which are great) and closes with a totally "what the hell?" cover of Superchunk's "Precision Auto." By this point they could have covered James Blunt's "You're Beautiful" and the crowd would have gone with it.
2:30am: Outside I'm approached by a promoter offering me yet another sampler CD. I begrudgingly take it, only to find he's relieved his burden for the night by handing me all six of the copies he had left. I guess it's time for everyone to go home.