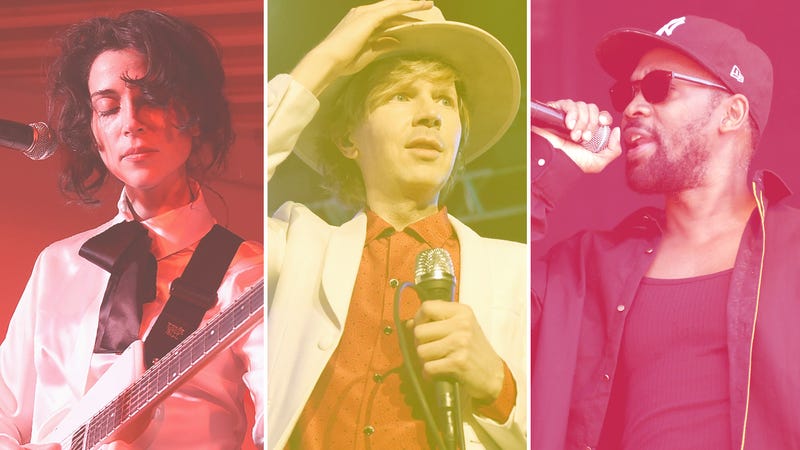 Every Friday, dozens of new records are released into the wild. Some make big splashes, and others sink almost immediately. For most music consumers, it's almost too much information, and save for those precious few who spend their hours glued to review sites and release calendars, it's hard to know what's coming out…
Earlier this week, Pitchfork reported that YouTube's Restricted Mode—which is used to filter content deemed inappropriate for someone under 18—was blocking LGBT content for seemingly no other reason than that it was LGBT-created or -themed. Indie pop duo Tegan And Sara said their videos were blocked whenever…
The protests in North Dakota against the Dakota Access Pipeline have been going on for more than six months, prompting fundraisers and online activism. But the fight against Energy Transfer Partners' construction of the DAPL has existed since it was first proposed two years ago. The pipeline threatens the Standing…
The latest Tegan and Sara video for their song "BWU" answers the question, who wouldn't accept a proposal of any kind from Sara Quin? It turns out there are a lot of jerks out there who don't want to spend the rest of their lives with her just because she doesn't "need a white wedding." Don't worry, though, there's a…
June is Pride Month, and Tegan And Sara have put together a Pride mixtape available exclusively on Pandora to celebrate. The playlist streams with or without a Pandora account, so everyone can enjoy the collection of "anthems that inspire acceptance, freedom, self expression and love." In an accompanying press…
In Hear This, the A.V. Club writers sing the praises of songs they know well. This week, since we're getting into the summer groove, we're picking what we'd like to be this year's song of the summer.
The cast and crew of Comedy Bang! Bang! go a little mad (we all go a little mad sometimes) creating "Tegan And Sara Wear Leather Jackets And Skinny Jeans," and I love it to death. From performances and direction (by frequent Comedy Bang! Bang! director Stoney Sharp) to graphics, music, props, and lighting, everything…
If you're hoping for a return to the bold and thrilling musical adventurism of pre-Heartthrob Tegan And Sara, we've got bad news for you: The duo are remaining squarely in the mainstream pop arena, at least for the foreseeable future. You may long for the days of The Con, but the sisters have planted a flag in Taylor…
Every Friday, dozens of new records are released into the wild. Some make big splashes, and others sink almost immediately. For most music consumers, it's almost too much information, and save for those precious few who spend their hours glued to reviews sites and release calendars, it's hard to know what's coming out…
Indie pop twins Tegan And Sara released a new video last week, in advance of their upcoming album, Love You To Death. Instagram fans (or, as they're popularly known, "Instagrammas") might already recognize the setting for "100x," which features little more than brave, beautifully coiffed puppies staring into a blowing…
In Hear This, A.V. Club writers sing the praises of songs they know well. This week: For Horrors Week, we're once again talking about songs with the word "ghost" in the title.

Welcome back to AVQ&A, where we throw out a question for discussion among the staff and readers. Consider this a prompt to compare notes on your interface with pop culture, to reveal your embarrassing tastes and experiences, and to ponder how our diverse lives all led us to convene here together. Got a question you'd…