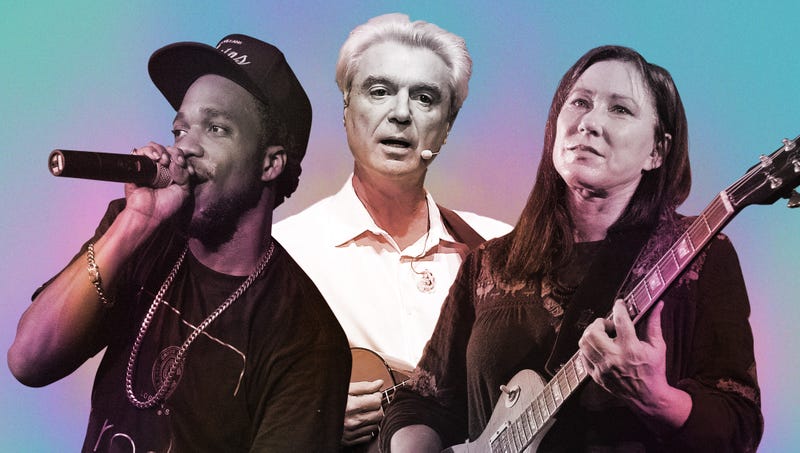 New releases really ramp up for March, with a glut of offerings from veteran rockers (The Breeders, The Decemberists, Yo La Tengo), underground rap icons and stoner-rap legends (MF DOOM & Czarface, Jean Grae & Chris Quelle, Curren$y, YoungBoy NBA), and boundary-pushing electronic artists (Lost Girls, DJ Taye). Here…
If Titus Andronicus (or "+@" as the band stylizes it) can be counted on for one thing, it's to bring some motherfucking fire to pretty much everything it does—there's probably never been a rock opera about manic depression more intense than 2015's The Most Lamentable Tragedy, for instance—but the band and frontman…
In Binge And Purge, The A.V. Club's Josh Modell is going through his collection of 2,000 CDs, writing a bit about each artist, and then purging the unnecessary in the hopes of cutting that number in half by the end of 2016. Read the intro here.
Titus Andronicus has a reputation for putting on pretty raucous shows, so it's hardly surprising that the band is finally putting out a live album, dubbed Stadium Rock: Five Nights At The Opera. It's equally unsurprising, then, that Titus Andronicus will also be embarking on an extensive tour to promote Stadium Rock …
Craig Finn of The Hold Steady and Patrick Stickles of Titus Andronicus are vocal about their love of Bruce Springsteen. It's why, when the pair recently went on tour together, it only made sense to try to declare one the king of all things Bruce. In this best-of-three challenge, Finn and Stickles clap out a rhythm and…
Charting a path forward can be challenging when the event that comes to define you is both the best and worst moment of your life. In the case of Unbreakable Kimmy Schmidt, that defining moment was its quiet dismissal from a comedy-averse NBC's fall schedule and subsequent two-season pickup from Netflix, a far better…
Bagpipes often conjure images of kilted Scots in tam o' shanters, but one shouldn't overlook Ireland's devotion to the age-old instrument. Irish taverns have basked in the sweet trill of bagpipes since the late 1500s, and even lay claim to one of the most popular types of bagpipes: the uilleann pipes, which ring with…
Titus Andronicus announced a bunch of tour dates for the spring back in December, but apparently not enough people were going to get their faces rocked off in that initial batch. To remedy that error, the band has announced another handful of tour dates that feature former Vivian Girls member Katy Goodman's group La…
Titus Andronicus, punk rock's favorite group of Shakespeare players/disgruntled New Jersey residents, is going on tour. The band will presumably be performing a lot of highlights from The Most Lamentable Tragedy, the huge 93-minute concept album about manic depression that it released back in July (which was way more…
Welcome back to AVQ&A, where we throw out a question for discussion among the staff and readers. Consider this a prompt to compare notes on your interface with pop culture, to reveal your embarrassing tastes and experiences, and to ponder how our diverse lives all led us to convene here together. Got a question you'd…
Given the band's affinity for energy and explosions, Titus Andronicus is often compared to Hüsker Dü and The Clash, but a better corollary might be The Who. Both bands specialize in sudden tonal shifts from bombast to sensitive soul-searching, and like The Who, Titus Andronicus caters in collections of songs that work…
Is there another band recording today that so deftly walks the tightrope of simultaneously not giving a fuck and giving their all than Titus Andronicus? The New Jersey band's anthemic, sprawling punk rock has always had a sense of impassioned nihilism about it, with lyrics laden with references to philosophy, art, and…
Titus Andronicus hasn't released a new album since 2012's Local Business, but it looks like the band is now ready to make up for lost time with The Most Lamentable Tragedy, a new album that—according to an interview with Grantland—will be a 93-minute rock opera consisting of 29 tracks. The album is being released by…
In Hear This, A.V. Club writers sing the praises of songs they know well. This week, we're talking about shows we've seen where the opener eclipsed the headliner.