Here's what's up in the world of television for Monday, March 24. All times are Eastern.
TOP PICK
Teen Wolf (MTV, 10 p.m.): Happy third season finale, Teen Wolf! With a fourth season already ordered, we know that our heroes will probably live to be teen werewolves next season, too. But what we don't know is how this nogitsune situation is going to be resolved with our beloved Stiles. (Is that a link to a Teen Wolf fan-wiki forum thread, under the subforum "COMPLETE BULLSHIT"? Maybe!) But what we do have, in this hour of third-season finale tension, is two takes on the season for you: Phil Dyess-Nugent's review tonight, and Carrie Raisler's look at the season as a whole. We took a peek, and it appears to be a lot about how dreamy Dylan O'Brien is. INSTA-READ.

---
ALSO NOTED
Switched At Birth (ABC Family, 8 p.m.): And because you can never read enough by Carrie Raisler, she's also covering Switched At Birth's midseason finale, in which Kathryn's book is leaked to the public before its publication date and Daphne has "an unexpected encounter at the clinic with someone from the past." Thrilling! The rest of the season will air starting June 16. Summer feels very, very far away.
The Fosters (ABC Family, 9 p.m.): And its sister show on the same network will conclude its first season tonight. Devastating news is promised, which, great. We still don't cover this show, but discussion will occur in the comments of Switched At Birth, per usual.
RuPaul's Drag Race (LOGO, 8 p.m.): MOST IMPORTANTLY, tonight is RuPaul's Drag Race's legendary and now-traditional Snatch Game. Bring your reading glasses, girls.

G/O Media may get a commission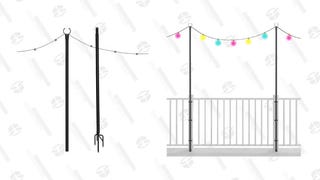 Up To 49% Off
Holiday Styling String Light Poles
---
REGULAR COVERAGE
How I Met Your Mother (CBS, 8 p.m.)
The Following (Fox, 9 p.m.)
Mom (CBS, 9:30 p.m.)
Bates Motel (A&E, 10 p.m.)
Archer (FX, 10 p.m.)
Rick And Morty (Adult Swim, 10:30 p.m.)
---
ELSEWHERE IN TV CLUB
Genevieve Valentine takes a look at Kings for One-Season Wonders, Weirdos, And Wannabes—a show totally based on King David's story in the Bible! We didn't even know that was a thing you could do. As it turns out, you can only do it for one season. Kings featured the criminally underemployed Ian McShane as the king in charge, and also Bryan Cox as a king, and also a human personification of Death. So we have to watch this show now, apparently. But first, read Genevieve's article.
---
WHAT ELSE IS ON?
Top Gear (BBC America, 8:30 p.m.): 21st season finale. The guys try to drive across Burma/Myanmar to get to Thailand so they can build a bridge across the River Kwai. Obviously!
Star-Crossed (The CW, 8 p.m.): Tonight's episode is called "Stabbed By A White Wench's Black Eye." Awesome!
Bizarre Foods America (Travel, 9 p.m.): In the sixth-season premiere, titled "Moose Fat And Muskrat," the host eats as the Alaskan Ahtna tribe does. That includes salmon oil and wild weeds called tsaas.
The Numbers Game (National Geographic, 9:30 p.m.): A new series that investigates a new question about what our statistics tell us about ourselves. This week: "Could You Be A Hero?"

Steel Magnolias (Oxygen, 6 p.m.): Are there monsters among you who haven't seen this movie? If so, drop everything and watch it tonight.
Rocky II (AMC, 6 p.m.): Are you sensing
Rocky III (AMC, 8:30 p.m.): a theme
Rocky IV (AMC, 11 p.m.): with tonight's AMC film selections?
---
IN CASE YOU MISSED IT
The Good Wife: Holy shit, did you see what happened last night on The Good Wife? Sonia Saraiya is still writing her review of a game-changing episode that made her lose her will to live. All that 'shipping, for naught!!!
---
CONGRATULATIONS YOU READ ALL OF WHAT'S ON TONIGHT. HERE'S SOME ROCKY THEME MUSIC!