Mary Harron's film adaptation of American Psycho has been celebrated for taking the blunt-force satire of its source material and sharpening it to a fine, feminist edge. Her latest, the Manson Family drama Charlie Says, similarly revolves around a howling void of toxic masculinity, but with a twist: This time, rather than turn their focus to the void itself, Harron and her American Psycho collaborator, screenwriter Guinevere Turner, go digging in the rubble such chaotic, destructive energy leaves in its wake. In this case, that means the shattered minds of the women who Manson manipulated into serving as unpaid sex workers and his personal slaves—three of whom, Leslie Van Houten (Hannah Murray, a.k.a. Game Of Thrones' Gilly), Patricia Krenwinkel (Sosie Bacon), and Susan Atkins (Marianne Rendón), went to prison literally singing his praises.

Charlie Says urges us to see these women as victims, a provocative and potentially divisive ask considering Van Houten, Krenwinkel, and Atkins all participated in— and were convicted of—acts of violence so sadistic and shocking, they shattered the utopian ideals of the 1960s practically in one night. Even more challenging, Harron and Turner offer no comfort to the actual murder victims, nor to Van Houten, Krenwinkel, and Atkins. Karlene Faith (Merritt Wever), the graduate student who takes it upon herself to try to deprogram the Manson girls in prison, acknowledges that it would be kinder to let them live with their delusions than to wake them up to the horrifying reality of what they have done. But letting them continue to believe in the racist lie of "Helter Skelter" would be letting Manson win, and so Karlene shows up every morning in the cell block where Van Houten, Krenwinkel, and Atkins have been isolated from the rest of the prison population, dog-eared copy of Sisterhood Is Powerful in hand.
Based on Faith's memoir of her time working with the Manson girls, Charlie Says does effectively eviscerate one of the '60s counterculture's most enduring lies by breaking down the soft coercion of "free love." Manson simply took the mindset that banished female members of the Students For A Democratic Society to secretarial and support roles and took it to its logical extreme, coalescing thousands of male assertions that, for women, being "liberated" meant having sex with any man who wanted it, any time, anywhere, and without protest, and spun it together with millennia of Judeo-Christian conditioning and intense acid burnout to create brainwashed zombies. Manson's "girls" couldn't read books, carry money, use their real names, or eat until all the men in the "family" were served. And they had to ask Manson's permission to have consensual sex with male visitors. If he told them to do so, they could not say no.
The dynamics of this physical, emotional, and sexual abuse are laid bare in an impactful dinner scene where Atkins makes a joke in response to Manson's cruel critique of her salad dressing. He flies into a rage, leading to a battering that subtly shifts into a sexual assault as Manson first slaps Atkins, then wrestles her to the ground, then forcefully kisses her in front of the assembled "family." When Van Houten goes to comfort her friend, Atkins tells her, "Getting hit by the man you love is no different than making love to him." In their world, to be a woman is to have no thoughts or desires of your own, and to always be available for, and receptive to, sex as well as violence. How is this state of affairs any different from the "straight" society Manson and his followers all claim to hate? They're too high to really think about it.
G/O Media may get a commission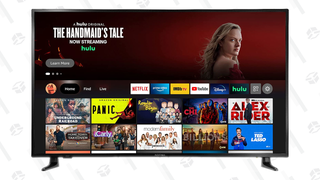 38% Off
Insignia 50" 4K UHD Smart TV
The threads of these contradictions are pulled out one by one, as Harron cuts back and forth between the time Krenwinkel calls "B.C." (before the crimes) and three years later, when Faith tried to unravel Manson's brainwashing in prison, with brief cutaways to her discussing the case with other teachers at the prison for some (universally hostile) outside perspective. Although Charlie Says does suffer from some of the telltale signs of an underfunded indie production—an uneven sound mix, flat digital exterior lensing—and the shooting style is mostly functional, Harron does a good job of conveying both the late-'60s period and the surreal surroundings of the Spahn Ranch where Manson and his followers made their home. (For the uninitiated, the "ranch" was actually a prefab Wild West town owner George Spahn rented out to movie studios; by the late '60s, the Western genre wasn't as popular as it once was, and so Spahn let the "family" live there rent-free in exchange for upkeep.) And unlike many fictional and documentary retellings of the Manson story, Charlie Says also makes very clear how racist the Manson ideology really was—even if it lets Van Houten, Krenwinkel, and Atkins off the hook by implying that they weren't really racist, just suggestible.
To be clear, Charlie Says does not paint Manson himself as a sympathetic figure. In fact, it barely considers his psychology at all. As portrayed by Doctor Who's Matt Smith, the Manson of Charlie Says talks out of both sides of his mouth from the moment he appears on screen, preaching freedom while establishing himself as a dual father/God figure a lot like the "Man" he railed against. Over the course of the film, Smith's Manson grows increasingly agitated when he doesn't get the record deal he believes he deserves, but he's still only intermittently convincing as a tyrant. Indeed, Manson's at his most insidious in this film when he's not physically present but instead evoked in loyal foot soldier Krenwinkel's near-constant refrain of "Charlie says..."
For as much as Charlie Says tries to reframe everything we know about the Manson Family, its characterization of the women remains shallow. It's chilling when Krenwinkel scolds Van Houten not to talk about her past—again, because "Charlie says" not to. But by not breaking that rule itself and telling us where they came from, the film tacitly reinforces the idea that they didn't exist before they met Charles Manson. Harron and Turner treat Van Houten, Krenwinkel, and Atkins' susceptibility to Manson's brainwashing as a sort of a priori condition of American culture at the time—which may be true, but limits opportunities for these characters to evolve, or even for us to truly understand or empathize with them. The potential for other paths is briefly teased in a scene where a budding new "family" member is brought to the ranch, then dismissed by Manson when she says her mother "raised me not to take shit from men like you." But that character just as quickly disappears, leaving Van Houten to daydream of riding off into the sunset with a gentle biker she spent one night with on the ranch. The tragedy of her enforced helplessness is implied, but not truly felt, save for through a frustrated, mutilated grief that she was this close to getting it and getting out.
Van Houten, who serves as our entry point to the story and is its ostensible protagonist, is an interesting case. Charlie Says was made without her participation, but hews closely to her version of the truth, which is that she "was weak in character... I sought peer attention and acceptance more than I did my own foundation... I looked to men for my value, and I didn't speak up," as she testified at her ultimately unsuccessful 2017 parole hearing. Harron is more interested in the psychology of Manson's followers than their crimes, and the Tate murders only get a perfunctory airing in Charlie Says. (The LaBiancas get a little more screen time, but the focus turns once again to Van Houten once the murders actually start.)
The taste level of that approach is debatable; it's better than the ghoulish glee that The Haunting Of Sharon Tate seemed to take in these deaths, at least. But it doesn't change the point Harron and Turner are trying to make in Charlie Says, which is that the '60s counterculture's inability to truly let go of white privilege and male privilege tilled the soil in which the Manson murders blossomed. That could be difficult for baby boomers who participated in that counterculture to swallow. After all, it's much simpler to call an individual evil than to indict an entire system—especially if you're one of the people benefitting from it.