Rich men love Alicia Florrick.
Of the many things that make Alicia good at her job, the above a really big and especially useful one. The subtext of "The One Percent" is how oddly acquiescent and comfortable one-percenters—white male one-percenters, the embodiment of the patriarchy—are with Alicia, even when she's telling them to test out messages with focus groups and hounding them for public apologies.
As is not uncommon with The Good Wife, tonight's case of the week didn't speak to me as much as the character development behind the scenes did. But it did introduce an interesting element of complexity to Alicia's already complex character—her comfort with money, and power, and important men.
Something very important in my understanding of Alicia Florrick is that she has no friends: She has professional colleagues, love interests, and clients, but no friends—especially once she and Kalinda fell out with each other. It's been a sad reality for the show since the season two finale that Alicia and Kalinda have not really re-established a friendship, though they are cordial and sometimes even caring with each other. Meanwhile, though Alicia is friendly with Diane, close with Cary, jovial with Eli, and comfortable, now, with Finn, there is no one person with whom she can really lay down her many defenses and all the emotional baggage that comes with them to just enjoy another person's company. And to be concerned about them without that concern mixing in with duty or self-interest. It's like Alicia skipped that part of grade school, or maybe she outgrew it. Either way, she is an isolated person. No man is an island, but this woman is.
G/O Media may get a commission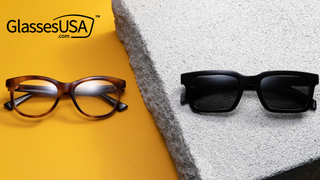 60% off frames
GlassesUSA.com Back to School Sales
Something canny about this episode of The Good Wife is just how many friend-figures float through Alicia's life, while her client asks her to question some part of herself. Near-friends, let's say, because they're not really intimate with her, but there's a certain connection there beyond just business. Kalinda spills Canning's beans on the phone so that Alicia can be prepared going into her negotiation. Cary defends Alicia to Diane. Diane is upset with Alicia because she expects trust and respect from Alicia. Eli asks after Alicia's marriage, with all the tact of a bull in a china shop. (Okay, a little more tact.)
If Will had to die—and it's still a horrible gaping hole in the show—then I hope, for Alicia's sake, that she can grow from this experience enough to have a friend (or even two). Her heartfelt and sudden overture to Diane, who had just been gutted by her own partner Louis Canning, is the beginning of that.
And if all of this seems like I'm talking nonsense—the reason this all jumped out at me in this episode is because The Good Wife went and threw Ayn Rand into the conversation. I love that the Kings are entirely willing to throw Ayn Rand under the bus along with whomever else they feel like—Alicia's retort that taking moral advice from Ayn Rand is like making philosophy from a John Grisham novel is one I'll have to use the next time someone tells me how much they adored The Fountainhead—but I don't think that's the only reason they brought it up. Rand is easy to mock, but there's also something important in the fact that Alicia critiques her work—and, too, in the way Alicia critiques it.
I've said before that I don't find Alicia or anyone else on the show to be particularly moral characters. Law is about winning much more than it is about what is right; justice is a sword wielded by the powerful; history is written by the victors. Part of the reason Alicia is no good at having friends is that she's in competition mode so much of the time. Every interaction is something that needs to be either survived or won.
But the main problem with Ayn Rand isn't necessarily her economics, her politics, or her sense of history; it's that she doesn't believe in compassion. Ayn Rand is a balm for people who extort and manipulate and professionally win to feel better about themselves, using a clever, enticing web of economics and skewed history to seal the deal. Ayn Rand didn't find it useful or meaningful to care about people who weren't winners.
Rich men don't just love Alicia—they love Ayn Rand, too. Alicia's client James Paisley thinks he likes Ayn Rand because she's offering a refreshing, realistic view of money and smarts and power. Instead, he likes Ayn Rand because he's an insufferable, racist rich person who thinks he's better than everyone who is poorer or less successful than him, and she offers some useful reasoning as to why.
The thing is, Alicia is playing Ayn Rand for Paisley, too—she's his lawyer, after all. It's her job to make him feel like he's going to win—that he deserves to win, too. She'll look past the racism and the narcissism because he can pay her to defend him. She's not much better than Ayn Rand, to be honest. No wonder Paisley likes the both of them.
And then here we are, midway through the episode, in a scene that feels at first a bit like a throwaway—the second-act "Alicia knocks some sense into her client as she figures out a way to win" scene. He tells her that everyone who isn't the one percent just wants and wants what he has. And then he argues to her that she is the one percent, and as an interested party, she should read Ayn Rand.
It's interesting: On one hand, Paisley is knocking some sense into Alicia. You're no better than me, he argues—you've got a lot of money and privilege to defend, and you better accept that. On the other hand, though, Alicia's response to Paisley offers both a view to her own delusions and to why she is so powerful as a character—because though she might follow the philosophy of #winning to survive, she doesn't really believe in it. She doesn't think rich people are better than poor people. She doesn't think that money is the birthright of those that happen to be more excellent than others. She also, thankfully, does not find Rand's books to be particularly well-written.
And she believes in compassion. She never acts on it; she never does anything about these beliefs she has. She may or may not casually hate herself. (I'm opting for the latter.) But she believes in caring for people with less—for caring for people simply out of a sense of humanity and shared existence. On one hand, she's a shark, but on the other hand, she knows there's a better version of herself out there. (And that might connect to her sad revelation with her mother that she might not be doing what she should be doing.)
I think the reason Alicia is so fascinating is because of this constant tension at the root of her being—between a natural drive for seeking power, and a natural tendency towards compassion. She's not simply one or the other. Peter can't wrap his head around why Alicia would be helping Finn Polmar except that she must be getting something out of it—so they must be sleeping together. Canning doesn't like how rapacious she's become. And Paisley doesn't see why she doesn't like Rand.
Alicia's story is also one of being surrounded by rich men. None of them seem to get her very much, do they?
Stray observations:
As some of you may know, just last week I determined that Ayn Rand is my one major cultural dealbreaker. So you know, I may be biased.
Tech issues are preventing the fancy grade widget. Sorry about that.
Kalinda and Cary's relationship continues to confound me. I was sure they were broken up; now they're together, but… "not doing this anymore," whatever that means. Does someone have a theory here?
Peter's encounter with the red-lipsticked intern made me so furious that I'm not even ready to handle it. Just because—couldn't the man hit on someone who wasn't employed by him or vastly younger?
This is a great episode for Eli's character. I don't give Alan Cumming enough love in these reviews because he's so consistent, but he's such a treat to watch.
Nice to see Tom Skerritt gracing the halls of Florrick/Agos. And also nice to see Jill Hennessey back on the show, even if she was just a bait-and-switch for Diane's story.
How are you guys taking to Diane moving into the "hero" role at LG, now that Will is gone? I love Christine Baranski, but I'm not sure the show has figured out how to make her the protagonist to root for yet. The forays into her personal life haven't been terribly satisfying so far.
My CBS cut to a tornado warning during the scene where Alicia gets a pie thrown at her. I'm sorry I missed it.