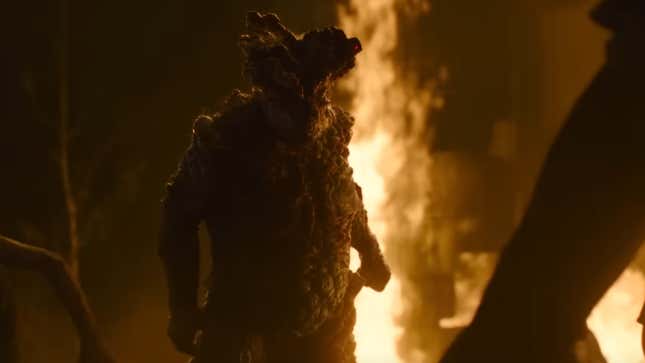 It didn't take many episodes of The Last Of Us for Pedro Pascal, who plays lead character Joel, to be declared a new sex symbol—and, more precisely, "daddy"— by viewers. This made sense because Pascal is a handsome, charismatic human man. What we must now confront, however, is something a little harder to understand: Why the internet wants to have sex with the hulking, mushroom-infected walking pseudo-corpse from the show's latest episode.
In an Entertainment Weekly interview with Adam Basil, the 6'6" British stunt performer who played the mindlessly violent "Bloater" on The Last Of Us, Basil explains that the character "seems to be a bit of a sex icon."

He describes how the creature—which, again, is a half-dead giant covered in fungal boils with a pulpy mass where its face should be—has "captured a lot of people's imaginations" to the point that he's "had people sending me love messages" on Instagram and was asked to attend a viewer's wedding.

"[The Bloater] really brought out something in people that I don't think they knew they had," he continues. "He's the big daddy mushroom, I think there's been a [meme.]"
Elsewhere in the interview, Basil really sells the most erotic features of the monster design, talking about how the effects team "dress me in goo and blood" and that his 40 to 80 pound costume "has hair sticking up and he's got fragmented teeth" coming out of him.

Basil previously worked as the title character's stunt performer in Venom: Let There Be Carnage, which stars another inhuman beast that the internet lusted over. This, we hope, means that it's actually some aspect of the man beneath the goopy costumes that's winning the internet's hearts and minds and not the form of the disgusting creatures themselves. Unfortunately, given past evidence, our hopes are probably in vain.

Send Great Job, Internet tips to gji@theonion.com