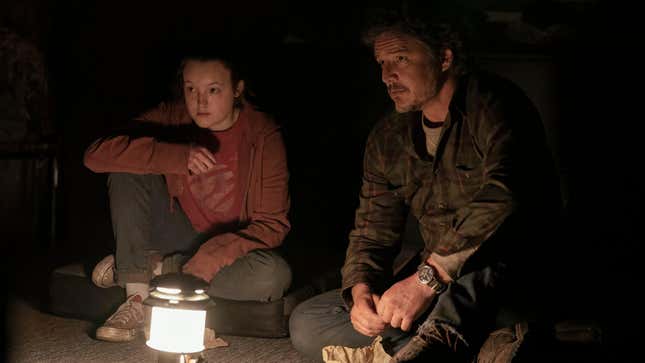 The loudest noise after last week's The Last of Us remains the Kathleen controversy. Was casting Yellowjackets' Melanie Lynskey as a FEDRA-busting rebel queen an outside-the-box brilliant choice or...kind of underwhelming? As written and performed, Kathleen is soft-spoken but iron-willed, cool yet impulsive, and willing to shoot an elderly collaborator, while outwardly appearing a bland soccer mom, minus the fatigues. The actor herself took to Twitter to defend her casting. Commentators traded barbs. Me? In my last recap, I found Wine Club Lord Humungus unconvincing.

Did Lady K earn my respect this week? Overall, more or less, she did—even if I was okay seeing her chomped by a rather gymnastic Clicker in the fungalicous action sequence (checks watch) 43 minutes in. Truth be told, there was fat on the top and bottom of episode five as it sketched out Henry (Lamar Johnson) and his deaf brother Sam's (Keivonn Montreal Woodard) dreadful arc.
It's interesting how the series' structure is becoming almost a zombie anthology. Joel (Pedro Pascal) and Ellie (Bella Ramsey) travel to a new place to see how folks are handling dystopia, people die horribly, and then our heroes move on. (Cue repressed memory of HBO's The Hitchhiker.) Episode three, "Long Long Time" was a relatively emotional scenario, partly thanks to Nick Offerman and Murray Bartlett's performances. Kansas City? Not so much.
G/O Media may get a commission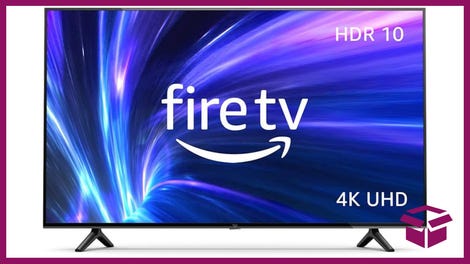 42% Off
Amazon Fire TV 50" 4K Smart TV
The episode's running theme is basically "my brother's keeper." Kathleen's bloody reign is driven by grief over her charismatic dead sibling, Michael. We know Joel is taking Ellie to Wyoming, hoping to reunite with his sibling Tommy (Gabriel Luna). And then we have Henry. He'll do anything for his younger brother, Sam, including betraying Michael to FEDRA in return for medicine. It's all for naught as Henry becomes his (infected) brother's executioner. The other big motif feels familiar: How humans will do awful things to "endure and survive," per the Savage Starlight comic book that Sam finds and shows to an excited Ellie, and whether forgiveness is possible.
Henry notes that 20 years of rape and torture among citizens in the KC QZ turned them into vengeful sadists. "If you turn into a monster, is it still you inside?" Sam asks Ellie on his Magic Tablet before showing her the bite on his leg. It's a tough question applicable to several characters: Kathleen, Henry, and even Joel. "I am a bad guy because I did a bad guy thing," Henry admits when telling Joel he was a collaborator. Joel silently takes it in. No doubt he's done some things that could make him a villain too.
Written by Craig Mazin and directed by Jeremy Webb, the first fifteen minutes of "Endure And Survive" are a flashback to two weeks before Joel and Ellie arrived in KC, showing how Kathleen's group took over and how Henry and Sam went on the run to join Joel and Ellie eventually.
In an opening nighttime montage, a jubilant crowd throws flares into the sky like Independence Day fireworks, executing soldiers, and celebrating the overthrow of their fascist overlords with chants of "Fuck you, FEDRA!" trucks patrol the city trying to flush out collaborators. An especially gruesome image is of a corpse dragged behind a truck, pincushioned by a dozen knives. Henry and Sam crouch in the shadows. Henry signs to Sam, "Look at me, not at that," promising they'll find a way out. It's a subtle but strong display of their bond.
In another part of the QZ, Kathleen confronts a group of dirty, desperate prisoners sitting in a cell who are FEDRA collaborators, the lowest form of life according to the rebels. Kathleen wants to know one thing: Where is Henry? One fellow finally coughs up intelligence: Henry was supposed to lay low with Edelstein (the doctor Kathleen shot last week, played by John Getz) in a safe house in the open city. "Edelstein was a collaborator?" Kathleen says with surprise. "Well, he was a lot more discreet than you fucking idiots." She'd be funny if you weren't expecting her to order their mass execution. Minutes later, Kathleen does exactly that, telling henchman Perry (Jeffrey Pierce): "When you're done, burn the bodies. It's faster," Kathleen instructs him with the slight irritation of a housewife asking her husband to take out the garbage. I get that banal barbarity is the point, but Lynskey's delivery edges dangerously close to end-times camp.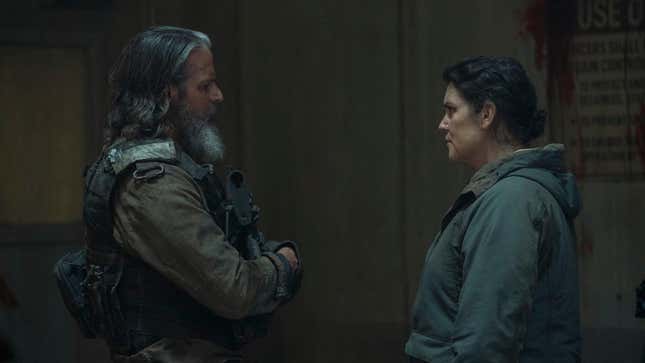 Henry and Sam arrive at Edelstein's safe house, an attic he says a FEDRA officer and patient gave him as a favor. (This is the abandoned attic Perry and Kathleen discovered in the last episode, knowing it had been Henry and Sam's hideout.) The siblings get settled and Sam beautifies the bare walls with crayon drawings of superheroes fighting the police. Ten days pass. One morning Henry wakes Sam and signs that Edelstein isn't coming back (somehow he found out the rebels got him) and, since they're out of food, they have to go somewhere else. Before they head out, Henry paints an orange "mask" around Sam's eyes—he's become one of the superheroes he's obsessed with.

As they are about to leave, Henry hears gunfire in the streets. Their storyline is about to intersect with Joel and Ellie's. Henry looks out a window and sees the armed rebels exchanging rounds with Joel, who crashed his truck through the laundromat. Seeing him holding off the attackers, Henry realizes it's their way out. And so they track Joel and Ellie to the building they were hiding in at the end of the last episode, waking them up with guns trained on them. "We don't want to hurt you," Henry says. "We want to help you. I'm the most wanted man in Kansas City. Although now, I think you're running a close second."
I will admit that, at this point, I hoped the episode would have more running, punching, and shooting one's way out of town while swearing like a sailor. I understand dystopian survival isn't all parkour and slamming cartridges into guns; it's sitting around for days eating flavorless canned food, peeing in buckets, and keeping quiet. Survival can be, you know, boring. This episode had me actually longing for more Kathleen, maybe torturing a collaborator with rusty scissors while making small talk.
Back to our heroes: Joel and Elle have shared some food with Henry and Sam. Joel is not keen on playing host: "Look. You ate. We didn't kill each other. Let's call this a win-win and move on." Pascal's dry delivery makes the line especially funny. (As we know, Pascal can also do comedy that's very, very wet.) Henry convinces Joel they can exit the city through underground maintenance tunnels. "I show the way. You clear the way." Problem is, the infected could be down there. Years ago, FEDRA drove them underground. Henry's contact in FEDRA told him three years ago they cleared the tunnels, but Joel snorts because he knows anything could still be down there. Nonetheless, it's their only way out. Joel has gone from "lone wolf and cub" status to "lone wolf and three cubs."
In some ways, this episode recalls the rhythms of the previous one. The first half is occupied with tense buildup and character interaction, while the second half delivers the action. When the gang heads for the tunnel, it feels like the story is truly cooking. Then again, the journey through the tunnel isn't particularly eventful. Just a chance for Ellie and Sam to bond more and for Joel and Henry to have a mildly philosophical discussion on ethics.
Aboveground, Kathleen stands in the ruined, mildewed bedroom she shared with Michael when they were children. Perry enters to report no sign of Henry or the man who killed Bryan. "When Michael and I were little, this room seemed so big," Kathleen wistfully tells Perry. This little scene provides a window into her twisted mind. She knows her brother would not have been as ruthless. In fact, while in prison, he told her to forgive Henry. She idealizes him and acknowledges her own brutality. Perry points out that it was Kathleen, not Michael, who ultimately succeeded in deposing FEDRA. There's still tons of backstory to understand how Kathleen got to where she is, including psychological shading and such, but this will have to suffice. She is driven by revenge and an idea of justice. An apocalyptic Agatha Trunchbull would have been entertaining, but Kathleen is more humanely constructed.
Joel, Ellie, Henry, and Sam emerge on the outskirts of town without incident. Henry was right: the tunnels were cleared (Or were they?) They don't get far on the darkened streets before a sniper begins shooting from the upper floors of a house. Joel tells them to stay down behind a car and heads out to neutralize the threat. He finds the sniper at the top of a house, an old man with a rifle. The geezer refuses to lay his gun down and Joel plugs him. A walkie-talkie near his body crackles with Kathleen's voice, indicating she knows, and troops are on the way. "Shit," Joel says and gets moving.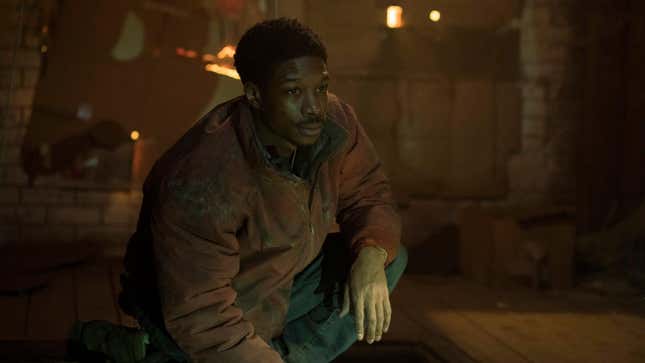 Shit, indeed. Kathleen rolls up with her goons, bashing through countless cars left in the street. She stalks the road, telling Henry and the others to give themselves up. Henry says he betrayed Michael so his brother wouldn't die. "Kids die, Henry. They die all the time," Kathleen brays impatiently. "You think the whole world revolves around him? That he's worth everything?!" Here Kathleen is critiquing the proverbial mote in Henry's eye while ignoring the roofbeam in hers. She justifies her merciless cruelty because her brother was killed, but scolds Henry for trying to save Sam. What a moment for an actual sinkhole to open up. It's unclear whether we should call the F/X-heavy carnival of slaughter that follows the main course or dessert, but it's worth the wait 43 minutes in.

Hundreds of the infected swarm from the sinkhole like cockroaches or rats. The fun-ghouls hit the ground running, and throw themselves upon screaming resistance fighters. Ellie dives into a car for protection. Henry and Sam crawl under another truck to get away from the horde. It's mayhem. Perry guards Kathleen. Joel protects Ellie from above by picking the infected off with his rifle. And then we meet a Bloater. Know your taxonomy: We have the infected, the Clickers, and now Bloaters. According to TLOU game lore, Bloaters are humans who have hosted Cordyceps since the outbreak began. Over the course of two decades, they have developed a bulletproof fungal exoskeleton, grown to the size of André the Giant, and have a fondness for ripping the heads off their enemies (so Perry learns). They're also sensitive about their weight.
Not a lot to say about the violent end of the KC resistance. It's dope as fu—uh, I mean, a terrible, sad waste of life. Everyone dies, and our heroes escape. They hole up in a motel. Joel and Henry agree to travel together to Wyoming. In their room, Sam shows Ellie the bite on his leg. Writing on Sam's Magic Slate, "My blood is medicine," Ellie cuts her hand and presses her blood into his infection. If it worked, it would be a miracle. But there are no miracles in Hell. Sam turns infected and feral the next morning, and Henry is forced to kill him, then in horror turns the gun on himself. Ellie and Joel bury their bodies and continue down the road. The moral of the last two episodes? When it's loved one against a loved one, the story is going to end in tears.
Episode five felt padded as it dawdled on the atmosphere. The hyperkinetic battle sequence with its masses of bodies and epic carnage was thrilling, balanced by the brutally poignant deaths of Sam and Henry. The show's production values continue to be impeccable, aided by solid acting. But I hope in the future, Mazin and Druckmann resist the urge to make every installment a mini-movie and just drive the story forward.
Stray observations
Sam signs that he's hungry and points to a can of Puritan Beef Stew on the attic floor. It's a big tell for the shooting location as the product is standard in Canada.
Every city has its underground history, but KC folks do have some interesting stuff beneath their feet.
Viewers of a certain age (okay, me) might have racked their brains to remember what Sam's writing device was called. It's a Magic Slate, another reminder that in this world there's no internet, no smartphones, no dumb phones, just analog relics.
The underground settlement daycare center with walls decorated with kid-friendly cartoons is a visual callback to the attic walls that Sam decorated in crayon.
Ellie and Sam's enjoyment of games and toys (pun book, Magic Slate, soccer ball) act as meta signifiers in a story that originated as a game.
Joel's marksmanship in this episode is ridiculously good, to say the least.
The end credit music is Agnes Obel's haunting "Fuel to Fire" with these rather apposite lyrics: "Into the town we go, into your hideaway / Where the towers grow, gone to be far away."