Each week, Big Issues focuses on a newly released comic book issue of significance. This week it's Batman #10. Written by Scott Snyder (American Vampire, Swamp Thing) and drawn by Greg Capullo (Spawn, Haunt), it's the penultimate installment in "The Court Of Owls" epic, featuring a shocking reveal that adds an exciting new layer to the Batman mythology. Beware: many spoilers ahead.
Scott Snyder and Greg Capullo's Batman is remarkable for several reasons: The book has sustained a single mystery for 10 issues, anchored a small-scale, high-quality crossover, and is one of the only books of the New 52 that has held the same creative team for its entire run. "The Court Of Owls" storyline has produced a legitimate threat to Batman's reign over Gotham City, and Batman #10 reveals just how deeply connected the Court is to Bruce Wayne and his family. More than any other writer currently at DC, Snyder understands the emotional motivations for his characters. He knows what they're trying to accomplish with their lives and makes it as hard as possible for them to achieve it. That's where the horror comes from: the characters' inability to thrive in a world that is constantly working to tear them down.
Over the course of the last 10 issues, the Court Of Owls has been chipping away at Bruce Wayne's resolve, showing him that the Gotham City he claimed to know so well holds more secrets than he could ever expect. Dick Grayson's historical connection to the Court helped the Owls weaken the Bat-family, and the unveiling of the plot's diabolical mastermind adds a new layer of personal investment for Bruce Wayne. It's not easy to elicit a genuine reaction of shock from long-time superhero-comic readers, but it was tough to see this issue's curveball coming, even though it's obvious in hindsight.
After tracking down the Court and discovering they've all been poisoned, apparently at their own hands, Bruce figures out the final piece of the puzzle while looking at a painting of his parents. Like the penultimate issue of Snyder's 11-part "The Black Mirror" in Detective Comics last year, Batman #10 is when all the threads come together for our hero. These clarification issues showcase Snyder's plotting expertise; he lays out the clues in a way that makes sense, yet somehow flew under the reader's radar initially. When Bruce spots a heart-shaped pin on his mother's blouse in the painting, he remembers the story told to him by his friend and mayoral candidate Lincoln March back in #2. Lincoln lost both his parents in a car accident, and one of the last things he remembers about his mother is a lopsided heart-shaped pin, his equivalent to the string of pearls that haunt Bruce. When Batman goes to the morgue to check on Lincoln's body—killed by a Talon in the previous issue—he finds a note asking, "Follow me down the rabbit hole?"
G/O Media may get a commission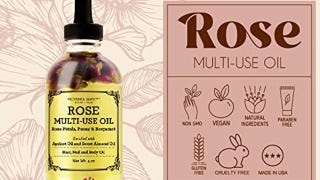 Provence Beauty Rose Multi-Use Oil
The rabbit hole is Willowwood Home for Children, the decrepit children's hospital where Lincoln grew up. It turns out he's still alive after taking the serum that revived the Talons, has killed the rest of the Court, and is ready to take down Bruce Wayne: his big brother. The "I'm your brother!" reveal might sound too soap opera for the Dark Knight, but Snyder has done such solid work setting up the big twist that it's surprising and satisfying. The idea that Bruce has a little brother he didn't know about is incomprehensible to him, and he refuses to answer Lincoln as he repeats that signature owl question, "Who?" The world's greatest detective isn't able to solve this one, and Lincoln triumphantly declares his true identity: Thomas Wayne, Jr.
Born prematurely after his mother was in a Court-initiated car accident on the corner of Lincoln and March, baby Thomas was secretly kept in Willowwood to recover. It was during this time that his parents were shot in Crime Alley, and he was taken in by the Court Of Owls, setting him on a path of vengeance that ends with him face-to-face with his brother. Thomas Wayne, Jr. has appeared in DC Comics before, but as an alternate reality anti-Batman named Owlman. His appearance in "The Court Of Owls," makes perfect sense considering the nature of Batman's foes, and Snyder has been drawing comparisons between Bruce and Lincoln since the beginning. I remember thinking the two men looked too similar in the early issues, but that was Greg Capullo drawing the men to look like brothers. Lincoln is the first person to tell Bruce about the ancient and powerful evil that is rising in Gotham in #2, and in that same scene, Lincoln talks about how he also lost his parents as a boy, sharing that crucial piece of information about his mother's pin. Lincoln is there when Bruce first encounters a Talon, and even the name of the Court's assassin calls back to Owlman: Talon was the name of Owlman's Robin-like sidekick in the former continuity.
Snyder is keeping quiet on whether Thomas Wayne, Jr. is the real deal or if he's just another brainwashed pawn of the Court, but this issue's backup story suggests that Bruce's little brother is telling the truth. The intense second part of "The Fall Of The House Of Wayne" by Snyder, James Tynion IV, and Snyder's American Vampire collaborator Rafael Albuquerque details the events that led to Thomas' premature birth, showing just how connected the Court is to the history of the Wayne family. Tynion's work on these backups has me excited for his just-announced Talon series, starring a Court of Owls assassin trying to redeem himself for past sins, and Rafael Albuquerque should do a full arc on this title in the future.
Greg Capullo turns in consistently excellent work that strikes the same balance of superhero action and character-driven horror as Snyder's scripts. Compared to a lot of the other old-school Image artists working at DC right now, Capullo has a stronger ability to capture a distinct tone in his artwork. There's an emphasis on clear storytelling instead of flashy visuals, although he has no problem turning out dynamic splash pages. After next month's finale, Capullo gets his first break from Batman when Becky Cloonan steps in for a one-shot story in #12. The array of talent that has joined Snyder during his time with Dick and Bruce is remarkable, and DC recognizes that they have a good thing going with Scott Snyder's Batman. With The Dark Knight Rises set to blow up at the box office, it's refreshing to see the publisher doing its best to make sure there's a Batman comic that is not only accessible to new readers, but one of the best titles on the market.