2015 will officially go down as the year of "peak TV," an idea that instantly commandeered the small-screen zeitgeist. Television has never felt like a more daunting medium, with broadcast, cable, and online platforms rolling out more worthwhile content than can comfortably fit on the average DVR hard drive, let alone fit into the average person's schedule. As TV becomes an even greater embarrassment of riches with each new premiere, there's less time to waste on the banal, the trite, or the subpar. We at The A.V. Club try not to live with regrets, but these are the shows that most made us wish we'd invested in one of the other hundreds of options out there.
Least essential new shows
The Adventures Of Puss In Boots (Netflix)
Shrek may have worn out its welcome by the time the fourth film came around, but Puss In Boots, the movie spinoff starring Antonio Banderas's adorable, swashbuckling feline, was, if not great, than a weirdly enjoyable romp through a slightly shadier side of its fairy-tale setting. The Adventures Of Puss In Boots could have continued that film's energy at a smaller scale, but instead went out of its way to set itself up to be boring. Puss himself doesn't have much of a comic presence, and the cast around him is awful and one-note; not a single person is actually from a fairy tale (the semi-recurring Jack Sprat is a stretch). The premise is an obvious knockoff of Kung Fu Panda: Legends Of Awesomeness, in which Puss stops an assortment of baddies from stealing random treasures from a secret town. But there's nothing about Puss or the townsfolk worth remembering or caring about, since there's no real relationships that's developed among them. One character is just a kid who really likes pickles. That's it. That's the joke. You can't get less essential than that. [Kevin Johnson]

Dig (USA)
When distraught, discredited FBI agent Peter Connelly (Jason Isaacs) happens upon a 2,000-year old conspiracy in an archaeological site under the streets of Jerusalem, he embroils himself—and his boss and secret lover (Anne Heche), who keeps going to bat for him—in a plot of international intrigue with literally apocalyptic consequences. Dig's ancient mysteries and its much-touted, often-disturbed Jerusalem location hint at a heady mixture of epic adventure, biblical wonders, and political thriller, but USA's archaeological murder mystery is devoid of adventure, wonder, and thrills. Instead, cardboard characters plod along in a repetitive procedural haphazardly crammed with scripture, apocrypha, and narrative dead ends. Despite its tagline promise to "dig deeper," Dig is remarkably shallow. [Emily L. Stephens]

G/O Media may get a commission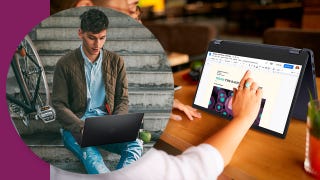 Ends August 15
Best Buy Anniversary Sale 2022
Ends August 15
Best Buy has a number of different promotions happening all for its Anniversary Sales Event. Laptops, tablets, TVs, you names it. Whether you're heading back to school or just trying to fill your home with some new tech, there is something here on sale that you've likely been waiting for.
Wicked City (ABC)
The 2015-16 TV season went nine weeks before the first new show got the ax, "the longest cancellation-free streak to start a season in recent memory." So what show was so bad, so little-watched, that network execs didn't even give it the benefit of the shortened season, a.k.a. the new shorthand for "Don't get too attached"? That would be Wicked City, ABC's most recent stab at the anthology series, a format that served the network well with American Crime. Ed Westwick and Erika Christensen starred as a pair of serial killers doing their murderous thing in early '80s Los Angeles (other seasons would focus on crime during other notable L.A. eras). The ratings were atrocious, perhaps because we'd seen it all before: a crime show with a serial killer at its center (that's sooo 2013) that relies heavily on nostalgia (hey Aquarius, Playboy Club, Pan Am, etc.). ABC didn't even see fit to keep it on life support, knowing full well that a potential second season would mean an entirely new set of characters and time period. [Molly Eichel]

Hand Of God (Amazon)
Shows like Hand Of God show the pitfalls of the "peak TV" era. With so many platforms producing so many shows in their quest to land the next big prestige drama, there are going to be some huge, embarrassing swings and misses. This turgid, overblown, underwritten Amazon series saw star Ron Perlman stranded, huffing and puffing as he flailed through 10 empty episodes, straining for a hit. This tale of a corrupt judge convinced God has sent him on a mission to avenge his son's vicious assault never establishes Perlman's Pernell Harris as anything but a dour grumble of a plot device, his supposed religious conversion so inconsistently on display that this show simply has no center. Throw in some gratuitously distasteful plot elements, and a tepid mystery careening between grimness and ludicrousness, and the rest of Hand Of God's wasted cast (Andre Royo, Alona Tal, Dana Delany, and an especially riveting Garret Dillahunt) is left, like Perlman, fighting for a lost cause. [Dennis Perkins]

The Comedians (FX)
Among the new shows of 2015, FX's The Comedians stood out, though likely not for the reason its creative team hoped. Rather than being a series that triggered a response of, "Ooh, Billy Crystal has a TV show!" in viewers, it instead gained attention for eliciting the barely there raised eyebrow of "Huh, Billy Crystal has a TV show." The series seemed to exist for no other reason than somebody, somewhere, thought the comedian should have a series. (Perhaps the same somebody who gave it that lackluster name?) Playing faux-versions of themselves, Crystal and Josh Gad meandered through a string of dispiriting adventures that tried to evoke Larry Sanders-like cringe comedy, but instead conjured desultory "wackiness" that never found a proper tone. A remake of a Swedish comedy, it mostly proved some things get much too lost in translation. [Alex McCown]

The Messengers (The CW)
At face value, The Messengers followed a very successful CW formula: attractive young people discover they have mysterious powers. It's perhaps extra-impressive, then, that the show was such a dud. The adventures of a group of people suddenly gifted with a range of superpowers and enlisted to halt the apocalypse, the show specialized in a particular kind of dull, predictable dialogue. Characters could be counted upon to emphasize the importance of sticking together only to immediately split up moments later. Every appearance of the show's handsome devil was accompanied by one of the messengers exclaiming, "We can't trust him!" And naturally, though efforts were made to diversify its group of heroes, the boring white dude was still the leader. Add to that enough references to God's work to make its secular viewers more than a little uneasy, and the CW mercy-killed the show after three episodes, though due to the wonders of summer programming, it aired all 13 episodes of stilted, biblical action. [Lisa Weidenfeld]

Blood & Oil (ABC)
This pretender to the Dallas throne was just unnecessary in 2015, even though that show's revival had sputtered to a stop a year before. Empire has been carrying the overwrought-soap torch since its premiere, ratcheting up the glamour and drama to fever-pitch levels, though its quality has occasionally come into question. But the parabola formed by that trajectory leaves ample room for Blood & Oil to at least be middling. The ABC drama also has the familiar terrain of Texas-type tycoons as a launching pad. But Blood & Oil simply fails to live up to the gritty promise of its title. So far, the show has featured mostly tepid throwdowns and noncommittal vamping. The young usurpers (Chace Crawford and Rebecca Rittenhouse) are no match for the crude-oil nobility played by Don Johnson and Amber Valletta. This lack of formidable opponents (or worthy successors) effectively sucks the conflict right out of the story. And this well appears to have quickly run dry, as ABC has already cut back on the number of episodes. [Danette Chavez]

The Whispers (ABC)
To be inessential isn't simply to be bad. There's plenty of bad in today's golden age of too much damn television. No, the truly inessential show is one that offers its viewers absolutely nothing: no interesting story, no compelling characters, no thrilling effects, and no element so terrible as to be actually memorable. The Whispers fulfills this requirement in spades. An adaptation of a Ray Bradbury short story ("Zero Hour") about kids and imaginary friends who might not be so imaginary, the series takes the original work's chilling brevity and pumps it full of bland government agencies, convoluted subplots, and tortured mythology. "Zero Hour" was a kind of dark joke that played off of reader's understanding of children and their potential for amoral, even psychotic, behavior. The TV version is just a joke, one which overstayed its welcome by 13 episodes, before ABC mercifully canceled it. Worse shows aired this year, but few can match The Whispers in failing to leave even a single lasting impression. [Zack Handlen]

The Brink (HBO)
A half-hearted stab at Dr. Strangelove-esque satire updated for the post-9/11 era, The Brink was the very definition of mediocrity. Creators Roberto and Kim Benabib used a nonsensical geopolitical crisis in Pakistan to smugly preach to the choir about broad concepts like "the Middle East" and "U.S. foreign policy" rather than attempt to go in depth on any of those issues. The series trafficked in obnoxious, tired humor about American ignorance of foreign cultures, while still valorizing its cardboard cutout American heroes at every chance it could. Though veteran actors like Tim Robbins and Jack Black tried their best to bring energy to the series, they couldn't sell the consistently arrogant, unfunny writing that pervaded the entire show. Even the occasionally humorous subplot with Pablo Schreiber and Eric Ladin as hapless pilots was built on such a broad foundation that hardly any of it registered beyond chuckle-worthy. The Brink tried so hard to be an over-the-top farce and a global satire that it forgot it had to have three-dimensional characters along with actual comedy. It's as inessential a series that HBO has ever produced; no wonder it decided to cancel the series after making the mistake of renewing it. [Vikram Murthi]

Aquarius (NBC)
Aquarius had a decent premise on paper: An L.A. detective goes after the trail of Charles Manson in his early Family days. Even better, the grizzled, decidedly non-hippy detective would be played by none other than David Duchovny. But a variety of missteps steered Aquarius right off the rails. A too-dreamy Manson. Too-graphic violence. Too-tame Duchovny. And the show creators indicated little regard for women, plot development, and all that's good and right with the world. The highlight was Manson dosing Duchovny's Detective Hodiak, who then tries to storm into his ex-flame's house. The lowest of many low points was Manson dosing his own mother so his friends could gang-rape her. We can only imagine what the show has planned for its inexplicable season two, but that doesn't mean we have to watch it. [Gwen Ihnat]

Truth Be Told (NBC)
The fact that NBC changed the name of this sitcom misfire from People Are Talking to Truth Be Told should tell you everything you need to know about why you didn't need to watch this show. The original title related virtually nothing about the series, while the second one promised a candor that was either missing or misdirected. The series followed a pair of close-knit couples who ostensibly share a truthfulness not seen on TV before. And yet, they often seemed reluctant to be honest, whether it was Angie (Bresha Webb) hiding text messages from her ex, or Mitch (Mark-Paul Gosselaar) being too embarrassed to admit that he's not an amazing negotiator. Even when the show touched on more serious matters such as "the black tax"—the notion that black people often have to overpay or overcompensate just to be seen as equal—it still wrapped up the discussion with standard sitcom efficiency. Truth Be Told ultimately lacked enough import to hang onto its 13-episode order. [Danette Chavez]

The Unauthorized Full House Story (Lifetime)
If only the minds behind The Unauthorized Full House Story fully embraced the "Unauthorized" in the title. "Unauthorized" can be a license to kill, a chance to create something so over the top and dismissive of real life that it becomes compulsively watchable in its insanity. Why not cast the Olsen twins as two 45-year-old-men? Or make a horror film about Mr. Woodchuck coming to life and stalking the Tanners? The possibilities are endless. But instead, screenwriter Ron McGee (also responsible for The Unauthorized Saved By The Bell Story) penned a lazy shrug of a biopic only concerned with the most skeletal details of the sitcom's history. And it doesn't even get most of those right (those mullets were really only around for one season). Couple that with set pieces straight out of an industrial warehouse and performances that range from passable to wooden, and The Unauthorized Full House Story becomes the soggiest of Lifetime specials, neither self-aware enough to be funny nor accurate enough to be interesting. [Dan Caffrey]
Least essential second seasons
Broadchurch (BBC America)
It's hard to wipe out all the prestige and goodwill an impeccable debut season like Broadchurch's accomplished. But the show's second season managed to do just that. Broadchurch season one wrapped up with the shocking revelation that Detective Miller's own husband, Joe, killed young Danny Latimer. The second season then decided to drag the viewers and all of Broadchurch into a seemingly interminable and painful trial when that bastard pleaded not guilty. Miller (Olivia Colman, blameless) and Hardy (David Tennant, same) improved their lot by tying up his old Sandbrooke case, which was about 100 times more engaging than the trial. To make matters much, much worse, Joe was somehow found innocent in the finale. He was then banished from Broadchurch in the least-satisfying conclusion in recent history. Look for Joe to be murdered in Broadchurch season three, with all of the town guilty, Orient Express style. Bored now. [Gwen Ihnat]

Finding Carter (MTV)
Finding Carter debuted as one of television's most pleasant surprises, a rare example of a youth-targeted drama that assumes its audience is as smart and precocious as its characters. The story of Carter Stevens (Kathryn Prescott), who abruptly learns the "mother" she's known for her entire life is actually her kidnapper, started off as a shrewdly observed, emotionally incisive drama. It was also far and away MTV's best scripted offering, which is why the painfully stupid second season is such a letdown. After an ill-advised showrunner swap, the characters became unrecognizable, while the story got bogged down by cheap, soapy stunts. By the midseason finale, the plot became inscrutable as Carter's kidnap-mom (Milena Govich) is exonerated for the crime of which she is irrefutably guilty. It actually gets worse from there, but it only took half a season for Finding Carter to go from being a show for sophisticated teens to one for morons of all ages. [Joshua Alston]

Least essential show of 2015
Happyish (Showtime)
Getting Happyish to air was no easy task. The dark comedy about an advertising executive's simultaneous midlife, mid-career, and mid-marriage crises debuted some four years after it was purchased by Showtime, a span of time that saw two title changes (from Pigs In Shit to Trending Down, then Trending Down to Happyish), Kathryn Hahn's appearance on several shows worthier of her talents (Parks And Recreation, Girls, and Transparent, to name three), and the death of Hahn's co-star Philip Seymour Hoffman. Hoffman's involvement—his first turn as a series regular—was a major selling point when Happyish was first announced. But the series lumbered on without him, eventually casting Steve Coogan in the role of Thom Payne, a prickly sonuvabitch with an allergy to new-media buzzwords and sexual fantasies involving a Keebler elf. What arrived in the spring was a series utterly devoid of purpose, its satirical punching bags—smooth-talking entrepreneurs, soulless marketing campaigns—already sagging from other, smarter programs' blows. Lacking a distinct perspective and a bizarrely toothless sense of the profane (its characters swearing as frequently and meaninglessly as a child who's learned their first curse word), Happyish ultimately posed its own existential riddles: How was this worth four years of fussing, and what had Hoffman seen in the project in the first place? [Erik Adams]