As an eager young cinephile at the University Of Georgia, I used to schedule my classes to where I'd have a three or four-hour block every afternoon to head up to the seventh floor of the library and dive into its vast catalog of classic movies on videotape and laserdisc. And when the library didn't have what I was looking for, I'd retreat to the city's independent video stores or Movies Worth Seeing back home in Atlanta—or even, quite selfishly, press for certain movies to get programmed at the campus movie theater, so I could catch up with them that way. At the time, I had plenty of film books tugging at my shirt—Pauline Kael's 5001 Nights At The Movies; John Simon's annoyingly (yet somehow irresistibly) contrarian Reverse Shot; annual guides by Leonard Maltin and Roger Ebert, etc.—but their collective influence on my moviegoing habits was just a fraction of that wielded by a single writer: Danny Peary.
Who's Danny Peary? It's confounding and saddening to me that any film lover would ever have to ask that question, but Peary's movie books are all currently out of print and Peary himself has long since drifted into writing about sports, including a book on cult baseball players and a couple of collaborations with Tim McCarver. (His brother Gerald, however, still writes on film for the Boston Phoenix.) But for me and a circle of fellow travelers, Peary's Guide For The Film Fanatic served as an essential compass for navigating the impossibly vast world of cinema, complete with a helpful checklist of titles so you play along at home. Better still were Peary's three Cult Movies books (published in 1981, 1983, and 1988), which reexamined those films that people return to again and again. Whether covering obscurities kept alive by a small cadre of followers, popular movies with special replay value, flawed gems, or movies deliberately tailored to the obsessive weirdoes who love them, Peary's books became a key resource for discovery and discussion for those with a cult sensibility. Some of the great movies Peary turned me onto: Choose Me, In A Lonely Place, Martin, The Naked Kiss, The Wanderers, Cutter's Way, Dark Star, Ms. 45, Salt Of The Earth, The Brood, Johnny Guitar, Petulia, and more.
In the 20 years since Peary's last Cult Movies book was published, I've often pined for him to resurface and write another one, because we need him now more than ever. In the post-Tarantino age, we've seen not just a flowering of cult movies, but of cult filmmakers who consciously play to audiences that thirst for a certain offbeat sensibility. With apologies to Peary, the idea behind The New Cult Canon is to take a fresh look at the new generation of cult movies that have sprung up in the last two decades. This is an impossibly large project with no real endpoint, since the list of possible titles far exceeds the one-a-week pace I'm planning to establish with this feature. But for as long as I'm able, I hope to inspire the many cult movie fans who visit The A.V. Club to follow me through the wonderfully (and on occasion dubiously) idiosyncratic films that have cropped up over the last two decades.
A few notes:
1. Obviously, the feature will lean heavily toward movies released in the '90s and '00s, but I also plan on covering older films that have resurfaced to renewed interest over that period, such as The Umbrellas Of Cherbourg, Army Of Shadows, Killer Of Sheep, I Am Cuba, and many others.
2. The order of films I'll be covering will be seat-of-the-pants arbitrary—more My Years Of Flops than Popless—so don't look for any meaning as to how it all unfolds, or feel slighted by one film getting a write-up while another remains uncovered. My hope week-to-week is to keep things diverse and move around as much as I can, so we don't get bogged down in a single type of movie for too long.
3. I'd like to give all of you a chance to play along and contribute your thoughts in the comments section, so I'll have a game plan mapped out a month in advance. This should give you plenty of time to adjust your Netflix or Blockbuster or Greencine queues accordingly. Save for tomorrow's posting, the column is currently scheduled to appear every Thursday. Here's the first month:
G/O Media may get a commission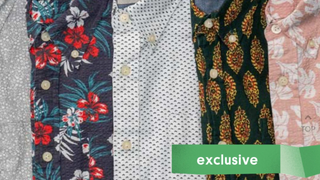 Grab three styles!
JACHS NY Summer Pack
Tomorrow: Donnie Darko
Feb. 28: Morvern Callar
Mar. 6: Irma Vep
Mar. 13: Miami Blues