The autobiographical childhood reminiscence, while naturally appealing to fledgling filmmakers in search of material ("Write what you know," etc.), can be tricky to pull off. Unless your formative years were unusually eventful—spent fashioning a playground from the rubble of buildings bombed in the Blitz, for instance, as John Boorman recounts in his superb 1987 film Hope And Glory—you risk compiling a shapeless series of anecdotes, based on hazy memories, that won't be nearly as meaningful for audiences as they are for you. With Summer 1993, her accomplished debut feature, Carla Simón succeeds in creating a rich, vivid world from her own turbulent pre-adolescence, though the film does meander in a way that makes its deeply personal nature unmistakable. Such self-indulgent sprawling might have been a bigger problem had Simón focused on the winter of '93 or the autumn. Summer, designated for idleness and detours (especially when it comes to small children), is much more conducive to a lack of structure.
As it happens, a lack of structure is precisely what ails Simón's 6-year-old cinematic alter ego, Frida (Laia Artigas). Having already lost her father at some indeterminate point in the past, Frida has also, as the film begins, just suffered the death of her mother—both parents, it's eventually revealed, succumbed to AIDS-related illnesses. Thankfully, Frida's Aunt Marga (Bruna Cusí) and Uncle Esteve (David Verdaguer) are happy to take her in, raising her alongside their own 4-year-old daughter, Anna (Paula Robles). But Marga and Esteve live in the country, which proves to be a serious dose of culture shock for a little girl who's lived her entire life amid the hustle and bustle of Barcelona. And while Frida shows virtually no conventional signs of grieving, she continually acts out in ways that strongly suggest post-traumatic anxiety. She's still an orphan, after all, and while her new surroundings look blissful from a distance, even paradise can be oppressive to someone reeling from a tragedy that she's barely old enough to process.
Simón could easily—and pretty justifiably—have gone the woe-is-me route with this story. Instead, she judges her pint-sized self rather harshly, and seems motivated in large part by a desire to pay tribute to her aunt, who didn't ask for this responsibility and bears Frida's misbehavior with admirable patience and understanding. Early on, there's a lovely scene in which Marga, while driving, notices Frida fidgeting with her hair in the back seat; Marga hands Frida a hairbrush, which Frida immediately throws out the car window. Rather than yell at the girl, Marga simply gets out and retrieves it, then drives on, allowing Frida her cathartic fit. This silent act of love sets a tone that Simón then artfully modulates. When Frida, later in the film, abandons little Anna in the woods, just as a prank, Marga's totally understandable freakout is informed by her previous forbearance. She's neither insensitive nor a poor substitute for Frida's late mother—just a good woman stretched to her breaking point. (Esteve's comparative absence from the scene feels very subtly pointed, though he's always exceedingly nice to Frida when he's around.)

G/O Media may get a commission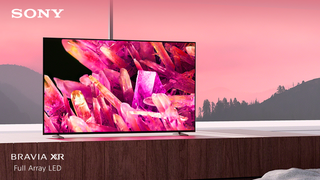 $400 off
Sony 55 Inch 4K Ultra HD TV X90K Series
Of course, there's another significant challenge to making a movie about the summer when you were 6: finding a great 6-year-old actor to play Mini You. Artigas, a non-professional, has a terrific surly look and does a remarkably credible job throughout of suggesting Frida's inner pain rather than indicating it. (She also has great rapport with Robles when the two girls are playing together—at times it's unclear whether they're even aware that they're on camera.) As child performances go, this one is first-rate. Summer 1993's final scene, however, demands from this little girl an abrupt tonal shift that few adult pros could successfully manage. Having kept the film fairly low-key and small-scale throughout, Simón attempts to unleash its raw emotional power in these last couple of minutes; that gambit can be devastating when it works, but results in major disappointment when it falls flat, as it does here. Still, better to try for greatness and fail than to aim for mediocrity and succeed.