Over this past weekend I, like many of my peers, found myself sucked into MTV's "retromania" marathon of three classic seasons of The Real World (New York, San Francisco, and Las Vegas to be exact). During many of these episodes, there was a box in the corner previewing scenes from upcoming episodes of the Portland season. While the New York cast discussed racism and gay bashing, and the San Francisco cast watched an HIV-positive Pedro become sicker, the small screen gave us snippets of wild fistfights and heated make-out sessions. It was jarring, not because of the violent or sexual content—after all, we're now living in a post-Jersey Shore era where nothing MTV can do will shock us—but because it explicitly showed the decline of The Real World. (Though not so much for Las Vegas which was already relying on hot tub antics for ratings.) The Real World: Portland seems to be the season where MTV drops all pretense and says, "Listen, we know that you enjoy watching twentysomethings get drunk, fight, and have sex, so that's what we're going to give you."
After watching a few seasons of a show's run, it becomes easier to predict the flow of things: the narrative arcs, the way a character will react to news, the punchline to a joke, etc. "Bondage, Butts And Burlesque" shows that reality television is no exception. The roommates all seem vaguely familiar. There's Jessica, the small town girl with the southern accent who is shocked by strippers; Marlon, the son of a pastor who grew up religious but is rebelling against his upbringing; Jordan, the handsome athlete who will surely clash with any female roommate who rejects him; and so on. In fact, most of the cast are athletes, probably because MTV is already casting for the Real World/Road Rules challenges.
The season premiere plays out like all other Real World premieres. The roommates trickle in slowly and introductions are made, interspersed with confessionals of their first impressions of each other (mostly revolving around physical appearance, though I should admit I enjoyed when MTV played up this predictability by having them speak in unison). They pick rooms, split up by sex to discuss which roommates are the hottest, and suit up in swimwear to commence the flirting.
The men are all enamored by Anastasia, a 5'11" model nicknamed "Bird" who immediately crushes their hopes when she reveals she has a boyfriend back home (she's the only roommate in a relationship). Anastasia quickly becomes the most interesting roommate during the premiere. When the girls learn that the guys were rating them by attractiveness, she (rightfully) gets upset and calls them out on treating women like objects. Jordan shrugs it off, but there's clearly anger brewing in Anastasia. Later, Jordan and Marlon bring home women from the bar but when they decide these women are unattractive and desperate, they kick them out. At first, it's all reminiscent of Jersey Shore and earlier Real World seasons—the men bring strange women home, the women roommates flip out and call them skanks or yell at them for not respecting the sanctity of the hot tub—but it actually surprises me. Instead of the women turning on each other, the roommates apologize on behalf of the guys and invite the bar ladies to hang out later. Anastasia and Jordan get into a short screaming match, which I'm sure will be the first of many clashes between the two of them this season.
G/O Media may get a commission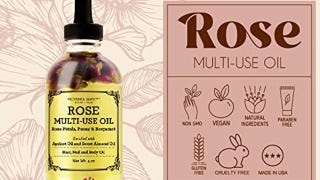 Provence Beauty Rose Multi-Use Oil
"Bondage" also sets up the requisite roommate love storyline. Early in the episode, Averey says, "It's not like I'm going to fall in love in three months" which on The Real World roughly translates into "I'm definitely going to fall in love by the next commercial break." Sure enough, it's only a few minutes before Johnny and Averey are making out in the corner of some Portland bar.
The rest of the episode is low key, especially by Real World standards but nothing is especially terrible. They go to clubs. They drink. They all raise their glasses in the air. They kiss people in bars. They stumble down the street. They talk about "clicking" with each other. They do it again the next day. Although it's the premiere, it's still surprising how little happens in this episode considering MTV's been boasting this as the "wildest" season yet. It turns out that Nia, a roommate who apparently just beats the crap out of everyone, hasn't even arrived yet.
The Real World: Portland isn't going to be a return to the era when the show had any sort of redeeming value. It's going to feature seven roommates—and a dog!—screeching at each other, getting down in a hot tub, and throwing punches because that's why most people are tuning in. MTV understands their main demographic but, unfortunately, that demographic no longer includes most of us who grew up watching the better seasons. At worst, this season will make you hate everyone between the ages of 21 and 24. At best, this season will feature some silly but entertaining fights that are only worth watching in clip form. Sure, it's disappointing but, well, sometimes we get the reality television we deserve.
Stray observations:
I love that MTV is treating Daisy the dog as an actual cast member with an official biography and everything.
Speaking of the bios, has anyone else read through them and noticed how every season they put more and more emphasis on describing their looks?
Which roommate do you think Nia will replace? I'm hoping Jessica because she seems to be the most replaceable at this point.
Admission: I once auditioned for The Real World and it was one of the strangest and saddest experiences of my post-grad life.